Last updated: February 8, 2023
Sydney is arguably one of the most beautiful cities in the world, but unfortunately, it's also one of the most expensive places to live or to spend your holiday.
However, with a near-perfect climate and a great variety of natural and man-made landmarks and sights on offer, there are also lots of free things to do in Sydney.
To help you save some of your hard-earned dollars, we have compiled a list of our favourite things to do in Sydney without having to spend a cent.
Top 15 Free Sydney Activities
In no particular order, here are 15 awesome free things you can do in Sydney.
1. Hike from Bondi Beach to Coogee Beach
International tourists and local Sydney-siders alike flock to Sydney's east coast every day to enjoy Australia's best beaches, stunning ocean views, beautiful parks, and lots of cafes and restaurants on the way from Bondi Beach to Coogee Beach.
The first section of Sydney's most popular coastal trail is the scenic walk from Bondi to Bronte, past Bondi Icebergs, Mackenzies Bay and Tamarama Beach.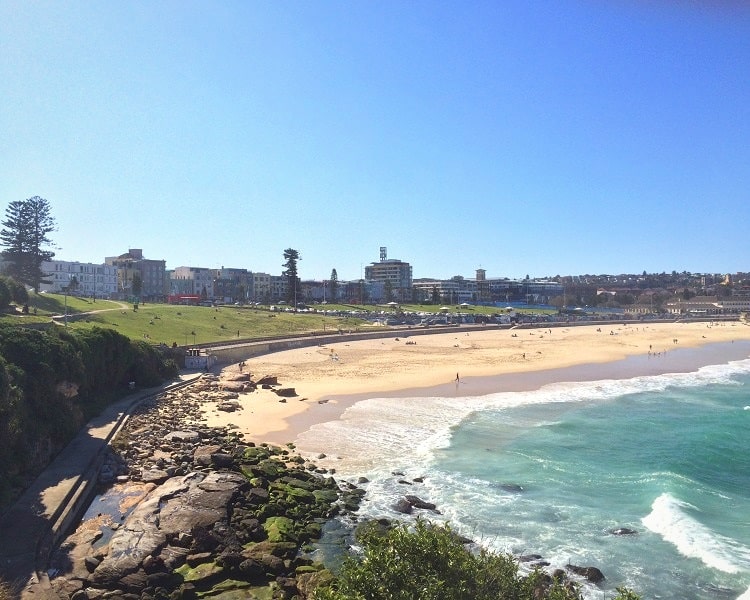 From Bronte Beach, follow the track south that leads to Waverley past Calga Reserve, which marks the start of a popular boardwalk that swings around the famous Waverley Cemetery.
The boardwalk brings visitors to Clovelly, a vibrant and charming beach-side suburb with a lawn bowls club, a swim-friendly beach and bay, and a large parking area. From there, the trail continues past Gordons Bay to Coogee Beach.
2. Visit Sydney's Free Museums
Like any other famous city in the world, Sydney is home to some top-quality museums worth visiting while you're in town. The good news is that some of these museums are free.
Here are a few of these free museums for when you need relief from the hot Sydney sun. For a complete list, check out our guide to the best free museums in Sydney.
Museum of Contemporary Art (Circular Quay)
If you're a fan of cutting-edge Australian and international modern art, a visit to the Museum of Contemporary Art (MCA) at Circular Quay is an absolute must.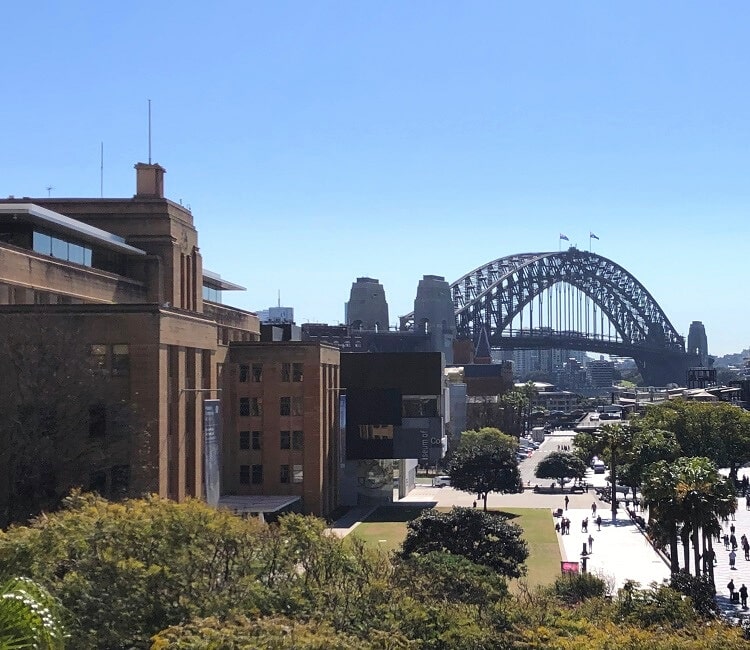 Housed in an impressive art deco building facing the Harbour, the MCA is dedicated to exhibiting, collecting and interpreting the work of today's contemporary artists.
Australian National Maritime Museum (Darling Harbour)
Opened in 1991 as part of the redevelopment of Darling Harbour, the Australian National Maritime Museum (ANMM) is now Australia's national centre for maritime collections, research, exhibitions and archaeology.

Besides the free permanent galleries, the ANMM also hosts an ever-changing program of temporary exhibitions and a fleet of historic craft at its wharves in Darling Harbour.
Art Gallery of NSW (Domain)
Quietly housed in an impressive classical building on the eastern side of the Domain, the Art Gallery of NSW is Sydney's most important public gallery and one of the largest in Australia.
The general exhibition space is free and displays a wide variety of Australian (from settlement to contemporary), European and Asian art.
3. Do a Free Sydney CBD Discovery Walk
The Sydney CBD is relatively small, with most iconic landmarks and tourist attractions all within walking distance. Therefore, the best way to visit Sydney's highlights is simply wandering around.
Fortunately, the city is home to some excellent walking tracks. And should your feet get a bit achy after a few hours of walking, the city circle train line can always provide a bit of relief.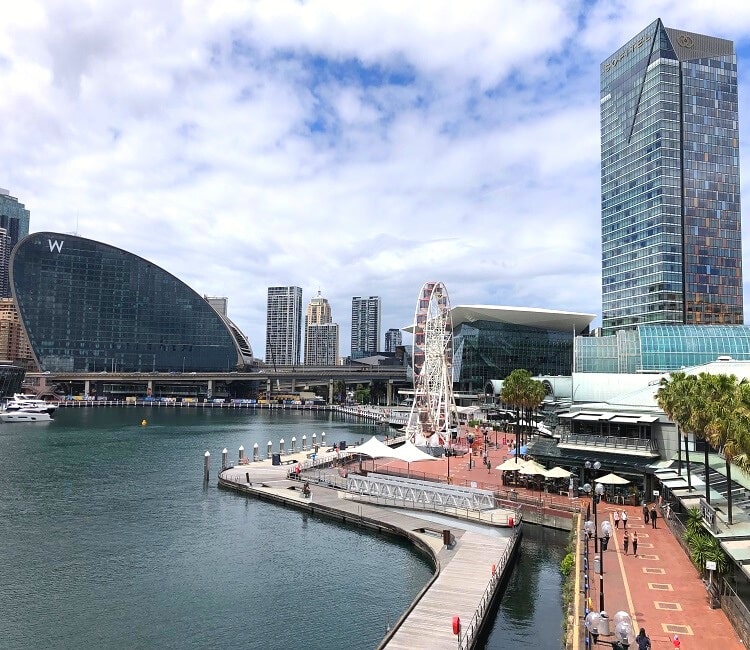 Starting at Central Station, the walking tour below takes in the best that Sydney has to offer, including Darling Harbour, Barangaroo Reserve, The Rocks, Harbour Bridge, Circular Quay, Opera House, Royal Botanic Garden and Hyde Park.
Depending on your pace, this CBD discovery walk should take around 6-8 hours to complete.
Sydney CBD Discovery Walk:
Chinatown
Darling Harbour
King St Wharf + Barangaroo
Barangaroo Reserve
Sydney Harbour Bridge
The Rocks
Sydney Opera House
Royal Botanic Garden + Domain
Hyde Park

4. Visit One of Sydney's Many Secluded Beaches
Sydney is blessed with countless beautiful beaches, some big and world-renowned, others much smaller and not so well-known.
While it's great to spend a day at Sydney's popular beaches in Manly or Bondi, you will most likely be surrounded by thousands of other beach-goers and sunbathers.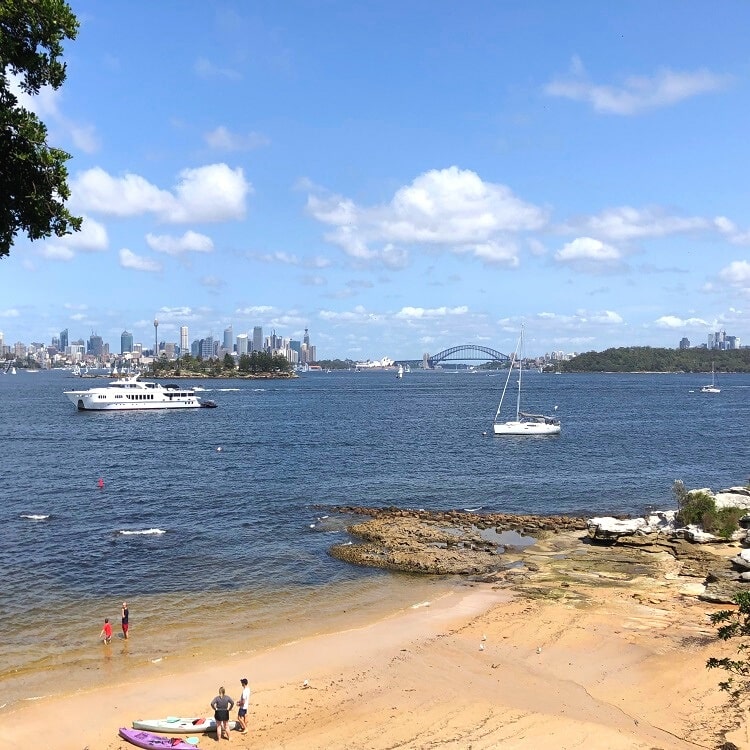 Whilst having a beach all to yourself is virtually impossible these days, there are still beaches in and around Sydney that are a bit of a secret.
Beaches with hardly any facilities, but where you can still appreciate Sydney's natural beauty in peace with maximum privacy.
5. Explore Sydney's Trendy Suburbs
While the city of Sydney has a lot of free things to offer, visitors often ignore the trendy suburbs surrounding the CBD. Here are a few examples of exciting Sydney suburbs that are worth exploring.
Chippendale
The small suburb of Chippendale is situated behind Sydney Central Station, and is home to Central Park, a major mixed-use urban renewal project with shopping malls and restaurants.
Tucked away on the edge of Central Park, hipster Kensington Street is one of Sydney's newest lifestyle and dining destinations.
The highlight is Spice Alley, a tiny laneway with six hawker-style eateries covered by a ceiling of glowing lanterns.
Potts Point (Including Kings Cross)
If you're looking for an area with great nightlife, lots of cafes, pretty Victorian-style properties and affordable hotels, Potts Point should be on your radar.
Kings Cross is an inner-city locality within the suburb of Potts Point and has its own train station, one stop from the city. While Kings Cross may still have a reputation of being a rough neighbourhood, the area nowadays feels very safe during the day.

Strolling through the streets of Potts Point and having a coffee at one of the many cafes is quite a pleasant experience.
Surry Hills
Art galleries, Small theatres, fine dining restaurants, hipster cafes, fashion boutiques, great pubs, and the popular Bourke Street Bakery. You can experience all of this and much more in the trendy inner Sydney suburb of Surry Hills.
If you're a true foodie and don't want to be surrounded by tourists, Surry Hills is a great place to visit. Despite the somewhat overhyped hipster culture, Surry Hills is a cool place with many options for food and coffee.
6. Spend a Day in the Blue Mountains
The Blue Mountains is one of the most popular tourist and weekend-getaway destinations for Sydney-siders.
Just over an hour from Sydney, this World Heritage-listed area is home to many beautiful walking tracks, waterfalls, deep valleys and canyons, rainforests and numerous lookout points with breathtaking views.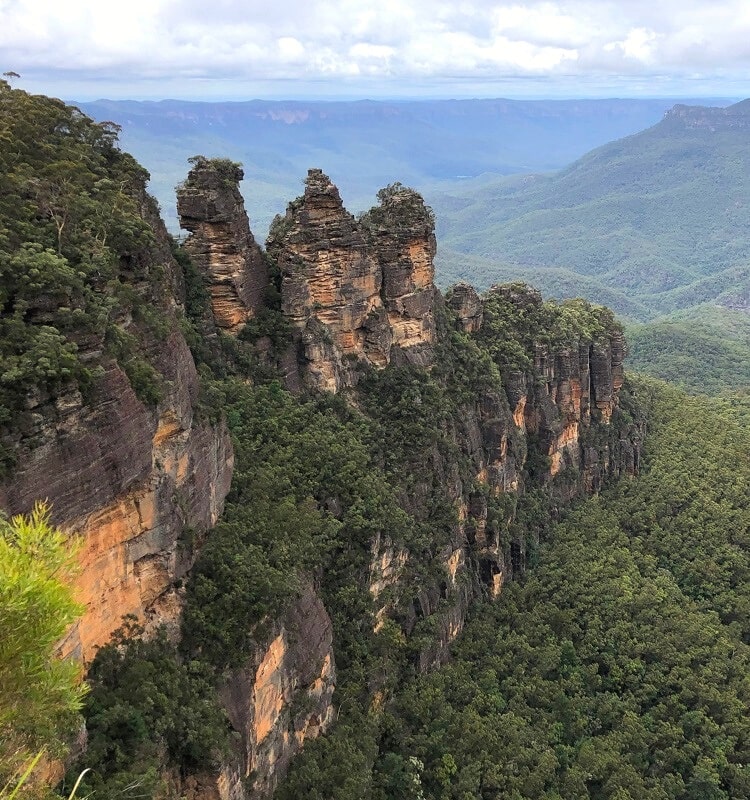 The best way to experience the true beauty of the area is by doing one or more exciting Blue Mountains walking tracks.
It's a true paradise for bushwalkers with hundreds of beautiful walking tracks to choose from, some very short and easy, others much more challenging.
If you do have dollars to spare, a Blue Mountains day tour may be a good option. It allows you to see all the highlights in one day without having to worry about transport and directions.
7. Discover the Royal Botanic Garden and the Domain
Established in 1816 and 30 hectares in size, the Royal Botanic Garden is Australia's oldest botanic garden and scientific institution.
Popular with tourists and local office workers alike, the Royal Botanic Garden is home to a vast collection of plants from all around the world, with a focus on Australia and the South Pacific.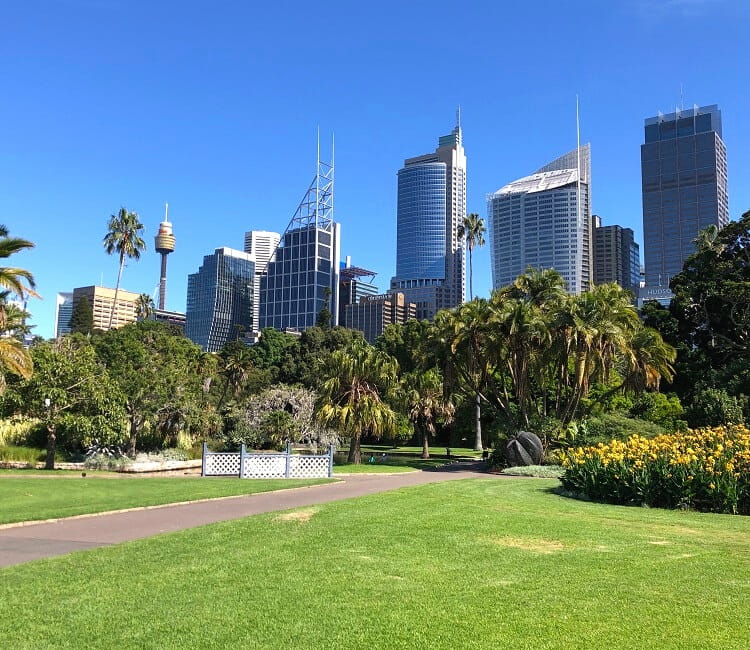 Facing the eastern edge of the CBD skyline, the best way to access the Royal Botanic Garden is via Circular Quay and the Opera House.
Follow the beautiful shoreline of the park to reach Mrs Macquarie's Chair, a sandstone bench carved by convicts in 1811 for the then-governor's wife.
From there, the path continues and connects with The Domain, a huge 34 hectares of open space just south of the Royal Botanic Garden.
8. Visit Manly North Head
One of the most underrated tourist destinations in Sydney is Manly North Head. This area not only offers panoramic Sydney Harbour views but also has a rich military history.
In addition, Manly North Head is home to very diverse wildlife and flora that can be best discovered by following an exciting walking track.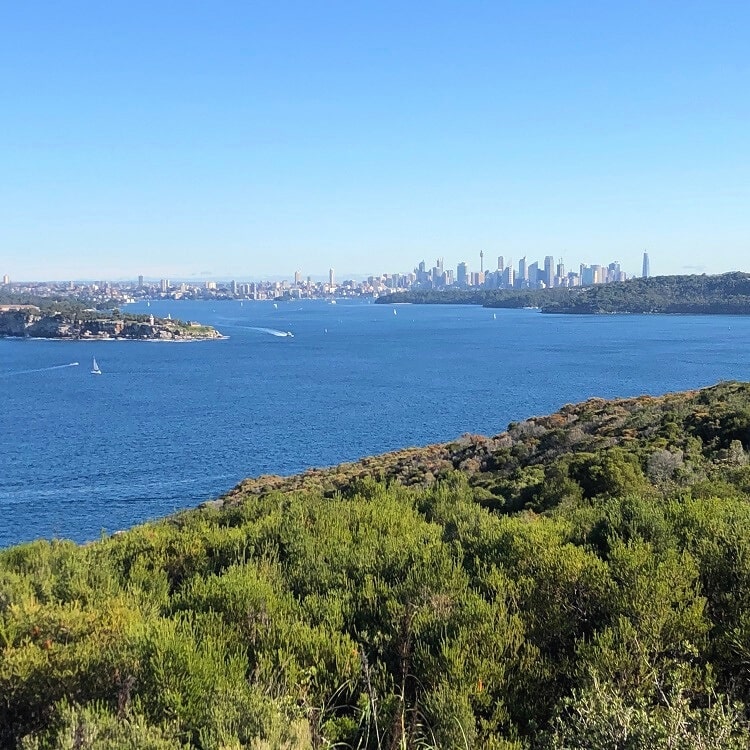 The Manly North Head circuit walk is part of the challenging Manly Scenic Walkway, which also includes the Spit to Manly walk.
One of the highlights of Manly North Head is the short Fairfax circuit walk, which includes some amazing lookout points.
9. Walk the Sydney Harbour Bridge
You can't leave Sydney without having walked across one of the world's most famous bridges at least once. While climbing the bridge may be an expensive exercise, walking across the Harbour Bridge is absolutely free.
The beauty of walking the Harbour Bridge is that you get to enjoy the most amazing views at both ends of the bridge, as long as you know where to go.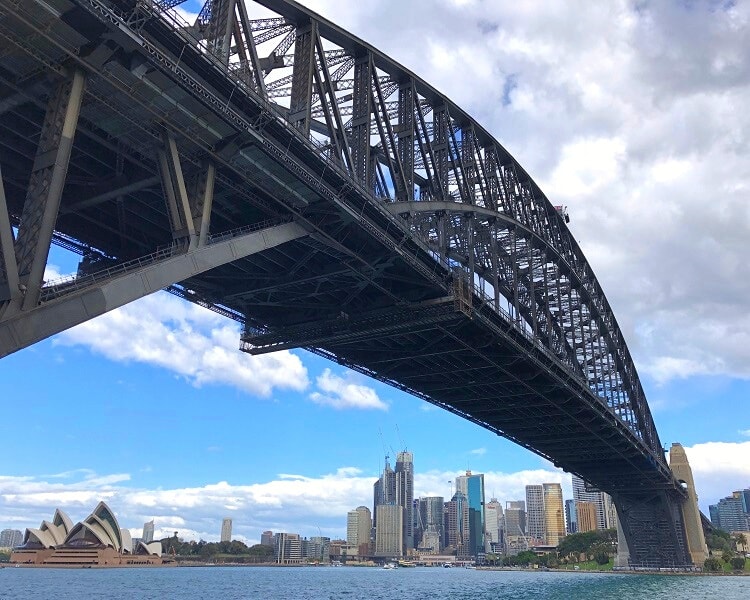 Once you've crossed the bridge by foot, head down to Bradfield Park from where you can enjoy the most amazing views of the Sydney CBD and the bridge itself.
Make the most of your time in this part of the city and head to nearby Luna Park and Wendy's Secret Garden along the Lavender Bay foreshore walk for more free things to do in Sydney.
10. Visit Cockatoo Island
One of our favourite free things to do in Sydney is visiting Cockatoo Island, conveniently situated in the middle of beautiful Sydney Harbour.
Cockatoo Island is a UNESCO World-Heritage and National Heritage Listed island. The island has a rich history as a shipbuilding yard, Commonwealth naval base, and a notorious convict island.

You can experience this part of Sydney by wandering around on the island and absorbing its well-preserved history. Entry to Cockatoo Island is completely free!
Catch a ferry from Circular Quay, score a free map from the visitor centre and enjoy a fantastic day out. Or you can also book a tent on the camping site and enjoy two days on this unique island.
11. Do a Free Picnic with Views
Besides beaches, Sydney also has lots of beautiful parks spread out across the city and beyond, and some of these parks offer fantastic views.
Apart from buying the food, having a picnic in one of the many picnic spots in Sydney is, of course, absolutely free.

Some of the best spots to go for a picnic are the Botanic Gardens or Observatory Hill in the city, Manly North Head, Robertson Park in Watsons Bay (although a bit crowded on the weekends), Cremorne Point, and the West Head Lookout.
So grab yourself a picnic rug, basket, food and snacks, and perhaps a nice bottle of red or a few cold beers, and enjoy a great afternoon.
12. Watch a Sydney Sunset
If there were any city in the world perfect for watching beautiful sunsets, it would have to be Sydney.
One of the best spots in Sydney to watch a sunset is Robertson Park in Watsons Bay, with beautiful views of the city.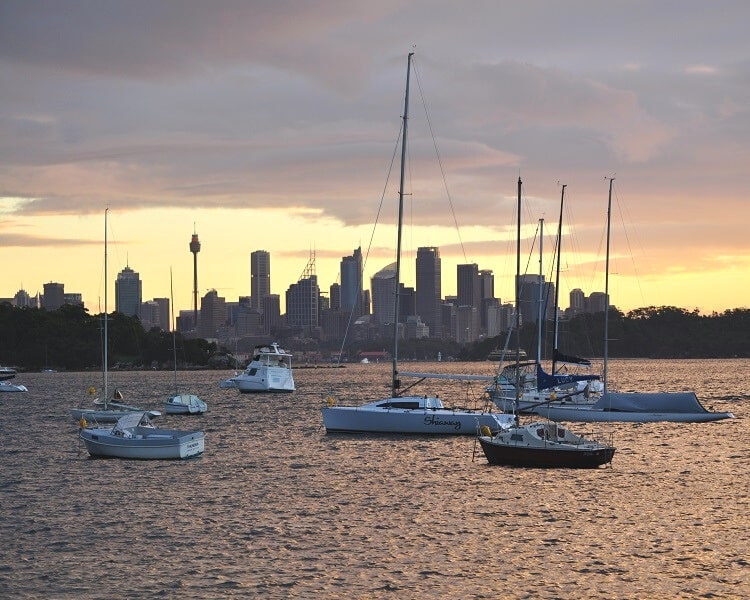 Clovelly, looking towards Gordons Bay and Coogee is a great spot too. Bondi Beach, further north, is also a great location to watch the sun go down on a warm summer night.
Other great spots are Mrs Macquarie's Point and the Royal Botanic Garden in the city, Manly's North Head, and Blues Point Reserve at McMahons Point.
13. Walk Around Sydney's South Head
The Watsons Bay walking track is a scenic hike around South Head, featuring panoramic views of Sydney Harbour, the city skyline, the Tasman Sea, North Head and the historic Hornby Lighthouse.
The Watsons Bay walk connects with the Federation Cliff Walk at the Gap which continues to Bondi, from where you can continue to Coogee and even further to Maroubra.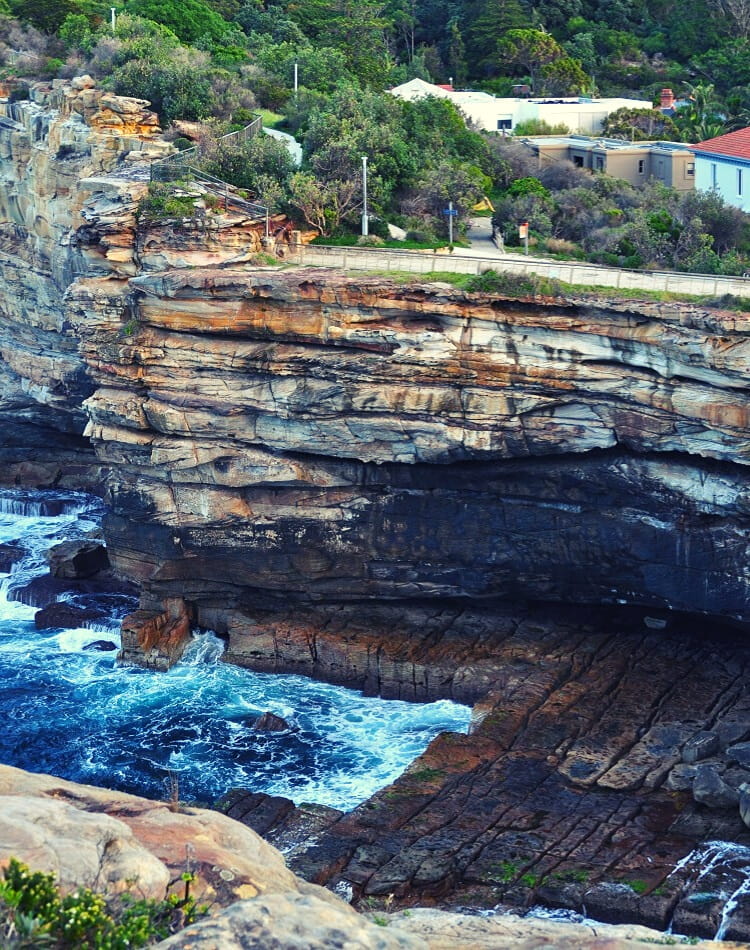 Parking is hard to find in Watsons Bay during weekends, so the best way to travel to this Sydney hot spot is by catching a ferry from Circular Quay.
It's a very enjoyable ferry trip which allows you to see even more of Sydney Harbour, the sailing ships, and not to mention the prestigious waterfront mansions!
14. Go Snorkeling in Sydney
With the Harbour and so many beautiful beaches at your doorstep, Sydney is the perfect city to go on a snorkelling adventure.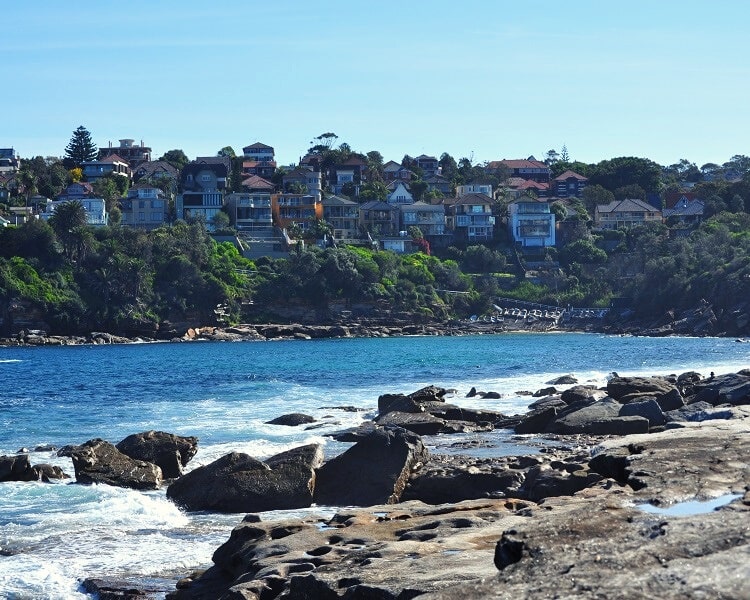 Some of the best snorkeling spots can be found at Shelly Beach in Manly, Clovelly Beach and Gordons Bay in Sydney eastern suburbs, and Bare Island in La Perouse.
15. Hike from Taronga Zoo to Balmoral Beach
One of the most enjoyable Sydney Harbour walking tracks is the trail from Taronga Zoo to Balmoral Beach. This 6.5km track swirls its way past secluded beaches, picturesque bays, impressive lookouts and historical sights.
An interesting highlight is Bradleys Head, home to the foremast of HMAS Sydney, a light cruiser that was broken up on Cockatoo Island in 1929. The foremast was erected at Bradleys Head in 1934 and serves as a monument for all Australian ships lost and all Australian sailors killed at war.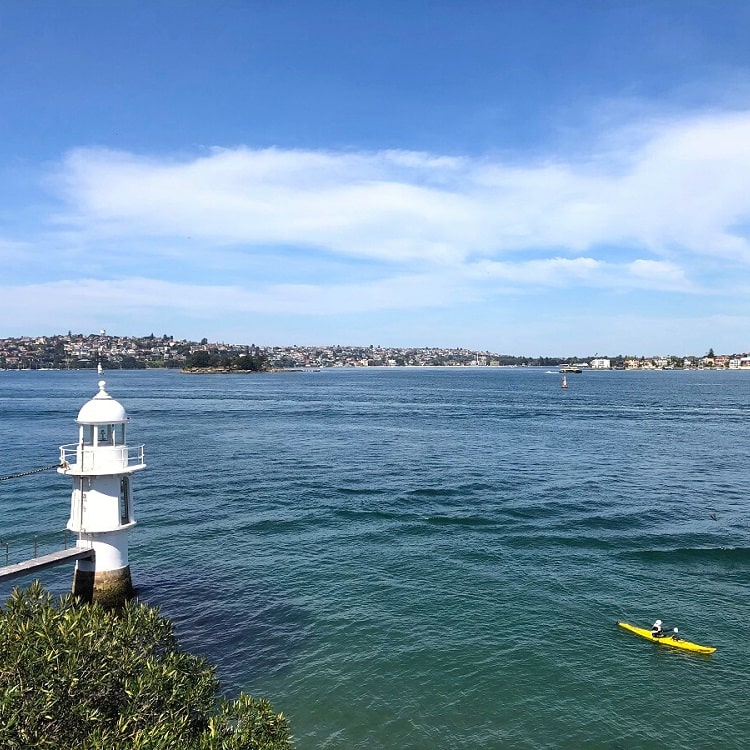 Balmoral Beach, at the other end of the walk, is one of Sydney's most popular, family-oriented beaches. Balmoral usually has calm water, which makes it perfect for swimming. And with many cafes and restaurants nearby, it's not hard to spend a few quality hours in this beachside suburb.
The best way to get to Taronga Zoo is by ferry from Circular Quay. The ferry trip crossing Sydney Harbour is a great experience, and on Saturdays and Sundays, you can take advantage of the daily travel cap on all public transport.