Last updated: March 18, 2021
The Federation Cliff Walk is a 5 km trail from Watsons Bay to Dover Heights above high sandstone cliffs, offering amazing panoramic views of the Tasman Sea.
This coastal walk meanders through beautiful parklands and open spaces, and includes an exciting timber walkway with viewing platforms on top of the cliffs.
The Watsons Bay to Bondi walk (or Bondi to Watsons Bay walk) is essentially the same as the Federation Cliff walk, but it goes a little further, to Bondi Beach.
Federation Cliff Walk
Distance:
5 km (one way)
Time:
1.5 hours
Grade:
Easy
Dogs:
On a lead
If you start the walking track in Watsons Bay, buses 324 and 325 depart from Circular Quay to Watsons Bay. Check the exact timetables on the Transport NSW website.
You can also catch a ferry into Watsons Bay and walk to the starting point of the Federation Cliff walking track on the other side of Robertson Park.
At the other end of the walk, Dover Heights has free street parking available, so that's an option too if you prefer to start the walk from there.
Another way to get to Watsons Bay is via the scenic walking trail from Rose Bay. Doing that walk as well as the Federation Cliff Walk will end up being 13km.
A long hike for sure, but you will be seeing the absolute best of Sydney's coastline.

The scenic coastal trail between Watsons Bay and Dover Heights is characterised by high sandstone cliffs, beautiful parks, and panoramic ocean views.
In this guide to the Federation Cliff Walk we are going to focus on the following nine highlights:
Gap Park
Macquarie Lighthouse
Christison Park
Clarke Reserve
Diamond Bay Reserve
Eastern Reserve
Dudley Page Reserve
Rodney Reserve
Raleigh Reserve
In the track notes below, we're diving a little deeper into each of these highlights, as we're navigating through the trail from north to south.
Here is a handy map for your reference, with the highlights marked from 1 to 9, starting at Gap Park in Watsons Bay:

Federation Cliff Walk Track Notes
The Federation Cliff Walk can be commenced either from Gap Park in Watsons Bay, or from Rodney Reserve or Raleigh Reserve in Dover Heights.
This article describes the walk starting from Watsons Bay with The Gap as the starting point, passing through the suburb of Vaucluse, and ending in Dover Heights.
Please note that the trail at times leaves the coastline and heads into the suburban streets, which can cause some confusion. In the notes below, we're including street names to help you stay on track.
1. Gap Park
The Gap is located on the eastern side of Watsons Bay, and is one of Sydney's most famous ocean cliff lookouts with views that are absolutely breathtaking.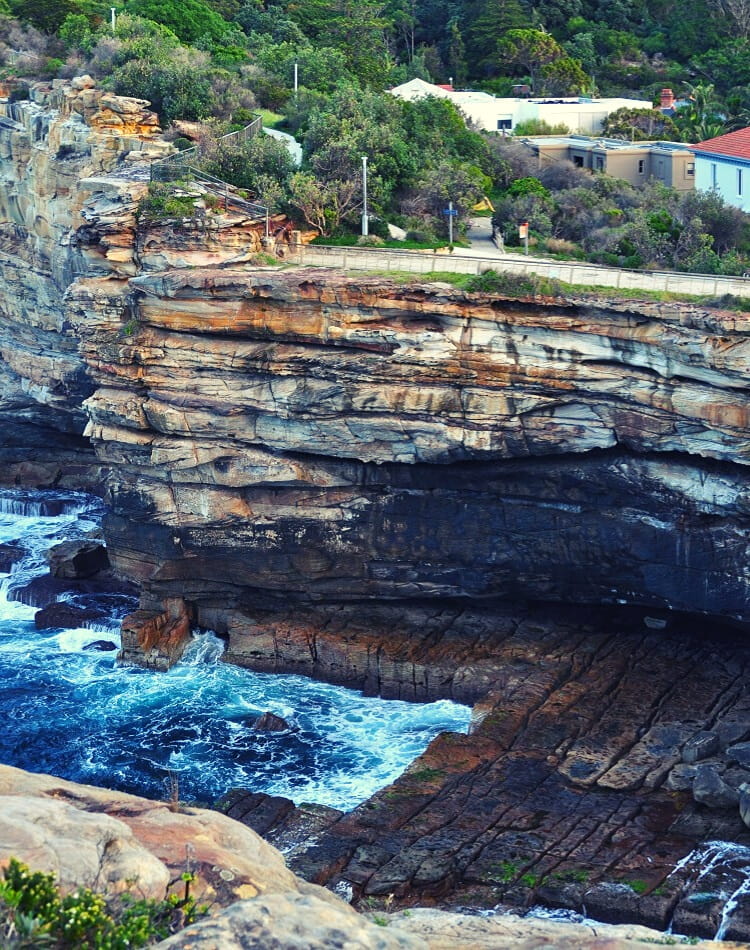 The Gap is part of Gap Park, a designated park area designed around this unique cliff structure. A short walking trail offers different vantage points from where you can enjoy some pretty impressive views.
Check out our Watsons Bay hiking guide, for more information about The Gap and the walking trail around South Head.
2. Macquarie Lighthouse
From The Gap, follow the cliff-side path towards the south through Gap Park, connecting with Old South Head Road.
The track stays on the road's footpath for a short while until it turns into the Coastal Cliff Walk path (see the big sign) which runs parallel to Old South Head Road.

Continue on this path and enjoy the views of the ocean on your left, as you walk past the Signal Station and Signal Hill Fort (est. 1893), part of the Signal Hill Reserve.
The gun at the fort was removed in the 1930's, and the underlying fort has since been locked up. The site of the current signal station has been used since 1790 to signal incoming ships.

As you continue, you will be walking through the Lighthouse Reserve, past the historic Macquarie Lighthouse.
First constructed in 1818 and rebuilt in 1883, the Macquarie Lighthouse is the oldest lighthouse in Australia, and is open for guided tours.
3. Christison Park
The path continues south past Christison Park, with its large open sports grounds and various fitness stations.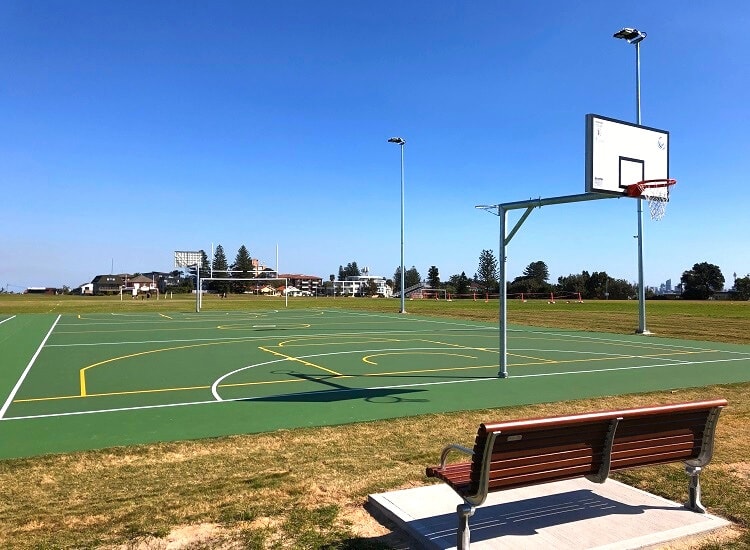 Christison Park is an excellent picnic spot, and also has toilet and playground facilities available.
Please note though that there is very little natural shade in the park, so on a warm sunny day, Christison Park may not be the best location for a break.
4. Clarke Reserve
The walking path continues to Clarke Reserve, from where you will see the first glimpses of the sandstone cliffs at Diamond Bay, further south.

At Clarke Reserve, walk into Jensen Avenue via Clarke Street.
Then turn into Marine Street and Chris Bang Crescent that will lead to the steps going down into Diamond Bay Reserve.
5. Diamond Bay Reserve
As you walk down the steps into Diamond Bay, it's almost like you're stepping into a tropical rain forest, which is actiually quite a surreal experience.
The track continues around Rosa Gully, an inlet between the cliffs, which is a popular place for rock climbing and abseiling.

A beautifully constructed wooden walkway with viewing platforms was built by Waverley Council to provide a safe and scenic route around the cliffs.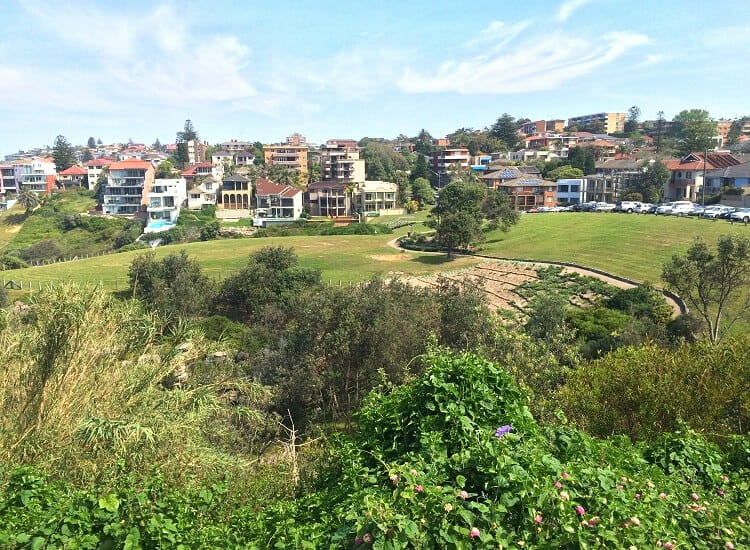 This walkway gives you a sense of being right on top of the cliffs, which makes this walking track an even more amazing experience.
It starts at Diamond Bay Reserve and continues, with a few interruptions, all the way to Dover Heights.
6. Eastern Reserve
Follow the timber walkway heading south, around the huge white apartment block with million dollar views, to Ray Street.
The cliff walk continues a few hundred metres south at Oceanview Avenue, from where you can access Eastern Reserve, also known as Dover Heights Reserve.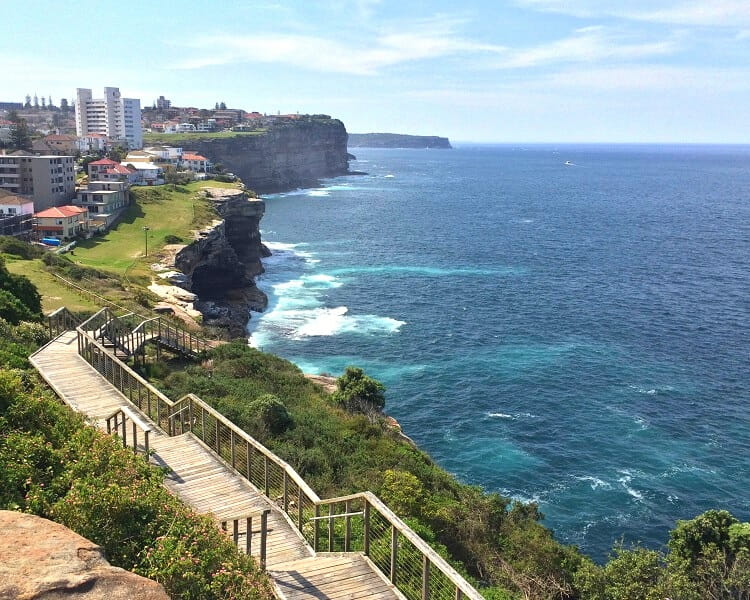 Eastern Reserve is a stunning cliffside park located at the end of Eastern Avenue. It's a beautiful park where you can take your dog out for a walk, while enjoying the scenic coastal views.
It's a also a great location to spot whales during the migration seasons, as the ocean views are far stretching and uninterrupted.
7. Dudley Page Reserve
From Eastern Reserve, keep walking south and turn into Lancaster Road followed by a left turn into Military Road.
This is where Dudley Page Reserve is located, a large grassy area that offers incredible views towards the Sydney CBD skyline.

Take a moment to enjoy the spectacular city and Harbour views from this park area, which is also a popular vantage point for the Sydney New Year's Eve fireworks.
It's easy to understand why this park is such a popular spot with tourist buses that often stop here for unique photo opportunities.
8. Rodney Reserve
From Military Road, turn left into Weonga Road or Blake Street in order to get back on to the Federation Cliff walking track.

This is the north point of Rodney Reserve, which flows into Raleigh Reserve towards the south.
Near the cliffs in Rodney Reserve you can find a full-size replica of an eight-element radio antenna that was built in 1951. It has an informative plaque in front of it which explains the interesting history behind it.
9. Raleigh Reserve
Continue walking through the park heading south, and enjoy the 80-metre high sandstone cliffs at Raleigh Reserve, revealing millions of years of earth's geological history.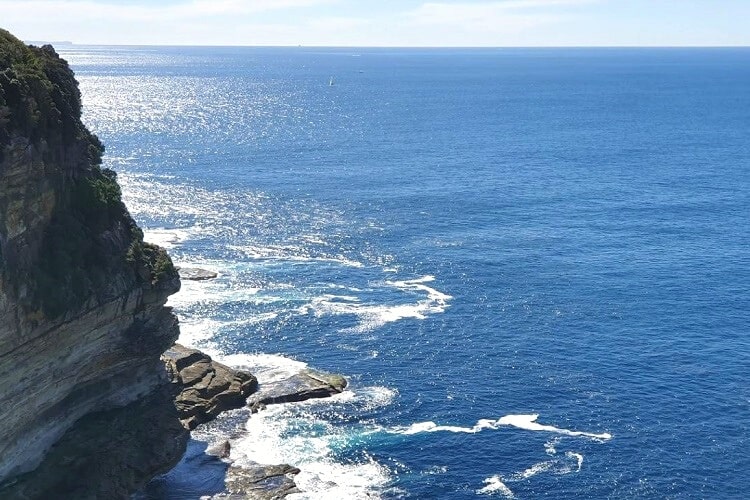 And that's it, you have made it the end of the Federation Cliff Walk!
You now have the option to walk back to Watsons Bay, to catch a bus back to where you started, or to continue the walk south to North Bondi and Bondi Beach.
Watsons Bay to Bondi Walk
The Watsons Bay to Bondi walk (or Bondi to Watsons Bay walk) includes the Federation Cliff walk with the extra bit between Dover Heights and Bondi Beach.
This walk is 7km in total and is definitely worth it if you have the energy. It's also easier to catch public transport in Bondi and Watsons Bay than it is in Dover Heights, so that could be another reason to extend the hike and continue to Bondi.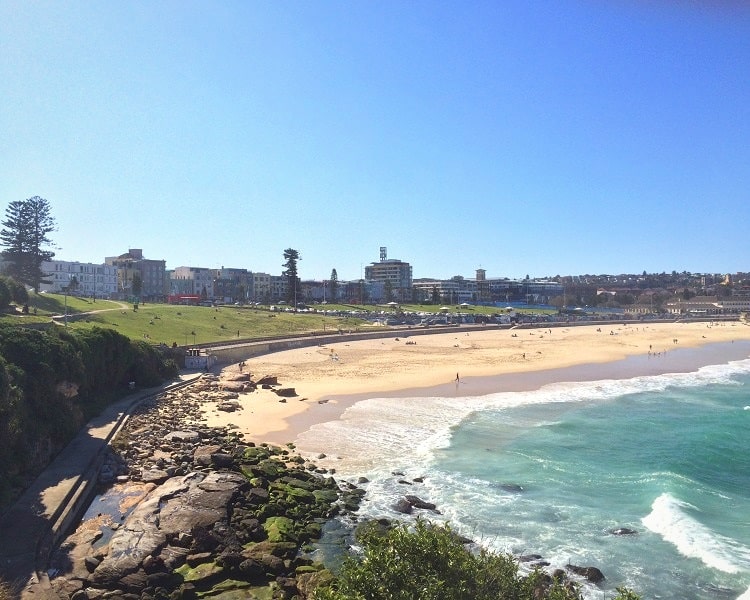 Getting to Bondi Beach from the end of the Federation Cliff walk in Dover Heights is pretty easy.
From Dover Heights (Raleigh Reserve, or Rodney Reserve), follow Military Road onto Wentworth Street through the Hugh Bamford Reserve. Go back onto Military Road past the Bondi Golf Course and follow all the way to Bondi Beach.
Admittedly, this isn't a super exciting walk but the reward is that you end up in Bondi Beach, where you can have a good lunch and perhaps go for a refreshing swim.
The Federation Cliff Walk is a great walking trail for the whole family with unparalleled views of the ocean and amazing cliff scenery.
While this walk is not too long (5km), if you include all stops for photos and general sightseeing, it may actually take a few hours to complete the walk.
The Federation Cliff Walk is far less crowded than the Bondi to Bronte walk or the Bondi to Coogee walk, but it's just as pretty.

Even though there are enough cafes and restaurants to grab a drink and a bite in Watsons Bay and North Bondi, it's recommended to bring some snacks and a good sized water bottle.
The walk, with so many park areas on the way, is perfect for picnics. So why not prepare your own food beforehand and choose a great spot for a picnic with awesome ocean views.