Last updated: June 29, 2021
The Glebe Foreshore walking track is a pleasant walk that goes from Bicentennial and Jubilee Park in Glebe to the Sydney Fish Market in Pyrmont, along Rozelle Bay and Blackwattle Bay.
This walking track offers great views of the Sydney CBD skyline, the Anzac Bridge and the Sydney Harbour. There are several parks along the way to relax, and to soak up the peaceful vibe and scenic views of this picturesque part of Sydney.
Read on, as we discuss the highlights of this scenic walk, how best to get there, and where to park your car.
Glebe Foreshore Walk
Distance:
4 km (return)
Time:
1.5 hours
Grade:
Easy
Dogs:
On and off leash sections in the parks
A small car park is located on Chapman Road (map) next to Bicentennial Park, which tends to fill up rather quickly on sunny days, especially during weekends.
Plenty of buses travel through Glebe from the city. You can also catch the light rail that stops in Glebe, Jubilee Park and Rozelle Bay.
Use the Transport NSW site to help plan your trip with public transport.
Let's go through the highlights of this beautiful walk, starting at Bicentennial Park.
1. Bicentennial Park
It's recommended to start the Glebe Foreshore Walk at Rozelle Bay, where you can park your car or hop off the light rail. Parking is available at the car park on Chapman Road but please note that this fills up quickly during sunny weekends.
There are also two lightrail stops (Rozelle Bay and Jubilee park) close by.

Bicentennial Park is located right at the south-western shore of Rozelle Bay, with plenty of picnic areas and a large, fenced playground for children.
Dogs can go off-leash in the western part of the park (marked by Johnstons Creek), but need to be on a leash in the eastern part of the park.
Bicentennial Park was established in 1988 to commemorate 200 years of white settlement in New South Wales and Australia.
2. Federal Park
At the southern end of Bicentennial Park is Federal Park, the perfect place for outdoor sports activities such as hockey and touch football.
Federal Park has a floodlit field, a skateboard ramp and a dog park where dogs can go off-leash.
Dogs can also go on the field if it's not being used for any sports activities.
3. Jubilee Park
Right next to Federal Park you'll find Jubilee Park which has a historic cricket pavilion and a cricket oval that can be used for sports like AFL, touch footbal and, of course, cricket.
There is also an awesome kids playground that was upgraded in 2014.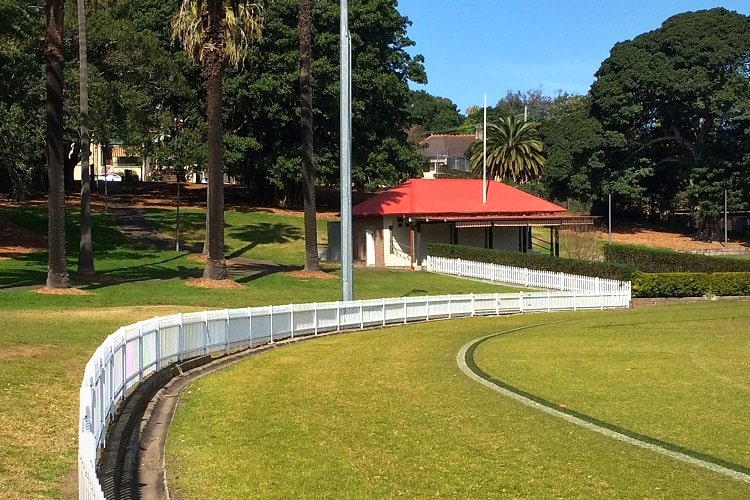 Dogs need to be on-leash in this area. Interestingly, this part of Glebe, including the oval, is all land that was reclaimed in the late 19th century.
As you continue the walk towards the north, you'll end up in the eastern part of Bicentennial Park. From here you keep strolling east along the Rozelle Bay foreshore.
4. Pope Paul VI Reserve
Further west along the shore, at the end of Glebe Point Road, is the Pope Paul VI Reserve. This reserve commemorates the first ever papal visit to Australia.
Pope Paul VI arrived in Glebe at the former Glebe Point Road wharf in 1970.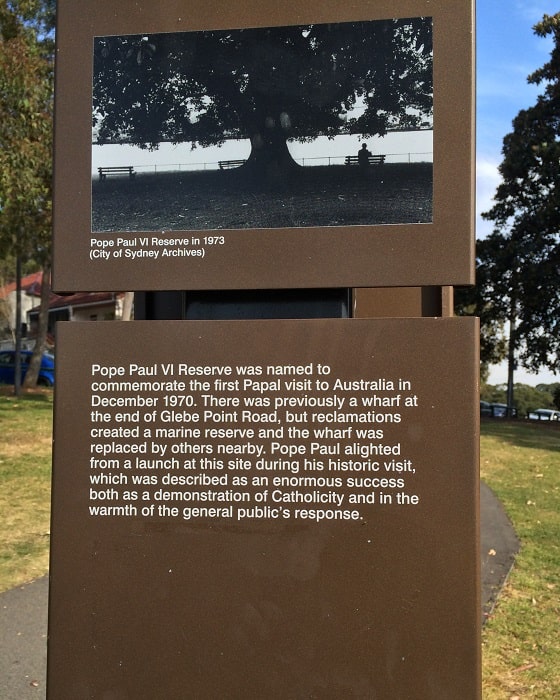 This reserve is a also a great opportunity to see three iconic Sydney bridges in one beautiful view: Anzac Bridge (1996), Glebe Island Bridge (1903) and the Harbour Bridge (1932).
The Glebe Island Bridge, a traditional swing bridge, was closed in 1995 and placed in a permanent open position so that boats can enter and exit Rozelle Bay and Blackwattle Bay at all times.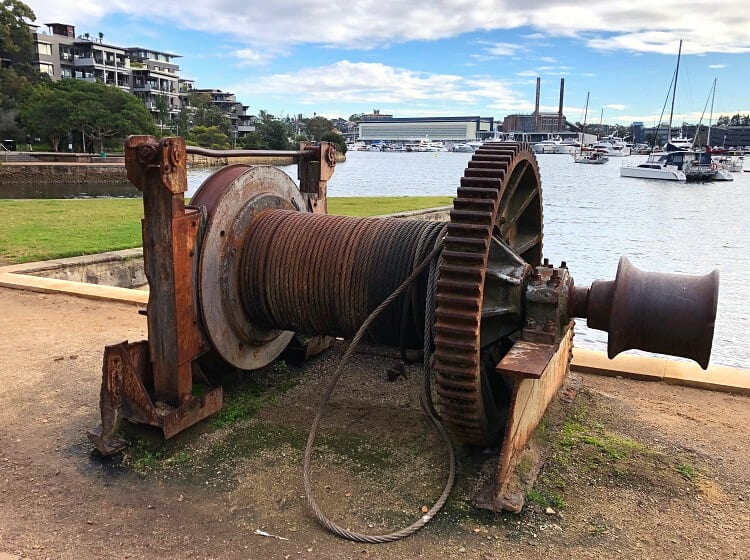 The next part of the foreshore walk treats us to a bit of history with an old crane and a winch that are displayed along the path.
This part of the Glebe Foreshore Walk brings you back to the industrial days of Glebe with the old timber yards being the leading industry in the area at the time.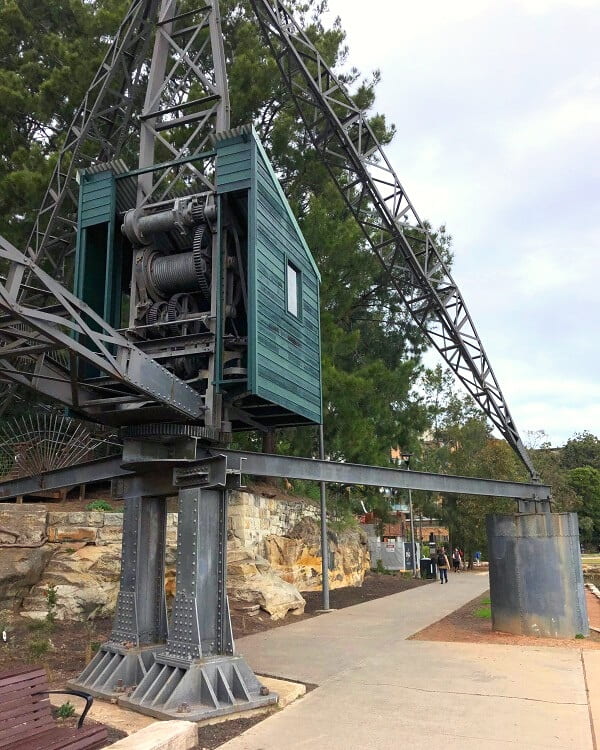 As you continue the walk, you'll leave Rozelle Bay behind and you'll enter the Blackwattle Bay part of the walking trail.
5. Blackwattle Bay Park
The Blackwattle Bay Park is located on the foreshore, at the end of Leichhardt Street, and features a playground and great picnic and BBQ facilities.
The Park area was transformed from industrial land to a recreational park and completed in 1983. Dogs can go off-leash here.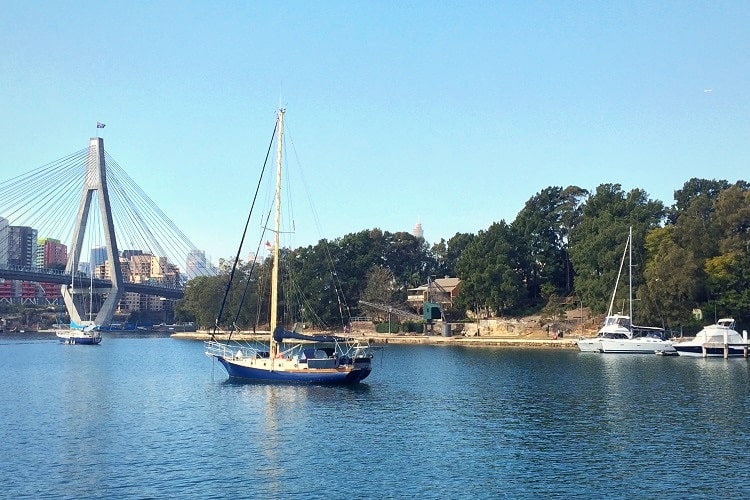 Next to Blackwattle Bay Park stands a two-level villa named Bellevue that was built in 1896. In 2010 this beautiful building was transformed into a cafe, not surprisingly named Blackwattle Cafe.
With great views of the bay and the Anzac Bridge, this is a great spot to take a break and enjoy a well-deserved coffee.
The next stretch of the walk offers beautiful views of the Sydney CBD skyline, as you walk further towards the famous Boathouse on Blackwattle Bay.
This restaurant offers great fine dining in a unique location, overlooking Blackwattle Bay with the city skyline in the background.

Just past the Boathouse, a purpose-built section of the foreshore walk was opened in 2014.
This final section of the Glebe Foreshore Walk is a 300 metre long path accessible to both pedestrians and cyclists, providing easy access to Wentworth Park, the CBD and the Sydney Fish Market.

When you get to the end of this new path, simply turn left into Bridge Road and walk a few hundred metres until you arrive at the Fish Market.
Sydney Fish Market
The Glebe Foreshore walk is not complete without a visit to the famous Sydney Fish Market in Pyrmont.
With beautiful fresh seafood available from several different shops and with a great outdoor seating area, this is the perfect place to indulge and relax.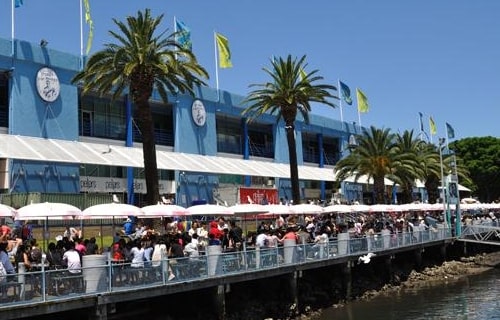 A word of caution, the seagulls outside are far from shy and they do try and steal your food if you're not watching carefully.
If you're doing the Glebe Foreshore walk, we strongly recommend doing a little detour into Glebe, a characteristic Sydney suburb, first settled in the early 19th century.
You can still see a lot of the old Victorian homes, Federation houses and worker's cottages as you stroll through the heart of Glebe.
There are also plenty of cafes and restaurants along Glebe Point Road that runs all the way from Rozelle Bay to Broadway in the city.
If you have a chance, make sure you check out the Glebe Markets, held every Saturday between Derwent Street and Glebe Point Road. It's one of Sydney's most well known Saturday markets with diversity, character and style.
The Glebe Foreshore Walk is a very easy stroll along Rozelle Bay and Blackwattle Bay. This area is very popular with pedestrians, runners, cyclists and you'll also see rowers and dragon boaters do their training sessions on the water.
The family-friendly parks along the way, the views of the city and the fresh seafood at the Sydney Fish Markets make this walk a great day out.
Start the Glebe Foreshore walking track at the Rozelle Bay side of Glebe and simply keep following the waterfront on your left.