Last updated: August 1, 2022
Sydney is a relatively young city with lots of great (and not so great) modern architecture, but for the history buffs, Sydney has a lot to offer too.
The British colony of New South Wales was first established in 1788, and many historical buildings from the 19th century still stand strong today.
Walking through the city of Sydney, you will find an interesting mix of old colonial buildings and tall modern skyscrapers, with many of those older buildings now heritage listed.
Here is our list of 18 historical buildings in the Sydney CBD. We have listed them in a logical geographical order so you can visit them in one big city walk.
1. Australian Museum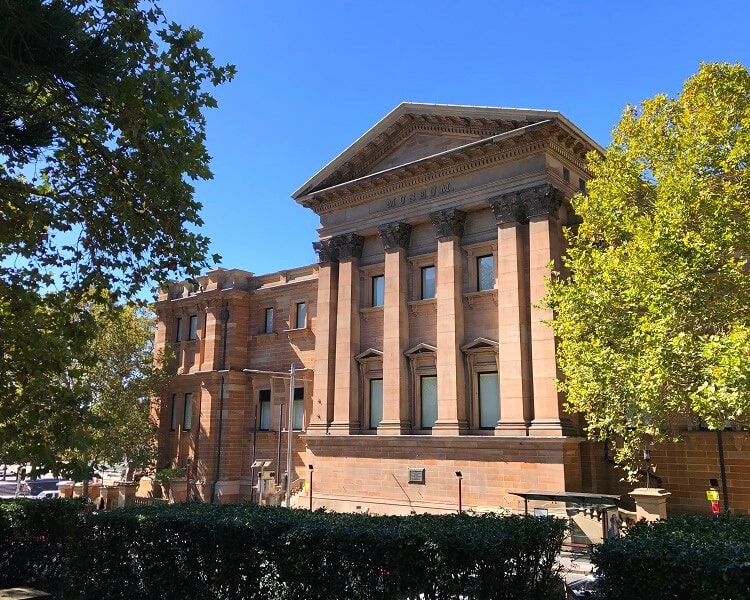 The Australian Museum is housed in a Greek Revival-style building on the corner of William and College Streets opposite Hyde Park. It was opened to the public in 1857.
The museum collections have expanded dramatically over the years, and several new wings and floors have been added to the original building since it was first built.
The museum itself was founded in 1827 and was Australia's first museum. Today, the heritage-listed museum offers free general admission to all permanent exhibitions, with a focus on natural science and culture. It is one of various free museums in Sydney, and is open seven days per week.
2. St Mary's Cathedral

Located further north on College Street is St Mary's Cathedral, an impressive Gothic Revival-style cathedral church, the spiritual home of Sydney's Catholic community.
Sydney is still a very young city compared to its European counterparts, but St Mary's Cathedral looks almost as impressive as the great medieval cathedrals in Europe.
The present cathedral had its foundation laid in 1868, and it wasn't until the year 2000 that the two spires were added. The public has free entry to the cathedral, with guided tours on Sunday mornings.
3. Hyde Park Barracks

Located at the southern end of Macquarie Street, across the road from Hyde Park, the Hyde Park Barracks building is one of the oldest survivors from Australia's colonial period.
The imposing building, designed by famous convict architect Francis Greenway, opened in 1819 as a convict barracks, housing anywhere between 600 and 1400 convicts at any given time.
In later years, the barracks was used as a female immigration depot before it became a legal and administrative hub with courtrooms and government offices. Today, Hyde Park Barracks is a museum where visitors can learn more about Sydney's colonial history.
4. St James Church

While St Mary's Cathedral typically gets a lot more attention, nearby St James Church between King Street and Macquarie Street might not be as impressive, but it is significantly older.
St James Church was constructed between 1819 and 1824 and was named in honour of St James the Great, one of the Twelve Apostles of Jesus.
It is a heritage-listed Anglican parish church designed in Georgian style by Francis Greenway, and is Sydney's oldest surviving colonial church.
5. Sydney Mint

The following three historical buildings on Macquarie Street were initially built as one big hospital during the years 1811 to 1816 when Lachlan Macquarie was Governor of New South Wales:
Sydney Mint
Sydney Hospital
Parliament House
The first building, the southern wing, now referred to as Sydney Mint, was used as a home for the Sydney Royal Mint from 1855 until 1926, hence its current name.
In the following decades, the building was used by several government agencies, and today, it is the head office for Sydney Living Museums. The Mint is open daily and is also home to a cafe.
6. Sydney Hospital

The second building in that row of three is still the actual Sydney Hospital. Opened in 1816, it was the first public hospital in the country and is now Australia's oldest surviving public building.
The hospital was referred to as the "Rum Hospital" because the contractors who built it were paid with thousands of gallons of rum, an official currency at the time.
The centre building of the hospital was demolished in 1879, and the new hospital building, which still stands today, opened in 1894.
7. Parliament House

The northern wing of the old Sydney Hospital has been used to house the Legislative Council since 1829.
Following a major rebuilding and restoration program in the 1970s, the current Parliament House is a mix of heritage and modern buildings.
Walking past the Parliament House on Macquarie Street, you will notice that it's not an architecturally impressive building. While many rebuilding proposals have been submitted over the years, the original building remains the Parliament House today.
8. Art Gallery of New South Wales

Located on the eastern side of the Domain, the Art Gallery of New South Wales is Sydney's most important public gallery and one of the largest art museums in Australia.
The first building where the art gallery is now located opened in 1885 and was referred to as the "art barn", a simple brick structure. Construction of a more impressive building started in 1896 and was completed in 1908, including the recognisable facade.
The public exhibition space has a wide variety of Australian, European, and Asian art on display. It is also home to one of the world's largest permanent exhibitions of Aboriginal and Torres Strait Islander art.
9. Sydney Conservatorium of Music

The Sydney Conservatorium of Music is one of the oldest and most prestigious music schools in Australia, located on Macquarie Street adjacent to the Royal Botanic Gardens.
Designed in a beautiful Old Colonial Gothic Picturesque style, the building was constructed from 1817 to 1820 as the stables for the First Government House.
The building was converted into a music school in 1915 and is now part of the University of Sydney.
10. Government House

Built from 1837 to 1845, the Government House in the Sydney Royal Botanic Garden is a fine example of Gothic Revival style architecture.
It was built to replace the First Government House at Bridge Street which was demolished in 1846. The Museum of Sydney now occupies part of the site where the Old Government House was located.
The gardens of the Government House, the official residence of the governor of New South Wales, are open Fridays, Saturdays, and Sundays from 10:00 am to 4:00 pm.
11. Justice and Police Museum

The Justice and Police Museum at the corner of Phillip Street and Albert Street was built in 1854 as a water police station, at a time when the town of Sydney was thriving.
In the following years and decades, the building served as a legal hub with holding cells, charge rooms, courthouses, and police offices.
The museum today consists of two 19th-century courthouses and a police station, and offers an extensive collection of historical artefacts, photographs, and documents related to police and law. The museum is open on Saturday and Sunday.
12. Customs House

The imposing Customs House at Sydney's Circular Quay opened in 1845 in response to Sydney's growing volume of maritime trade.
Today, the heritage-listed Customs House is a landmark building in Sydney and serves as a museum space, library, cafe, commercial building, tourist attraction, and more.
One highlight of Customs House is a scale model of downtown Sydney, displayed under a glass floor on the ground level.
13. Department of Lands building

The Department of Lands building on Bridge Street opposite Macquarie Place Park is a heritage-listed state government administrative building, built in two stages from 1876 to 1892.
The impressive Victorian Renaissance Revival architectural style building features a recognisable clock tower with copper "onion" top.
For many years, the building was the head office for the Surveyor General of New South Wales and the NSW Colonial Architect.
14. Cadmans Cottage

From the Central Business District, we're doing a short detour to The Rocks to see Cadmans Cottage, the second-oldest surviving residential building in Sydney.
Cadmans Cottage was built in 1816 to be used by governmental coxswains and their crews. In later years, the building was used as the headquarters of the Sydney Water Police, and as a Sailors Home.
The building has long played an important role in Sydney's colonial history and today serves as a tourist attraction.
15. General Post Office

Located in Martin Place with a George Street and a Pitt Street facade, the General Post Office is a heritage-listed landmark building that was constructed from 1866 to 1874.
The General Post Office was designed in Victorian Italian Renaissance style by colonial architect James Barnet.
The building is today home to a small post office, several cafes, galleries, retail shops, and the 5-star Fullerton Hotel.
16. Queen Victoria Building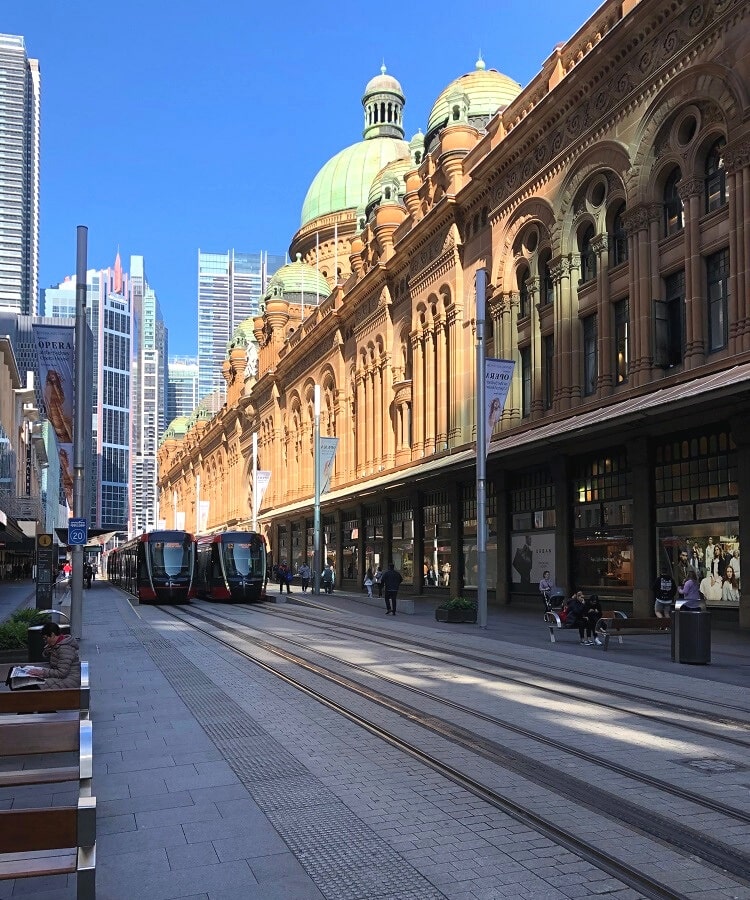 Perhaps one of the most iconic buildings in Sydney is the Queen Victoria Building (QVB) on George Street, built from 1893 to 1898, replacing the original Sydney Markets.
The heritage-listed QVB was designed by Government Architect George McRae in Romanesque Revival style, and is bounded by George, Market, York, and Druitt Streets.
The QVB is now a thriving upmarket five-level shopping centre with a beautiful Romanesque interior. One exciting feature is the Royal Clock on the upper level, which "comes to life" on the hour between 9 am and 9 pm.
17. Sydney Town Hall

Sydney Town Hall is a heritage-listed town hall building on George Street, home to the Lord Mayor of Sydney chambers, council offices, the Centennial Hall, and venues for functions and meetings.
It was built from 1869 to 1890 on the grounds of the Old Sydney Burial Ground, which closed in 1820 and was replaced by the Devonshire Street Cemetery where Central Station now stands.
Sydney Town Hall was built from local Sydney sandstone in the Victorian Second Empire style, and is today considered an iconic landmark building in the Sydney Central Business District.
18. St Andrew's Cathedral

St Andrew's Cathedral is located opposite Sydney Town Hall and forms part of the Town Hall Group, a group of heritage-listed buildings that also includes the Queen Victoria Building.
The cathedral had its first foundation laid in 1837 and, after several delays, was finally consecrated in 1868, which makes it the oldest cathedral in Australia.
St Andrew's Cathedral, an example of Gothic Revival architecture, is the seat of the Anglican Archbishop of Sydney and Metropolitan of New South Wales.
Whether you're a tourist from overseas or a lifelong Sydney-sider, there are many interesting and exciting things to see, do, and discover in our beautiful city. Check out our guide to the
best tourist attractions in Sydney
for a complete list.