Last updated: March 14, 2022
Byron Bay is a popular beach-side town, tucked away in the northeastern corner of New South Wales, not too far from the Queensland border.
The town attracts a large amount of travelers each year, but despite its growing popularity and influx of tourists, Byron Bay has never lost its small town laid-back atmosphere.
To help you plan your next trip to this beautiful part of New South Wales, we have picked 10 awesome things to do in Byron Bay.
Top 10 Byron Bay Attractions and Activities
In no particular order, here is a list of top things to do in Byron Bay and surrounds that will keep you busy for at least a whole week!
1. Spend a Day Beach Hopping
There is definitely no shortage of beaches in and around Byron Bay.
The Main Beach, patrolled by surf lifesavers, is a scenic north-facing stretch of sand with a popular surfing break, and only a short stroll away from the cafes across the road. The beach extends to the east flowing into Clarkes Beach.
Further east is Wategos Beach, a sheltered family-friendly stretch of sand with excellent BBQ and toilet facilities. Next door is Little Wategos Beach, Australia's easternmost beach, accessible via the Lighthouse walking track.
Located just south of Cape Byron in Arakwal National Park, Tallow Beach is a very long stretch of sand that connects with Broken Head.

The northern tip of this beach, also known as the Cosy Corner, is a popular surf spot with surf breaks protected from the northerly winds.
Between Broken Head and Lennox Head is the beautiful Seven Mile Beach, a wide and relatively quiet ocean beach.
Also worth mentioning is Belongil Beach, located just west of the Byron Bay town centre. Great for dogs and families, Belongil is a much quieter alternative to Byron Bay's main beach.
2. Hike to the Base of Minyon Falls
Located just moments away from Byron Bay in Nightcap National Park, Minyon Falls is a stunning plunge waterfall that drops more than 100 metres into a deep gorge.

A beautiful 7.5km walking track through subtropical rainforest brings you to a magical swimming hole right under the waterfall. Don't forget to bring your swimmers on a warm day because taking a dip there is a quite a unique experience.
There are also two lookout points from where you can have a closer look at this beautiful waterfall and its surroundings. The main lookout point, at the top of the waterfall at the Minyon Falls picnic area, offers the best views.
3. Walk to the Cape Byron Lighthouse
Perhaps the most iconic landmark in the Byron Bay Shire is that pretty lighthouse, standing proud and tall on the tip of Cape Byron.
You can drive there, but the best way to make your way up the hill and explore the beauty of this area is by doing the Cape Byron Lighthouse walking track.
This easy 4km return coastal trail starts at the main beach and follows the coastline past Byron Bay's beaches and clifftop lookouts offering panoramic ocean views.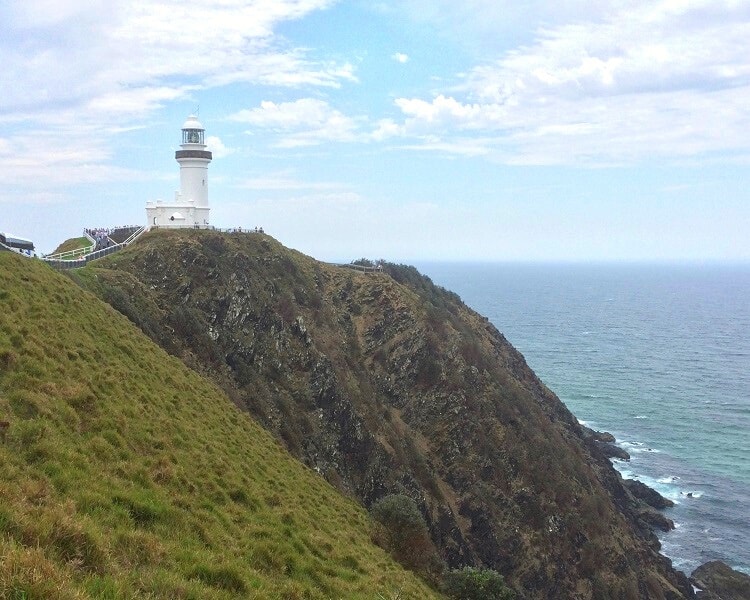 The track also passes the most easterly point of the Australian mainland, the perfect place to spot dolphins and whales.
Once you reach the lighthouse, you can have a peak inside and learn more about its history. The cafe next door serves great cakes and coffee.
The return trip offers amazing views of Tallow Beach, before heading back into Byron Bay through the rainforest.
4. Visit the Local Shops and Markets
It's often said that the best way to get to know a local culture is by visiting markets. Luckily, the Byron Shire has lots of produce and craft markets on almost every day.
This gives visitors the opportunity to experience the colorful and unique culture and atmosphere of Byron Bay and surrounds.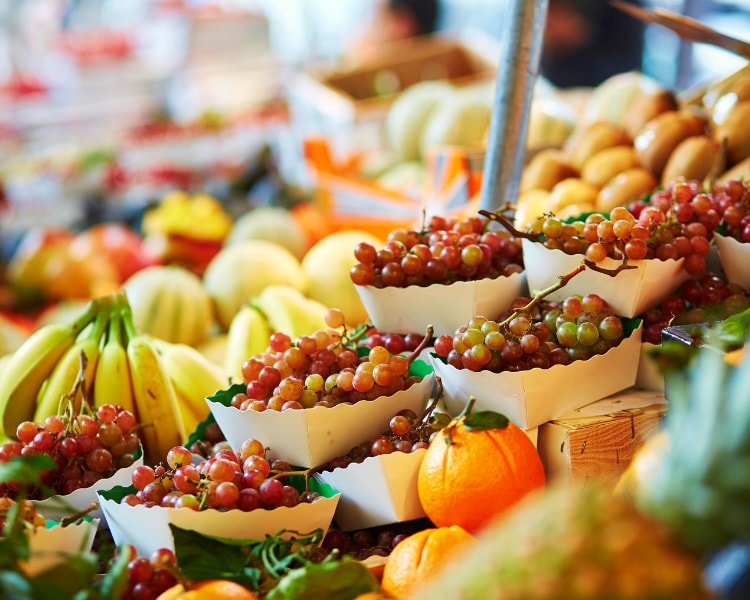 The Byron Bay Community Markets are held each Sunday at the Butler Street Reserve, offering a great variety of handcrafted wares, locally-grown produce and different types of artworks.
The Byron Bay Farmers Market, held every Thursday, is another popular local market supporting local producers that offer fresh and delicious fruits and vegetables.
5. Dine and Drink the Night Away
With its ever increasing appeal to travelers from all over the world, it's no surprise that Byron Bay has a great variety of cafes, pubs and bars spread across town.
Byron Bay has always tried to keep the cheap fast-food chains out (there is still no McDonalds to be found in Byron Bay), yet it is able to offer very decent food at affordable prices.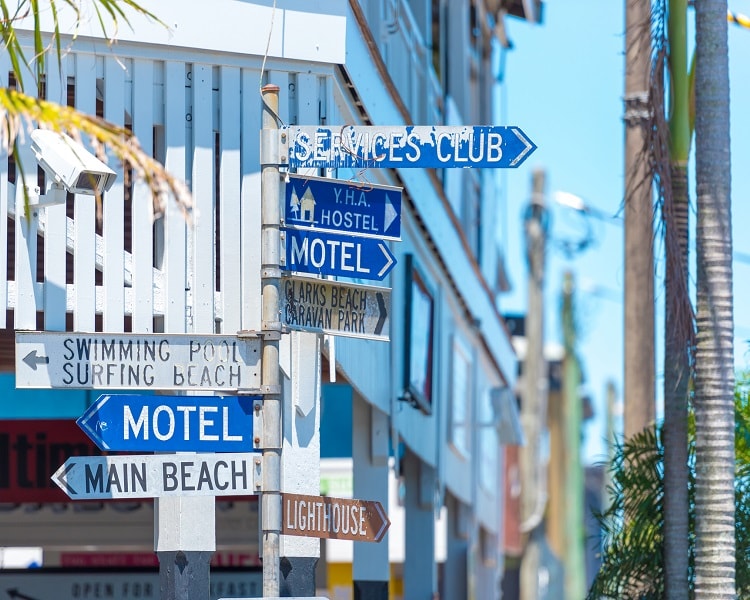 In addition, Byron Bay is also home to some great live music spots and nightclubs. And as Byron Bay is such a small town, everything is within walking distance making it easy to just walk around and find your favorite place for a bite and a drink.
Popular restaurants are the Beach Byron Bay Restaurant, Balcony Bar, Targa, and The Roadhouse, which is a bit further south out of town but worth a visit. The best place for live music and great pub food is The Rails, with a relaxed and somewhat quirky atmosphere.
6. Visit Nimbin and Mullumbimby
A holiday break in Byron Bay is not complete without a visit to Nimbin and Mullumbimby in the Byron Bay Hinterland. Nimbin is a sleepy little town 60km west of Byron Bay that looks like it's still stuck in the 1970's.
After the collapse of the dairy industry in the area in the 1960's, Nimbin slowly turned into a haven for Australia's counterculture movement, triggered by the Aquarius Festival held in Nimbin in 1973.
Since then, Nimbin has attracted writers, artists, musicians, environmentalists and permaculture enthusiasts to settle in the area.

An easy 20min drive north-west from Byron Bay, at the foot of Mount Chincogan, is Mullumbimby, also known as the biggest little town in Australia.
The friendly locals like to refer to their hometown as Mullum. Visiting Mullumbimby is like taking a step back in time, perhaps what Byron Bay used to be like before tourism took over.
Mullumbimby is full of character with a pleasantly alternative atmosphere. The best way to appreciate the biggest little town in Australia is to simply wander around and discover the many shops, galleries, cafes, eateries, and other little treasures.
7. Visit Point Danger at the Border With Queensland
Located at Tweed Heads and Coolangatta on the southern end of the Gold Coast, Point Danger is a headland that marks the border between New South Wales and Queensland.
Centrally located on the border line, right next to the Captain Cook Memorial, is a huge eye-catching concrete tower that is in fact a working lighthouse.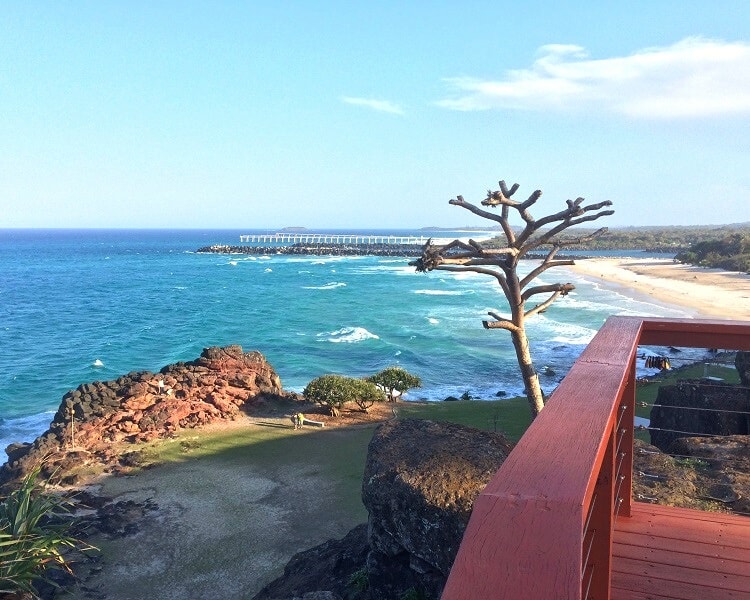 The lighthouse and memorial were erected in 1970 to commemorate the 200th anniversary of the discovery of the east coast of Australia. Captain Cook named the area Point Danger when he first sighted it in 1770.
Named after AHS Centaur, sank by a Japanese submarine on 14 May 1943, the Centaur Remembrance Walk along the coast commemorates ships lost to Japanese and German action during World War II. Memorial plaques are positioned along the walk to honour those lost at sea.
8. Go Surfing, Snorkeling or Scuba diving
With so many beaches right at your doorstep, it's no surprise that the Byron Bay area is perfect for typical ocean based activities, such as surfing, snorkeling, and also scuba diving.
Popular surfing spots can be found at the Main Beach, the Pass, Wategos Beach and the Cosy Corner at Tallow Beach.

Julian Rocks is a popular spot for snorkeling and scuba diving. Several operators organise day tours to there and other popular locations.
Other ocean based activities you can try out in Byron Bay are stand-up paddling, kayaking, eco cruises, and whale watching.
9. Visit the Crystal Castle and Shambhala Gardens
Discover Crystal Castle and Shambhala Gardens, the jewel of the Byron Bay Hinterland. It's a well hidden, magical place with giant crystals, sacred statues, stunning gardens in rainforest settings, unique jewellery, and fresh food.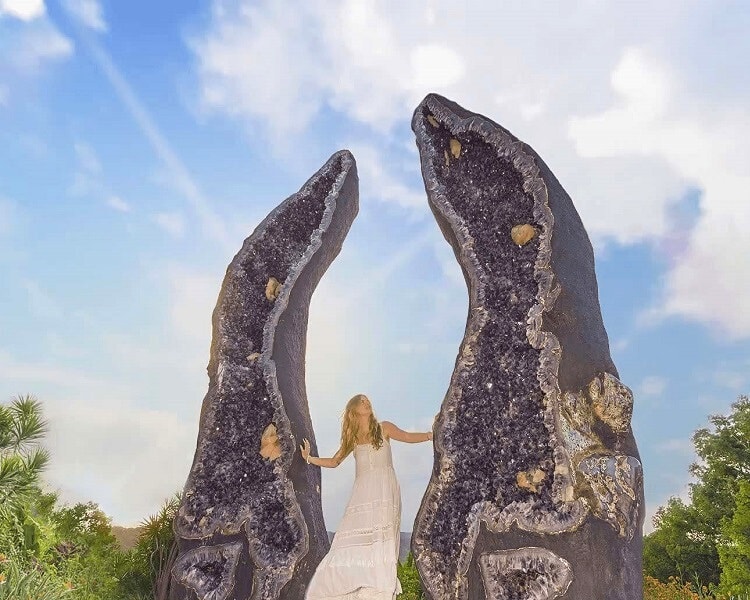 The complex is also home to the Kalachakra World Peace Stupa, an 8m high sacred Buddhist shrine.
Blessed by the Dalai Lama, this vibrant structure is the first Kalachakra Stupa in the Southern Hemisphere, and only the seventh to be built in the world.
10. Do the Mount Warning Summit Trail
Known as Wollumbin by the people of Bundjalung, Mount Warning is a characteristic and recognisable mountain in Wollumbin National Park in the Byron Bay Hinterland.
Each year, thousands of hiking enthusiasts complete the journey to the top of this unique mountain.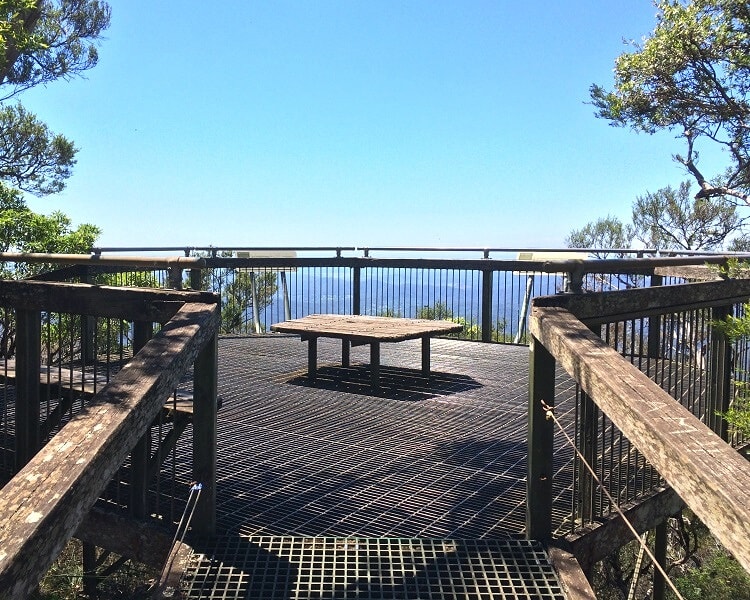 The Mount Warning summit trail is a challenging 9km bushwalk that zigzags its way to the top through subtropical and temperate rainforest.
The panoramic 360 degree views of the the ocean, the Gold Coast, and the Byron Bay Hinterland are absolutely amazing, and well worth the effort required to complete the summit trail.
Update 2022:
Please note that the Mount Warning summit trail is currently closed until further notice. Check the latest updates on the NSW National Parks website.
Also known as "Cavvanbah" by the local Arakwal people, Byron Bay and Cape Byron were named after Naval officer John Byron, by Captain James Cook who arrived in the area in 1770.
In the first half of the 20th century, Byron Bay quickly developed itself as a busy industrial port town, before it slowly evolved into a holiday destination and surfing hot spot from the 1960's.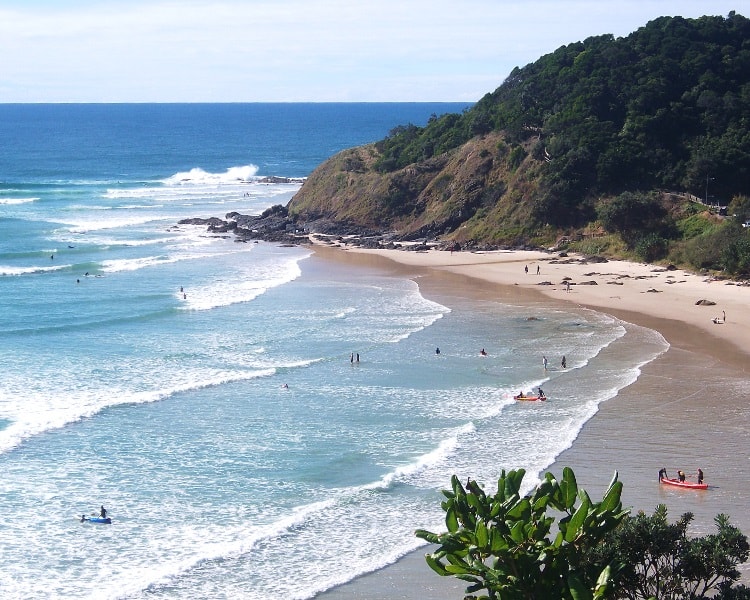 But there is so much more to Byron Bay than just beaches and cafes. With so many natural attractions and charming townships in the surrounding area, Byron Bay is the perfect place for a short holiday break when you most need it.
Long-stretched beaches, a great variety of cafes and restaurants, spectacular coastal trails, stunning bushwalks, and pretty waterfalls in the hinterland, Byron Bay truly has something to do for everyone.
Where to Stay
Most people visiting Byron Bay will want to stay there for at least a few days, and luckily there are plenty of options available, catering for all budgets.
1. Best Luxury: Elements of Byron
Our recommended luxury hotel in Byron Bay is Elements of Byron, a popular resort & spa that offers unrivaled luxury in picturesque surroundings, situated west of the Byron Bay city centre.
The beach is right at your doorstep, and the lagoon style heated pool with swim-up bar is the perfect alternative.
2. Best Mid Range: The Cape Beach House
Our recommended mid range hotel in Byron Bay is The Cape Beach House, a contemporary bed & breakfast located only a short stroll away from Byron Bay's bars, restaurants and shops.
Each suite is individually styled with private ensuites, tea and coffee making facilities, kitchenettes, flat screen televisions and wifi, and outside you will find a pool, a sun deck and a comfortable open lounge area.
3. Best Hostel: Wake Up! Byron Bay
Our recommended hostel in the Byron Bay area is Wake Up! Byron Bay, a recently refurbished hostel located at the Belongil beach front.
This fantastic hostel offers modern quality accommodation with a range of different room options, and visitors will have access to free activities such as yoga, fitness classes, sunrise lighthouse tours, surfboards, and bicycles.
Check out our guide to the best places to stay in Byron Bay for more great ideas and options to consider.
How to Get to Byron Bay
Road trip!
In all seriousness though, part of the fun of enjoying a vacation in Byron Bay is the road trip to there, no matter from which direction you're coming.
If you're driving up from Sydney, expect to spend about 8-12 hours in the car, including stops. Yes, that is a long time, but we're big fans of road trips, and the road trip to Byron Bay along the beautiful coast of New South Wales is one of the best. It's a very easy drive too, which simply follows the Pacific Highway from Sydney all the way to Byron Bay.
A big advantage of taking your own car is that it allows you to do day trips out to some of the above-mentioned things to do, such as Nimbin, Minyon Falls and Point Danger.
By Air
Flying is also a very good option, with daily flights from Sydney, Melbourne and Newcastle to the following airports:
Ballina Byron Gateway Airport
Gold Coast Airport
Brisbane Airport
From Ballina it's only a 30-minute drive to the Byron Bay town centre, and a bit longer from Gold Coast and Brisbane airports. All these airports have car rental services available.