Last updated: August 18, 2023
A guide to the seven best beaches in Byron Bay, suitable for swimming, surfing, snorkelling, sunbathing, and relaxing.
The coastline of New South Wales is home to some of the world's prettiest beaches, and some of these strips of sand are located in the Byron Bay area in the northeastern corner of the state.
Byron Bay is a popular beach-side town that attracts many travellers and tourists each year. Initially making a name for itself as a busy industrial port town, Byron Bay has transitioned into a holiday destination and surfing hot spot since the 1960s.
In this article, we will have a closer look at Byron Bay's beaches, so you know where to go next time you visit Australia's most vibrant coastal town.
Book a Byron Bay tour:
We're doing the below list of beaches in a clockwise manner, starting at Belongil Beach, located just west of Byron Bay's city centre.
A good way to get a view of all beaches is by doing the Byron Bay lighthouse walking track, starting and finishing at Byron Bay's Main Beach.
1. Belongil Beach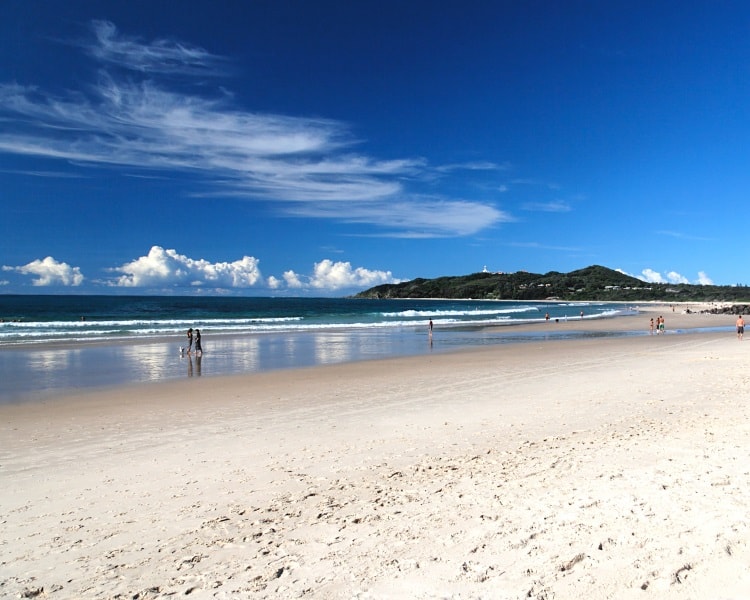 Often overlooked by tourists, Belongil Beach is a 2.5km stretch of sand between the mouth of Belongil Creek in the west and the seawall and Byron Bay car park further east.
It's a much quieter alternative to Byron Bay's Main Beach (see below), which makes Belongil Beach suitable for families, and also dog owners.
In 1921, a 2K ton passenger steamship named Wollongbar stranded in the surf right in front of Belongil Beach. This shipwreck is still visible and is now a popular snorkelling spot.
Named The Wreck, this section of Belongil Beach, just north of the seawall, is also a popular surfing spot. It's a sheltered reef break with consistent swells.
2. Main Beach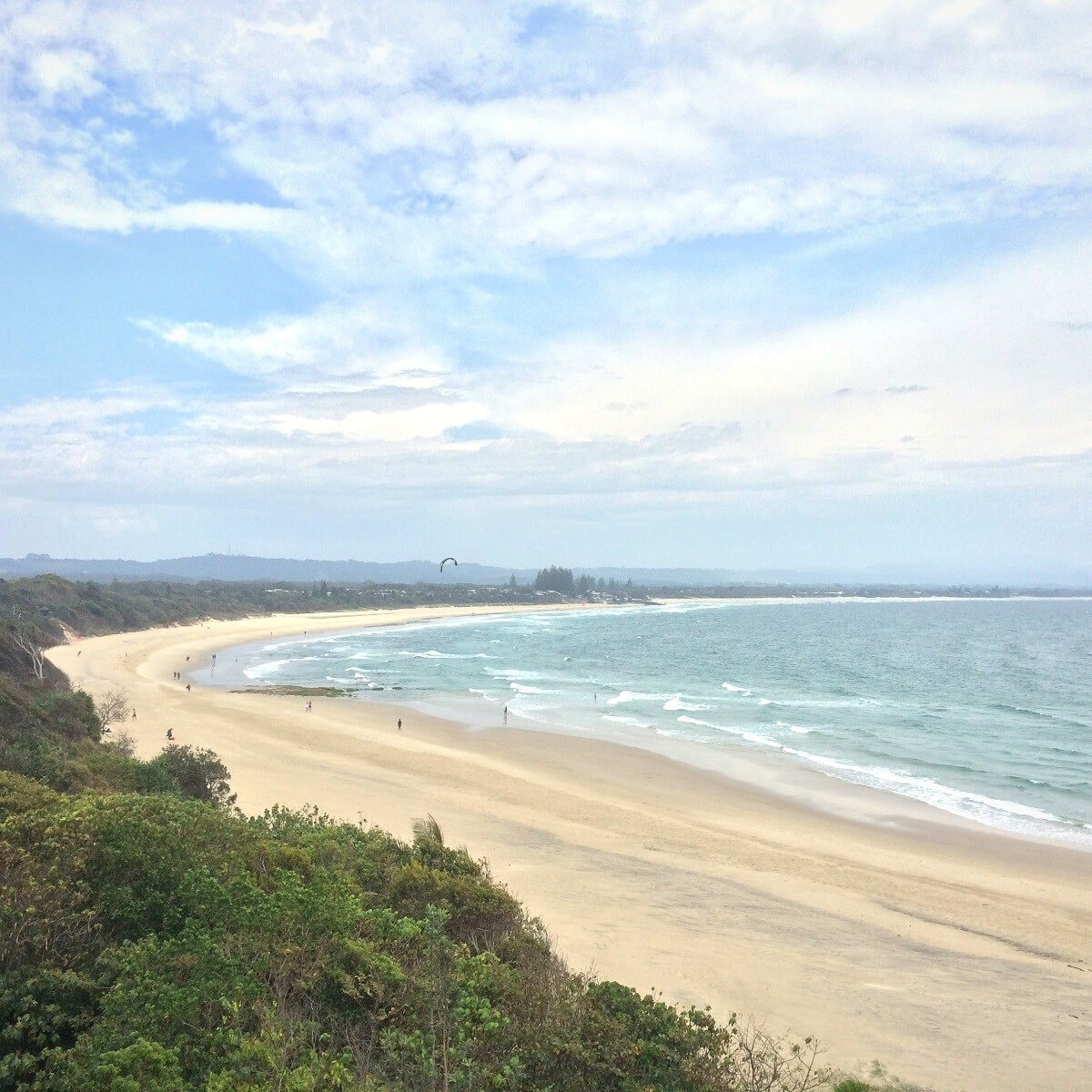 Stretching from the main car park at the end of Jonson Street all the way to Clarkes Beach and The Pass further east, Byron Bay's iconic Main Beach is conveniently situated directly in front of the town's centre. It's suitable for swimming, with often only mild waves.
A large grassy park area right behind the beach is a popular venue, with excellent facilities such as picnic tables, barbeques, toilet blocks and playgrounds.
This area attracts locals and visitors of all sorts and backgrounds, creating a pleasant and harmonious atmosphere.
Byron Bay's Main Beach is patrolled by surf lifesavers year-round, with their clubhouse in the centre of the beach. Established in 1907, the Byron Bay Surf Club is one of Australia's oldest surf life-saving clubs.
3. Clarkes Beach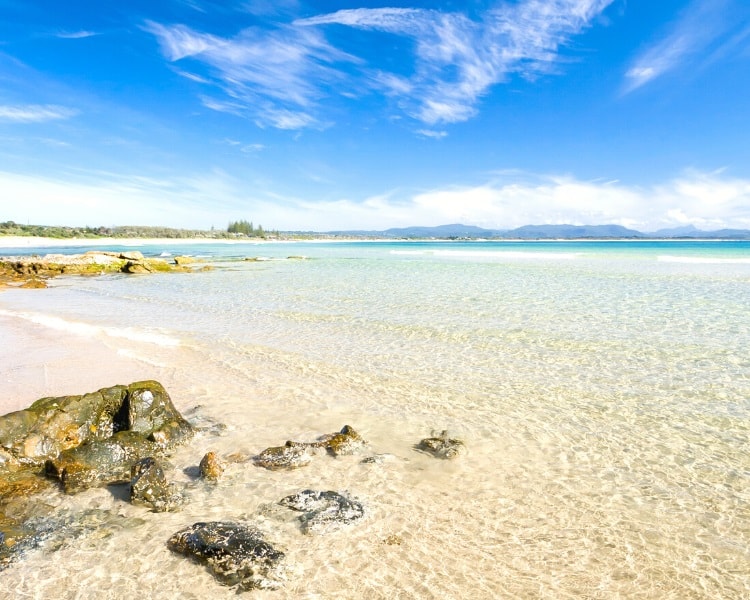 Further around the bay towards the east, Byron Bay's Main Beach flows into Clarkes Beach, a quiet north-facing strip of sand with beachfront parking, excellent facilities, and a large caravan park.
Clarkes Beach is great for swimming as the waves are relatively small but big enough to make them suitable for learn-to-surf programs that are often organised there.
It's also a popular snorkelling spot, with some rocky areas close to the shore to discover.
4. The Pass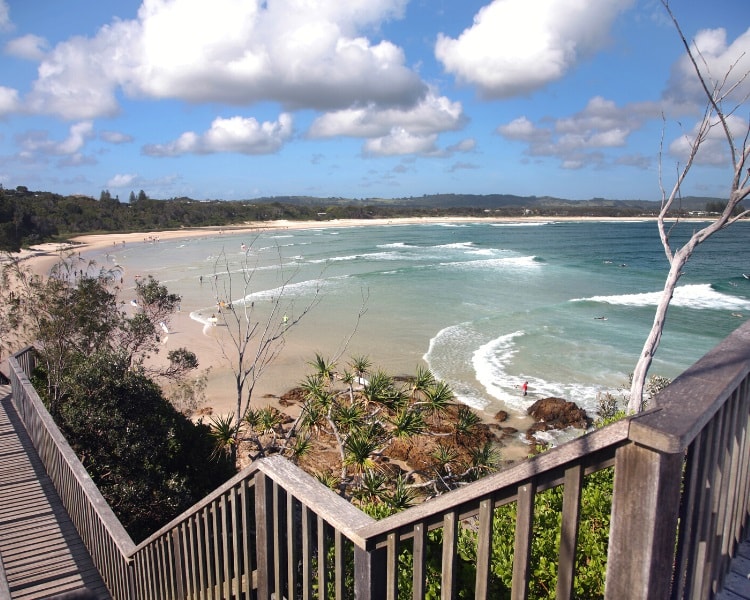 Located at the very end of Clarkes Beach towards the Fisherman's Lookout, The Pass is one of Byron Bay's surfing hot spots. On days with perfect conditions, surfers can expect to ride waves for hundreds of metres.
When visiting The Pass, don't forget to climb up the Fisherman's Lookout, which offers lovely views of The Pass, Clarkes Beach and Main Beach.
The Pass Cafe, just behind the beach on Brooke Drive, offers a wide range of breakfast and lunch options, surrounded by lush rainforests and with excellent views from the outside deck.
5. Wategos Beach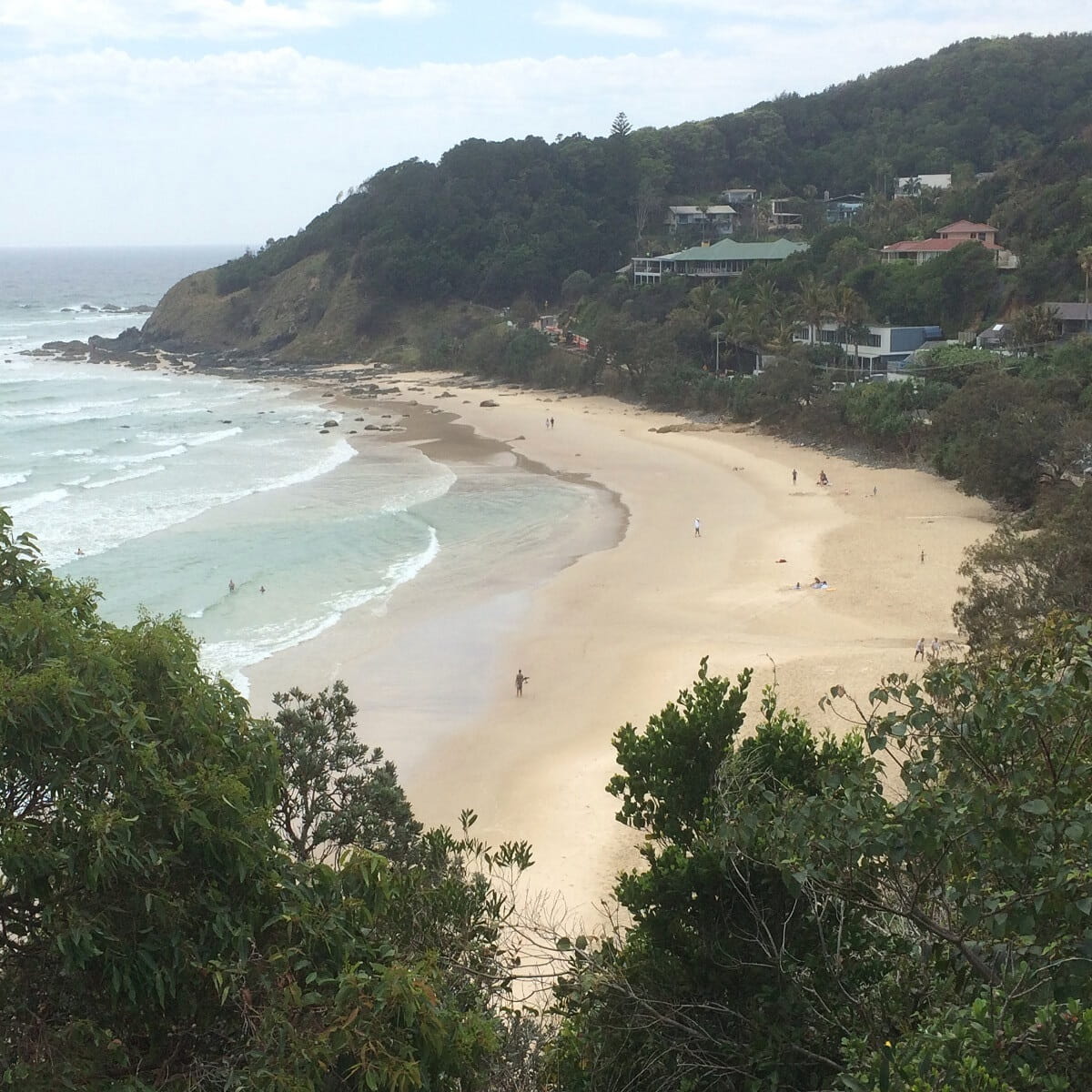 By many considered to be the prettiest beach in the Byron Bay area, Wategos Beach is a pleasantly sheltered strip of sand with a relaxed vibe and great facilities. Wategos produces a friendly surf, suitable for learner surfers.
Located between Cape Byron and the Fisherman's Lookout, below the Byron Bay Lighthouse, Wategos Beach can be accessed by foot via the Cape Byron walking track.
Alternatively, there is limited street parking available along Marine Parade just behind the beach.
6. Little Wategos Beach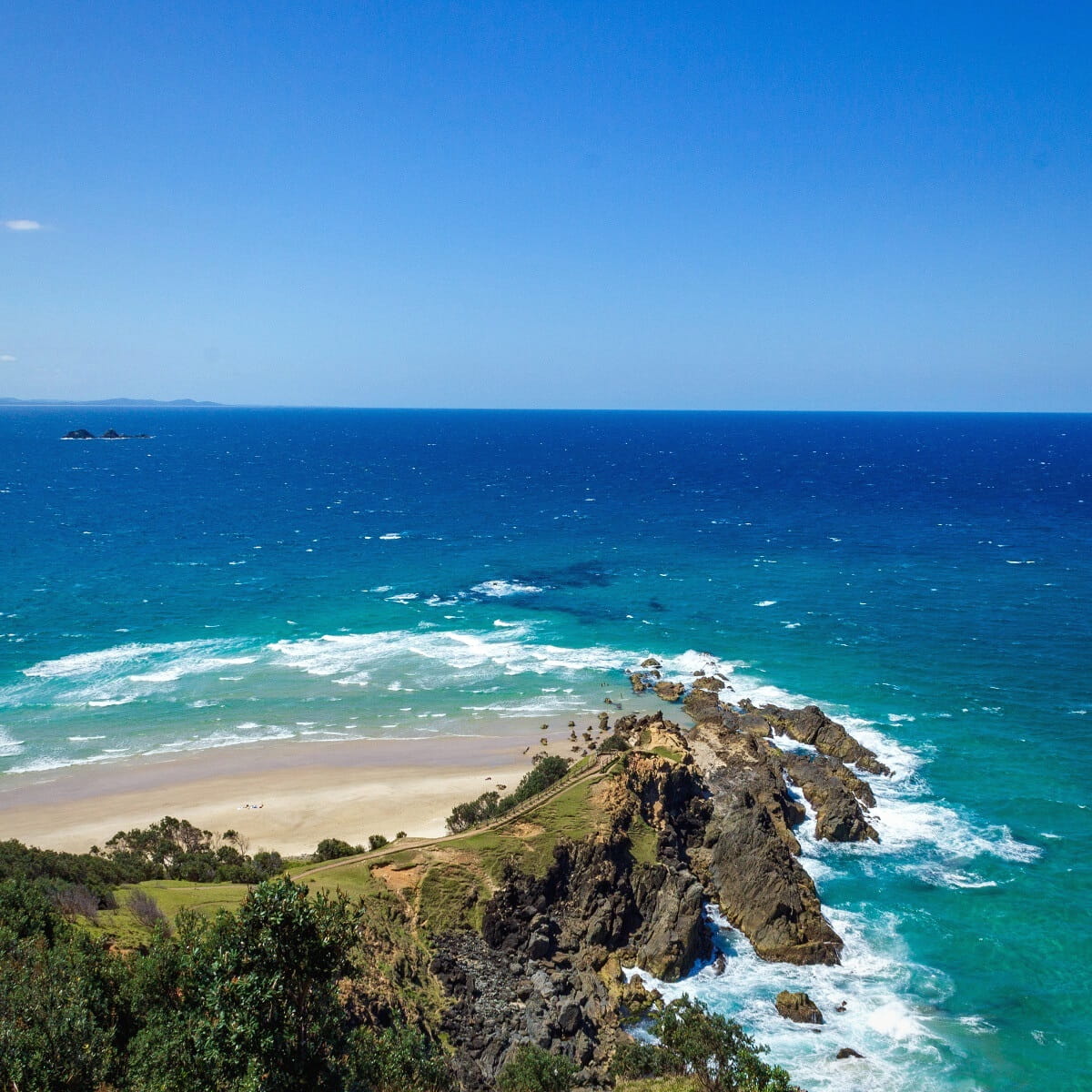 Next door neighbour is Little Wategos Beach, Australia's most easterly beach, accessible by foot via a sidetrack from the Byron Bay Lighthouse walk.
Only 150m long, this north-facing beach is suitable for swimming, sunbathing, and also rock fishing.
If you're looking for a nicely sheltered and isolated strip of sand, Little Wategos may be the perfect spot for you.
7. Tallow Beach

Located south of Cape Byron in Arakwal National Park, Tallow Beach is a very long stretch of sand that connects with Broken Head further south.
Lighthouse Road, which leads to the Byron Bay Lighthouse, provides excellent views of Tallow Beach.
The northern tip of this beach, also known as the Cosy Corner, is another popular surfing hot spot with surf breaks that are protected from the northerly winds.