Last updated: August 17, 2023
A guide to the 20 best beaches in NSW you need to visit. With such a long coastline, New South Wales is home to some of the world's prettiest beaches.
One big advantage of living in NSW is that the state has such a stunning coastline, home to some of Australia's most picturesque beaches. Some of those beaches are famous worldwide, while others are still quiet and secluded.
With so many great beaches in New South Wales to choose from, there is, of course, no such thing as a top 10, a top 15, or even a top 20.
But the below list of twenty incredible beaches is what we believe to be a good representation of the many beaches on offer in NSW, Australia's most beautiful state.
From north to south, here is our top 20 best beaches in New South Wales. Underneath each photo is a link to the map location of the beach to help you work out where it is.
1. Kingscliff Beach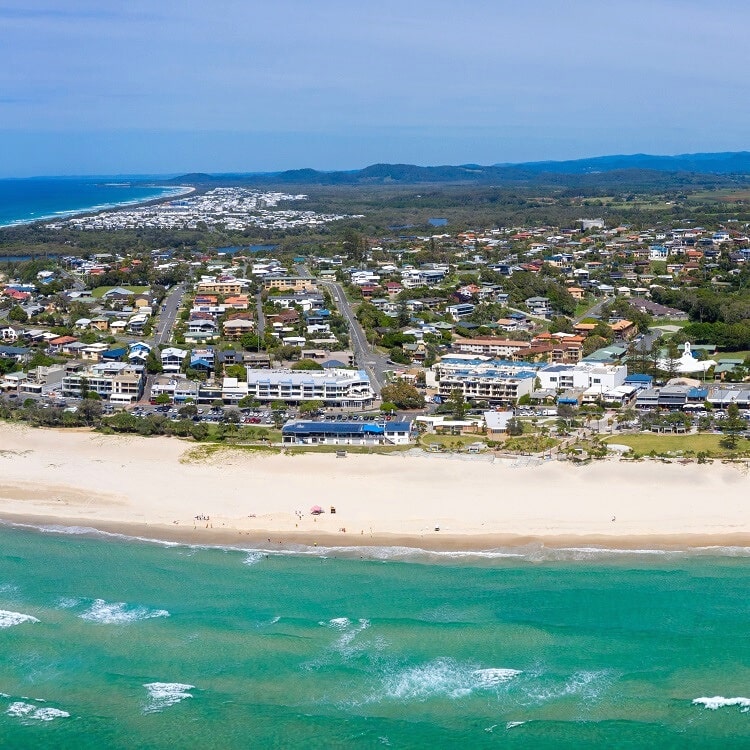 Located just south of the border with Queensland in the Tweed Region, Kingscliff Beach is one of the most beautiful beaches in Northern New South Wales.
Kingscliff Beach is a long strip of sand where visitors can enjoy excellent surfing conditions, an ocean-side lagoon, and grassy parklands right behind the beach.
The beach is located within the suburb of Kingscliff, a popular holiday destination for Queenslanders as well as for people from New South Wales.
Not only are the beaches in Kingscliff perfect for young and old, but there are also a ton of cafes, restaurants, and pubs to choose from to enjoy a nice lunch and a drink.
2. Byron Bay's Main Beach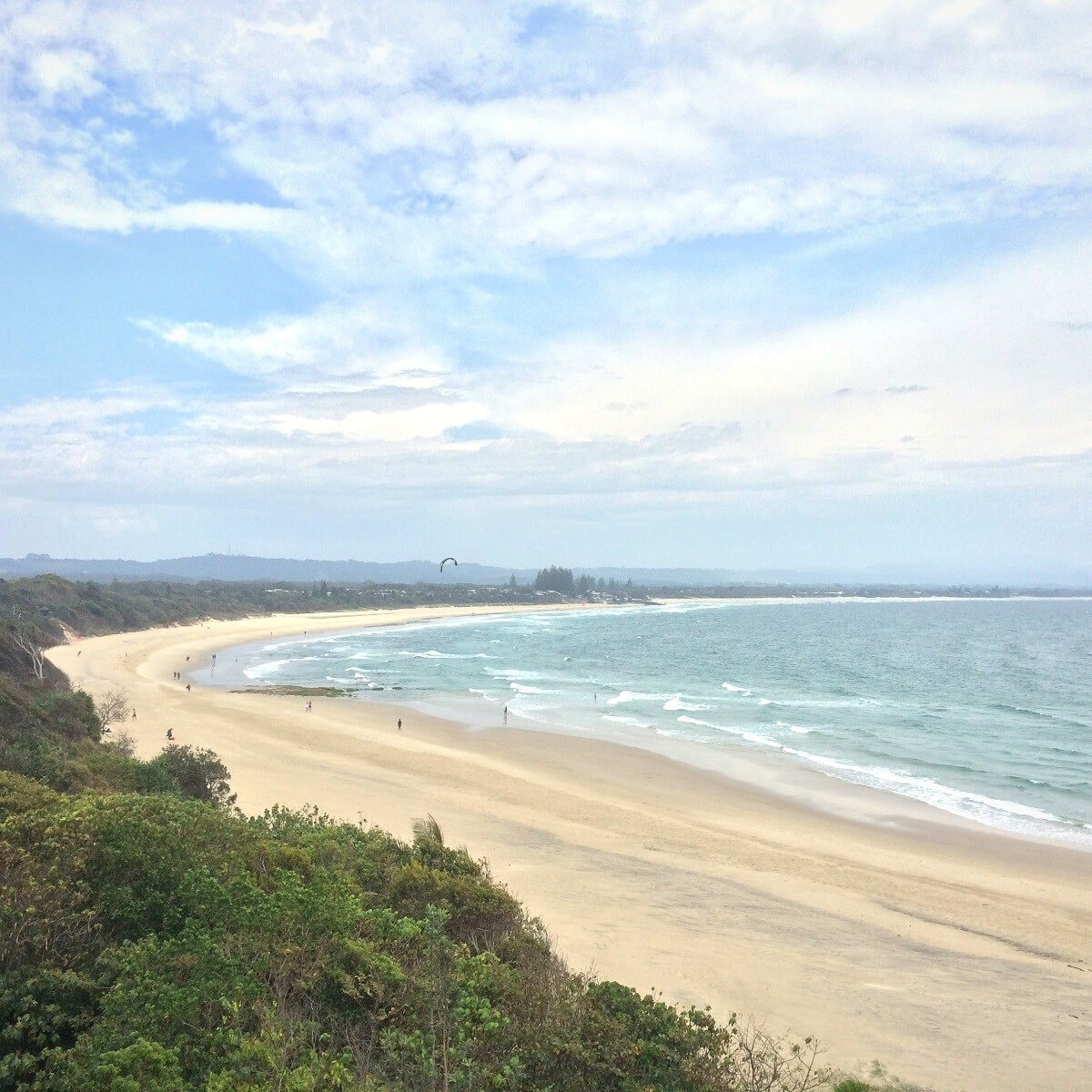 With lots of great beaches to choose from in Byron Bay, the iconic Main Beach is Byron Bay's most popular strip of sand.
Conveniently situated directly in front of the town's centre, Main Beach is great for swimming with usually very mild waves.
A large grassy park behind the beach is a popular meeting place, with excellent facilities such as picnic tables, barbeques, toilet blocks and playgrounds. It attracts locals and visitors of all sorts and backgrounds, creating a pleasantly harmonious atmosphere.
Byron Bay's main beach is patrolled by surf lifesavers year-round, with their clubhouse located in the centre of the beach. Established in 1907, the Byron Bay Surf Club is one of Australia's oldest surf life-saving clubs.
3. Wategos Beach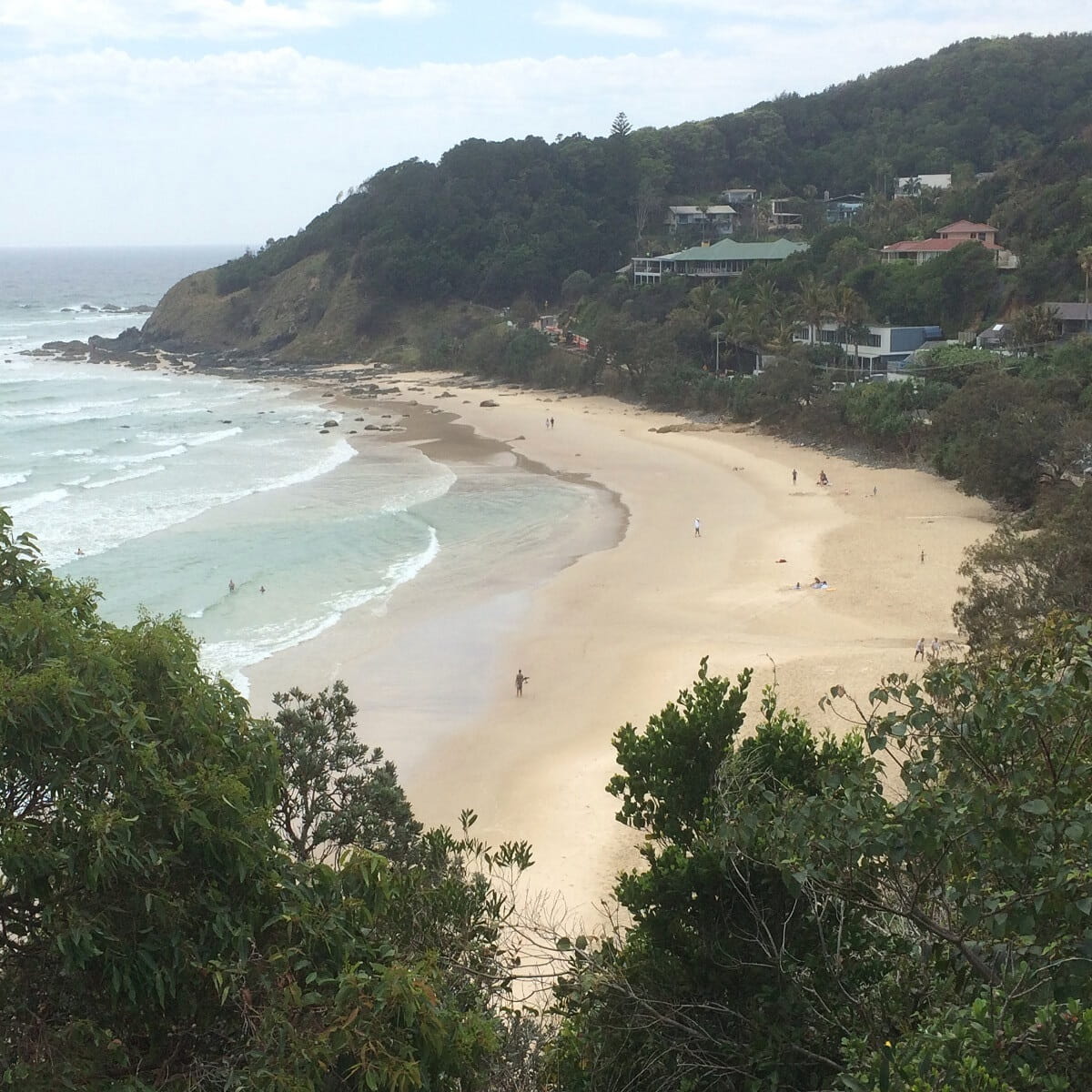 Widely considered to be the prettiest beach in the Byron Bay area, Wategos Beach is a pleasantly sheltered strip of sand with a relaxed vibe and excellent facilities.
One of the reasons Wategos is so popular is because it produces a friendly surf, suitable for learner surfers.
Located between Cape Byron and the Fisherman's Lookout, below the Byron Bay Lighthouse, Wategos Beach can easily be accessed by foot via the Cape Byron walking track.
Limited parking is available along Marine Parade just behind the beach.
4. Bennetts Beach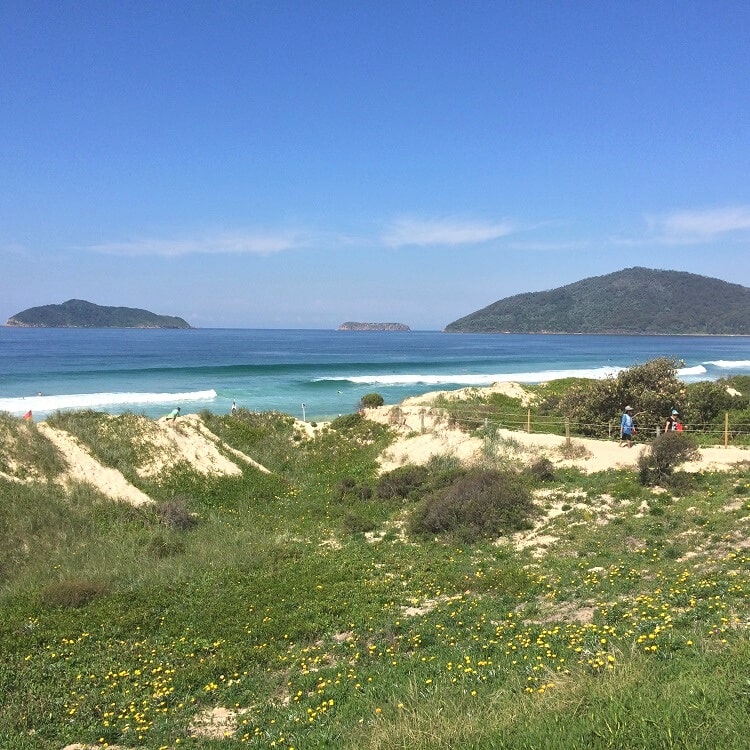 Located on the Myall Coast in Hawks Nest just north of Newcastle, Bennetts Beach is a beautiful 14 km long strip of white sand.
The beach sits between Seal Rocks in the north and Yakaba Headland in the south, and is popular with surfers, swimmers and sunbathers alike.
The busiest part of Bennetts Beach is at the southern end, where the local Surf Life Saving Club, the Tea Gardens Hawks Nest SLSC, is located.
Dogs are also welcome; they can go off-leash a few kilometres north of the main beach and south towards Yacaaba Headland.
5. Newcastle Beach

The Newcastle area of New South Wales is home to many beautiful beaches, but the main beach, Newcastle Beach, is perhaps the best one.
This beach is one of Newcastle's best surf and board-riding locations, which also means that Newcastle Beach is not always the best beach for swimming.
Being so close to the city centre, Newcastle Beach has excellent facilities, such as lifeguard services, car parking, volleyball nets, change rooms, a kiosk, and many cafes and restaurants nearby.
Check out our guide to the best Newcastle beaches for a complete list of beaches you need to visit when in the area.
6. Caves Beach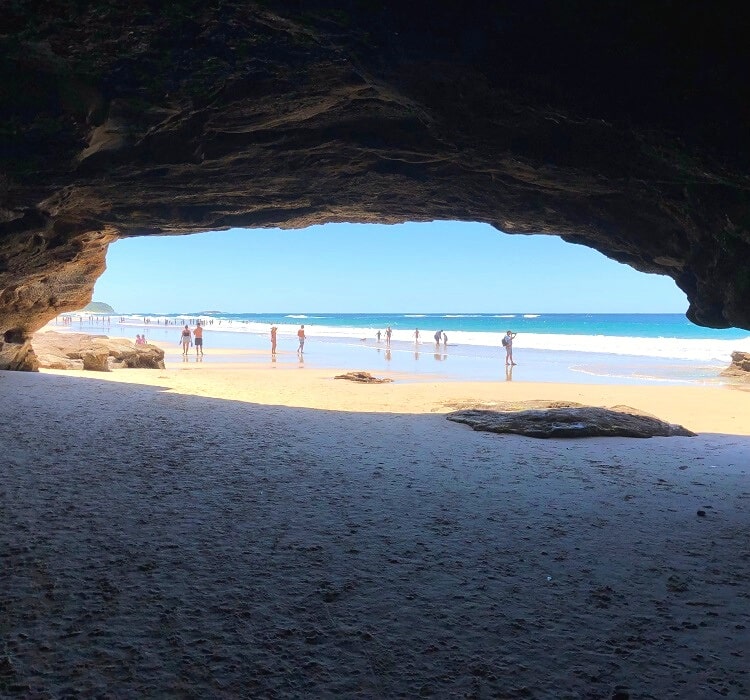 Located in the Lake Macquarie region, Caves Beach is best known for its network of sea caves that can be explored at low tide. The caves are located at the southern end of the beach and can be explored at low tide.
But there is much more to this beach than just the caves, with excellent swimming conditions, a surf life savings club, picnic tables, toilet facilities, and cafes and restaurants nearby.
If you're looking for a quieter and more secluded beach experience, the northern section of the beach is the best spot to relax away from the crowds.
7. Avoca Beach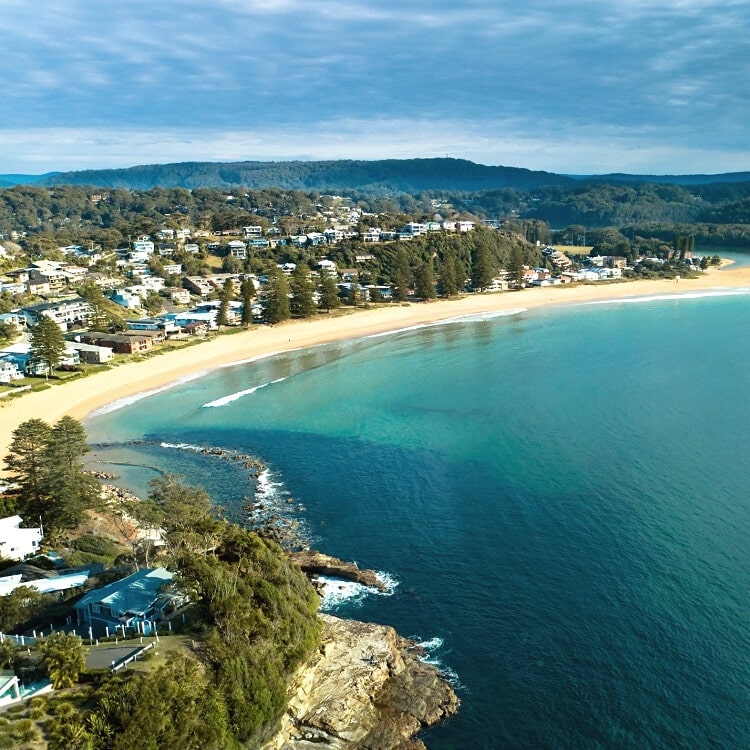 Avoca Beach is a coastal suburb on the Central Coast with a popular beach that goes by the same name.
It's located just south of Terrigal, another well-known beach and tourist destination on the Central Coast, but Avoca Beach is a bit quieter and perhaps a little prettier.
The beach is patrolled and is excellent for surfing and swimming. It is also home to a rock pool and a fenced playground for kids.
Nearby you will find many cafes and restaurants where you can go for a coffee and a bite, in addition to other things to do, such as hiking, kayaking and stand-up paddling.
8. Umina Beach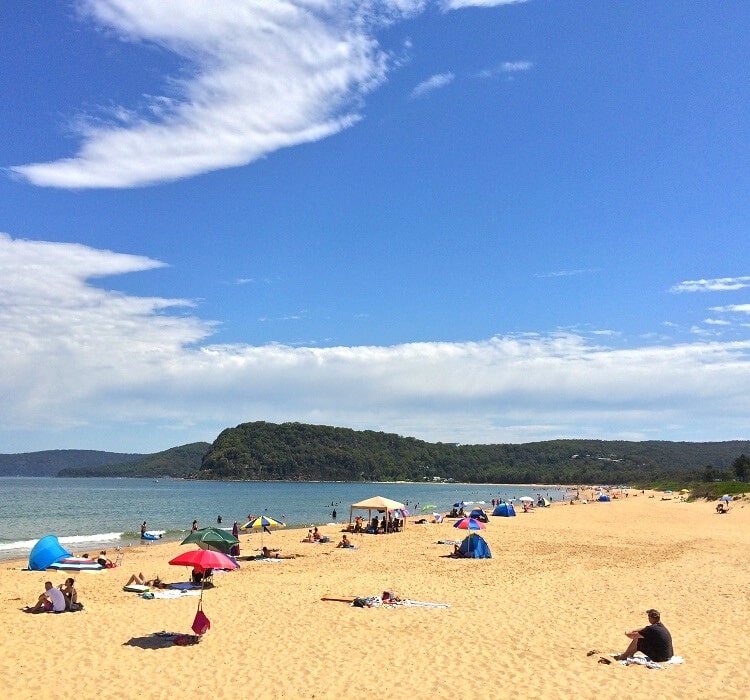 Escape the crowds at Sydney's famous beaches and visit Umina Beach on the Central Coast instead. Facing Brisbane Water and Broken Bay, Umina Beach is perfect for swimming and other water-based activities.
Umina Beach is a long strip of sand facing Broken Bay with views of Box Head in the east and Lion Island and Barrenjoey Headland in the south. The northern part of Umina Beach is actually called Ocean Beach, which has a surf life-saving club.
Umina's long sandy beach is one of the most popular destinations on the Central Coast, great for families to spend a day and for surfers catching waves.
While it does get busy here on summer days, there is usually enough room a bit further away from the main area where the Umina SLSC resides.
9. Maitland Bay Beach

The isolated and secluded beach at Maitland Bay can only be accessed via a walking track through bushland. For that reason, you may have the whole beach to yourself when you get there.
The easiest and most logical way to head down to Maitland Bay Beach is via the walking track that starts at the Bouddi National Park Information Centre. From there, the steep 1 km trail descends through thriving bushland heading down to the beach.
Once you're there, it's highly recommended to keep walking along the beach to Bouddi Point, where you can discover the remains of an old shipwreck.
10. Palm Beach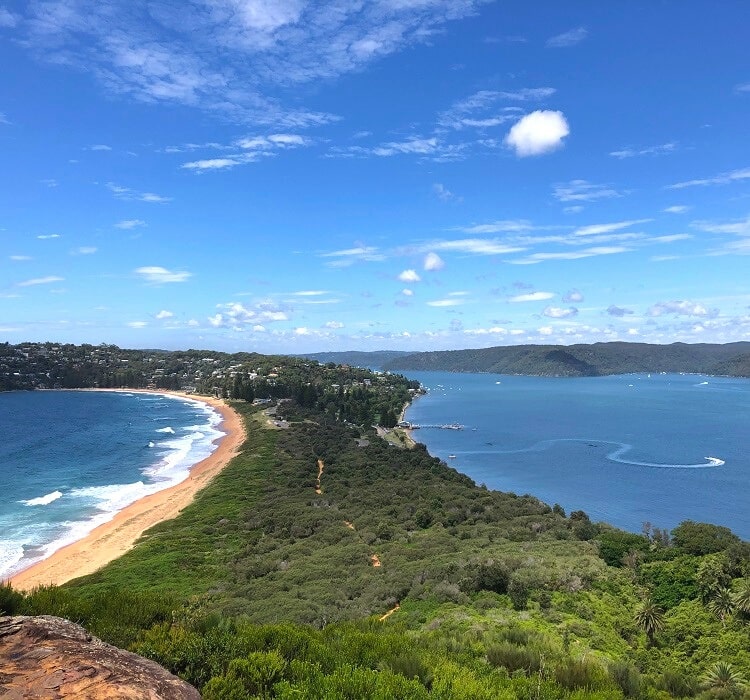 The Palm Beach peninsula is one of the most well-known beach suburbs in New South Wales, located 41 kilometres north of the Sydney CBD.
Due to its somewhat remote location, it's a reasonably quiet beach suburb compared to, for example, Bondi Beach or Manly Beach. But on the weekends, the area tends to fill up very quickly with day-trippers.
The water at the beach facing the ocean can be a bit rough sometimes due to strong winds, whereas the smaller beach facing Pittwater on the other side of the peninsula has much quieter water and is perfect for a relaxing swim.
If you're planning to spend a weekend in this beautiful part of Sydney, be sure to check out our guide to things to do in Palm Beach with lots of insider tips.
11. Whale Beach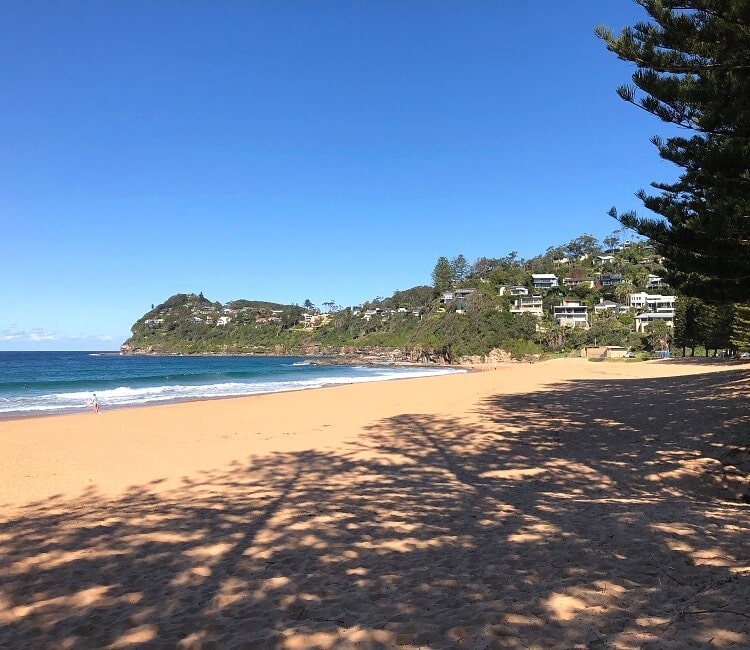 Whale Beach is a picturesque 600 metres long strip of sand in the Northern Beaches region, close to Palm Beach.
Not as well known as its bigger neighbour, Whale Beach is usually much quieter and has a pleasantly secluded atmosphere.
Like many other Sydney beaches, Whale Beach also has a popular rock pool. Whale Beach Rock Pool, one of Sydney's prettiest rock pools, is 25 metres long and is located at the southern end of the beach.
Whale Beach is surrounded by two 40 metres high sandstone headlands, Little Head at the north end and Careel Head at the southern end of the beach. It's worth exploring those headlands, as the views are stunning.
12. Manly Beach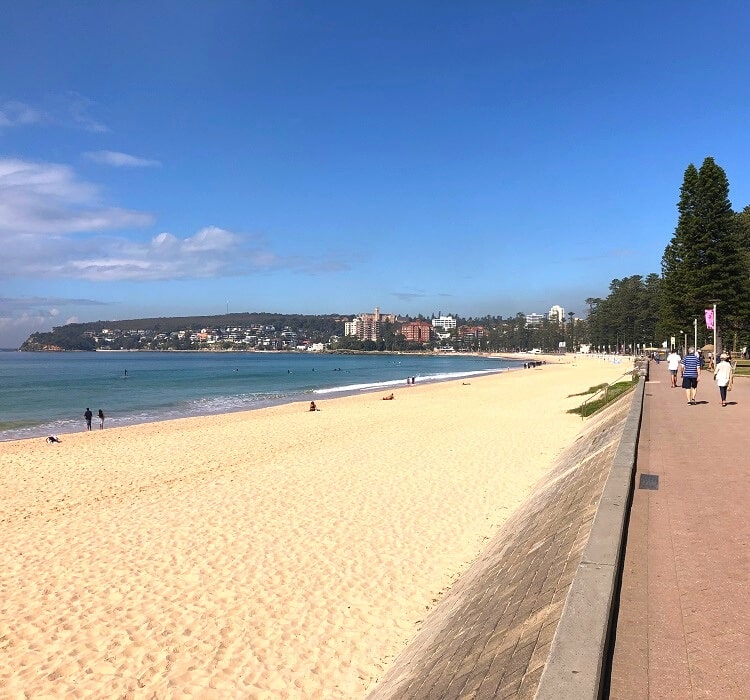 Manly and Bondi are Sydney's most popular beaches, and opinions are divided on which one is the best. Because they are so different, we believe they both deserve a spot on this list of the best beaches in NSW.
Manly has two main beaches; one facing the Harbour with mostly calm waters, and the other one, the main beach, facing the ocean with stronger waves.
Just around the corner from Manly's main beach is Shelly Beach, a small secluded strip of sand with calm water and excellent amenities.
The best way to get to Manly is by ferry from Circular Quay. Alternatively, if you're feeling energetic, the Spit to Manly walking track is another, yet more challenging way to arrive at Manly Beach.
13. Balmoral Beach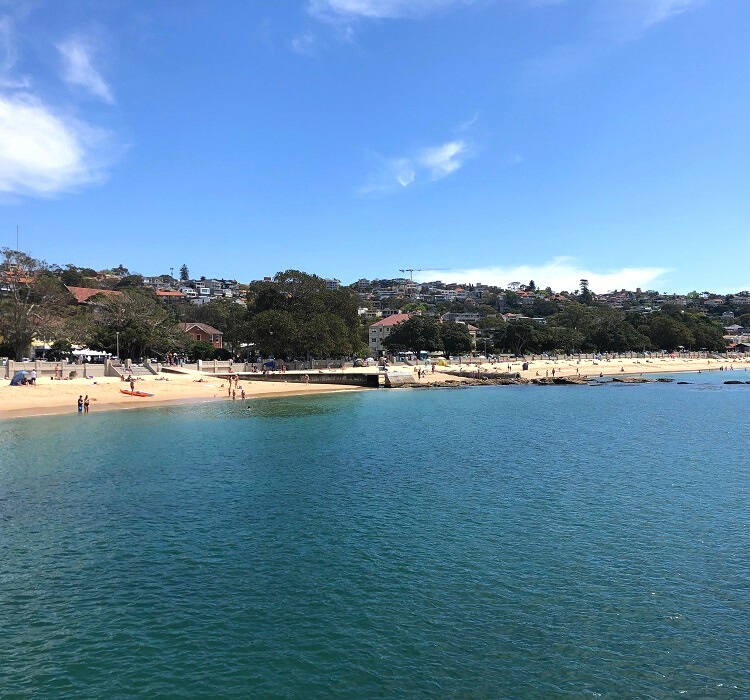 Balmoral Beach is a picturesque Sydney Middle Harbour beach with calm waters, a swimming enclosure and excellent picnic spots.
The Esplanade behind the beach offers many cafes and restaurants, while the grassy areas are perfect for a picnic or a pleasant stroll.
Due to its sheltered location, the water always seems calm, making it great for swimming. You can also be a little more active and go stand-up paddle boarding, kayaking, or snorkelling.
There are also lots of hiking options in the area, with one walking track leading to Taronga Zoo on the other side of Sydney Harbour.
14. Bondi Beach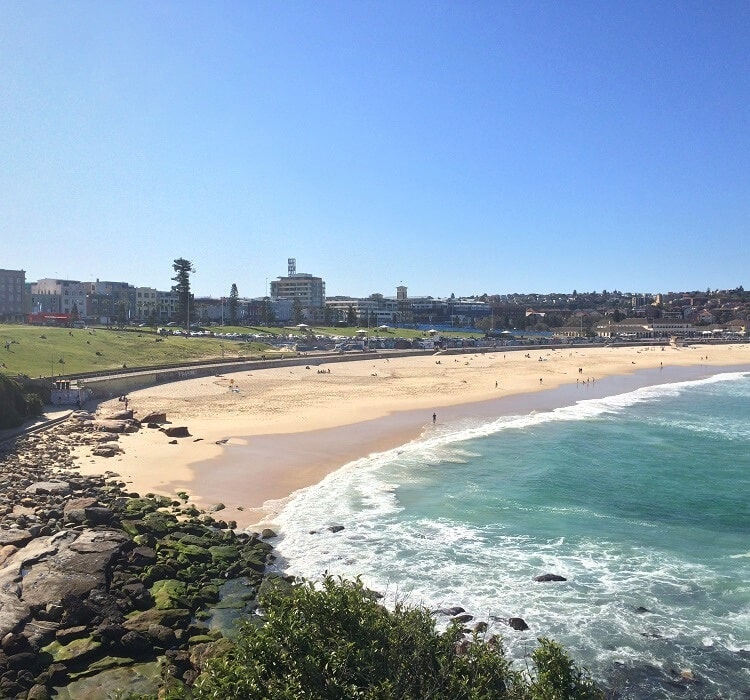 This may come as a surprise, but we really do want to include Bondi Beach in this list of best beaches in New South Wales.
Some people love this beach, others hate it, but the fact remains that Bondi is an icon in Australia, with great swimming and surfing conditions, lots of cafes and restaurants, a large picnic area, and even an outdoor gym.
A special mention should also go to Bronte Beach, just around the corner from Bondi. Bronte Beach is much smaller than Bondi Beach and a bit more family-friendly.
Bronte also has a nice park behind the beach and a lovely strip of cafes across the road.
15. Coogee Beach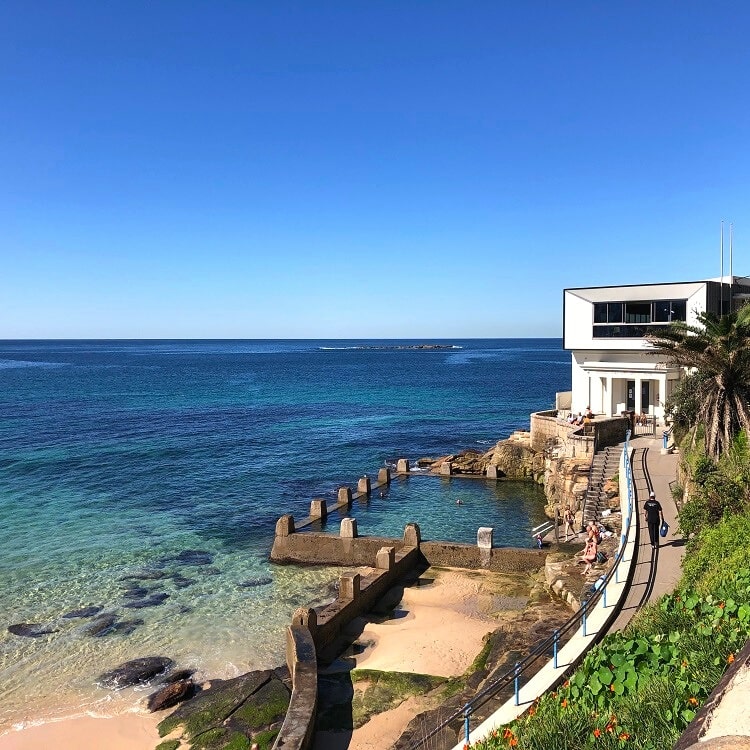 Often referred to as the smaller version of Bondi Beach, Coogee is a popular 400m strip of sand facing Coogee Bay in Sydney's eastern suburbs. While not the best beach for surfing, the water is usually very suitable for swimming.
Goldstein Reserve, the large parkland area behind the beach, has excellent facilities such as tables, barbecues, picnic shelters and trees that provide plenty of shade.
South of Coogee Beach are two private baths that are also worth visiting. Surrounded by coastal vegetation and grassed areas, the McIver's Ladies Baths complex consists of a large concrete sea pool, a sunbathing area, change rooms and a small clubhouse.
A bit further south is Wylie's Baths, a large ocean tidal pool that has been in operation since 1907. For a small entrance fee, you can hang out there all day and enjoy the beautiful views of the ocean and Wedding Cake Island.
16. Maroubra Beach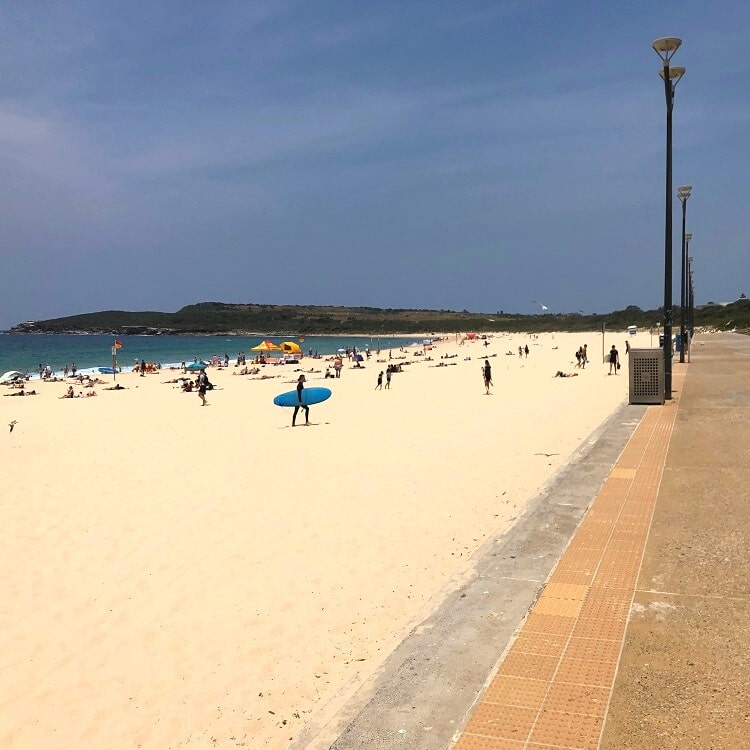 One of Sydney's most popular beaches for surfing is Maroubra Beach, located just south of Coogee. The beach is long and wide, so there's always a free spot to put down your towel, even on warm and sunny days.
Maroubra Beach is surrounded by open space. To the north of the beach are Jack Vanny Memorial Park, Mahon Pool and the rocky headland.
South of the beach are Arthur Byrne Reserve and headland, and Broadarrow Reserve is to the west, all very much worth exploring.
17. North Cronulla Beach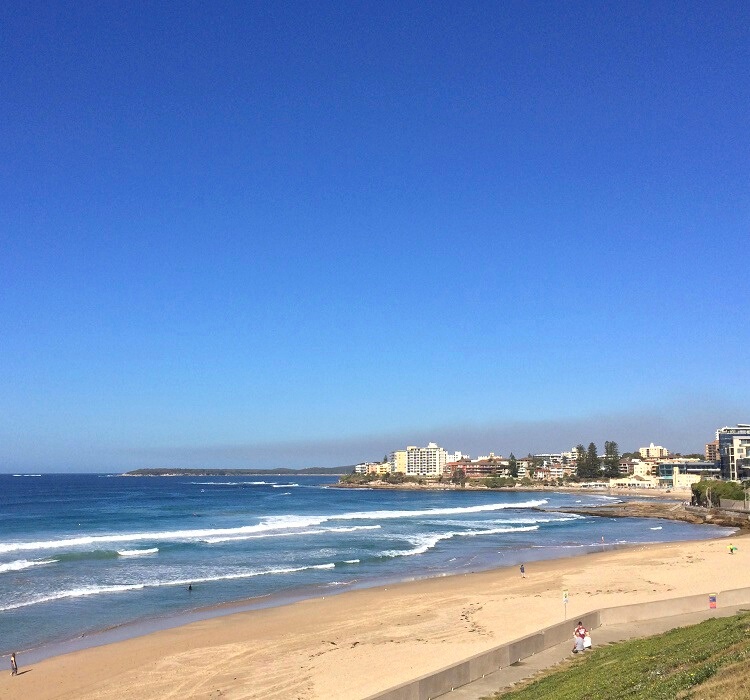 The Cronulla Peninsula south of Sydney has no shortage of beautiful beaches, making it a popular weekend destination for many Sydney-siders.
Popular with surfers, North Cronulla Beach is a beautiful 400m long strip of sand facing Bate Bay. Swimming can sometimes be hazardous there due to the strong rips that are almost always present.
From North Cronulla, it's only a short walk along the shore to South Cronulla Beach, a small family-friendly strip of sand backed up by an excellent park with great facilities and many cafes to choose from.
18. Garie Beach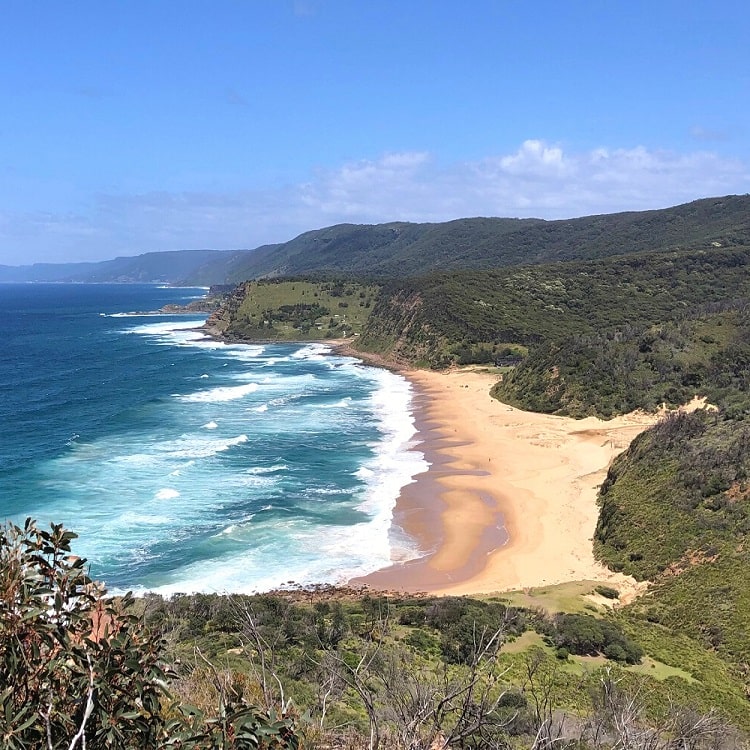 Patrolled by its own Surf Life Saving Club, Garie Beach is a popular surf beach in the Royal National Park with dedicated parking and other facilities.
Swimming at Garie Beach can be quite hazardous due to the tides and rips, so it's strongly recommended to always swim between the flags for your safety.
Garie Beach is also the starting point of a beautiful coastal walk to Era Beach, another beautiful strip of sand in this National Park.
Check out our list of Royal National Park beaches for more beach options in this beautiful part of Sydney.
19. Austinmer Beach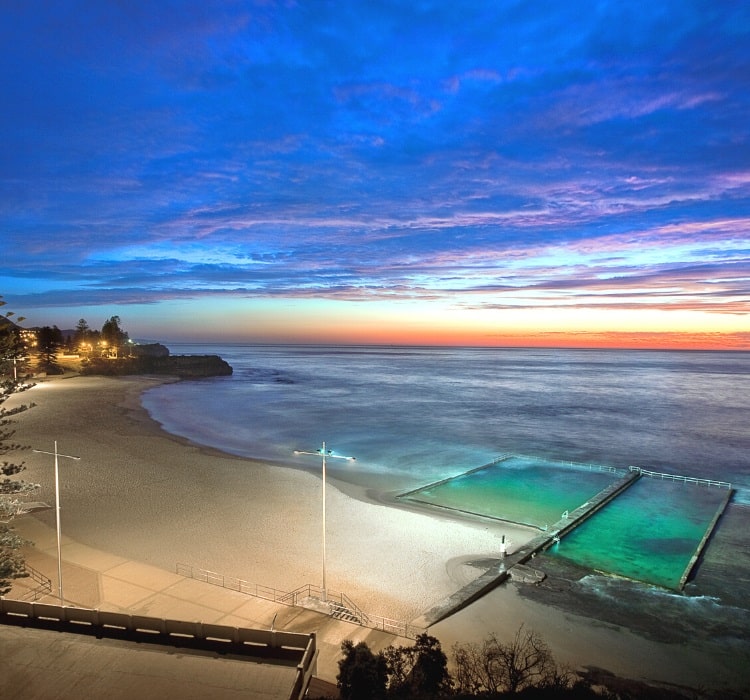 Austinmer Beach is not as well-known as most other beaches in this list of best beaches in New South Wales, but this popular strip of sand north of Wollongong has a lot to offer.
The beach is nestled between two headlands off Lawrence Hargrave Drive, which connects to the famous Sea Cliff Bridge further north.
You will find excellent facilities at Austinmer Beach, such as a large car park, beach patrol during the summer months, public toilets and showers, and two great ocean pools.
20. Hyams Beach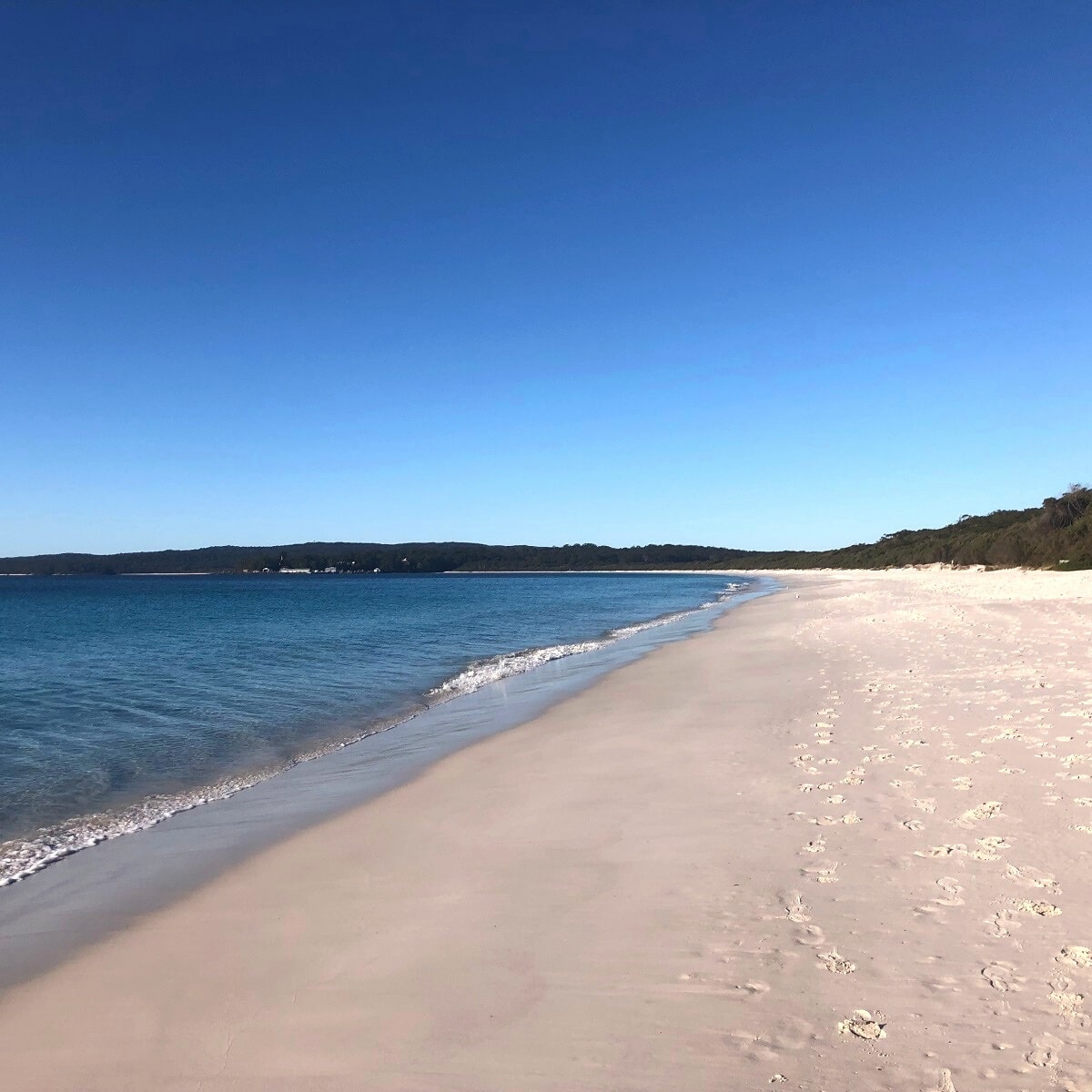 Located approximately 180 km south of Sydney, Hyams Beach is a seaside village on the shores of Jervis Bay and home to one of the prettiest beaches in New South Wales.
Famous for its perfectly turquoise-coloured water and bright white sand, Hyams Beach is a popular holiday destination for Sydney-siders.
And for good reasons, as there are so many things to see and do in the greater Jervis Bay area, such as hiking, swimming, snorkelling, fishing, diving, and whale watching.