Last updated: July 26, 2023
Mosman is a charming Harbourside suburb on Sydney's lower north shore, shaped like a peninsula separating Middle Harbour and Sydney Harbour.
Located only moments away from Sydney's CBD, Mosman is home to leafy suburban streets, scenic walking trails, various retail precincts, and a world-class zoo.
Another good reason to visit Mosman is that there are many beautiful beaches to be found, some very popular and well-known and others much quieter and secluded.
Read on, as we reveal the nine best beaches in the Mosman area that are worth a visit on a warm summer's day.
Ordered in a clockwise manner, these are Mosman's nine prettiest beaches:
Chinamans Beach
Edwards Beach
Balmoral Beach
Cobblers Beach
Obelisk Beach
Clifton Gardens Beach
Athol Beach
Whiting Beach
Sirius Cove Beach
And here is a map with these beaches marked:

1. Chinamans Beach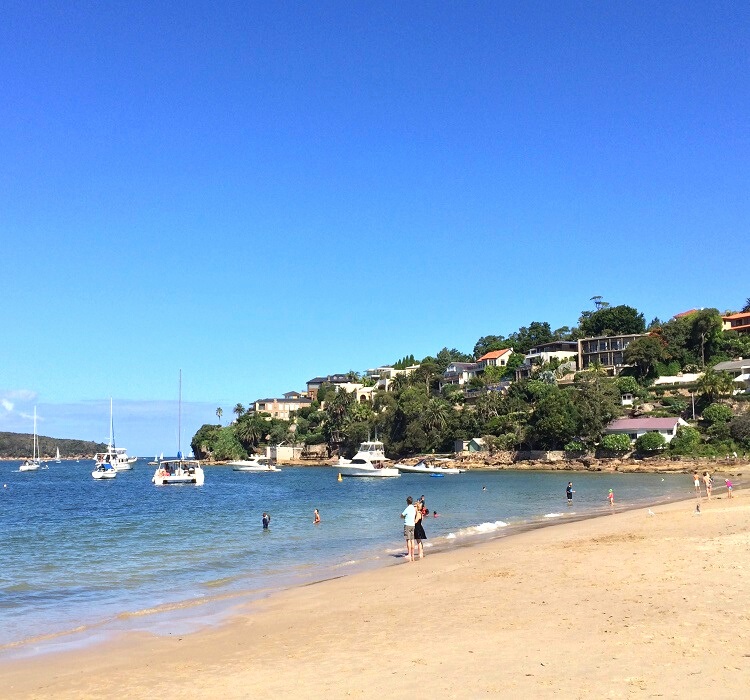 Chinamans Beach is a 230 meters long, east-facing strip of sand, enclosed by rocks on both ends of the beach. It's a family-friendly spot with usually calm water to swim in.
While there are no cafes or kiosks, there is a toilet and shower block right behind the beach. Also behind the beach is Rosherville Reserve, a large park area perfect for a picnic or a barbecue.
Chinamans is an excellent alternative to the much busier Balmoral Beach, which is just around the corner on the other side of Wyargine Point.
Read more about Chinamans Beach and Rosherville Reserve.
2. Edwards Beach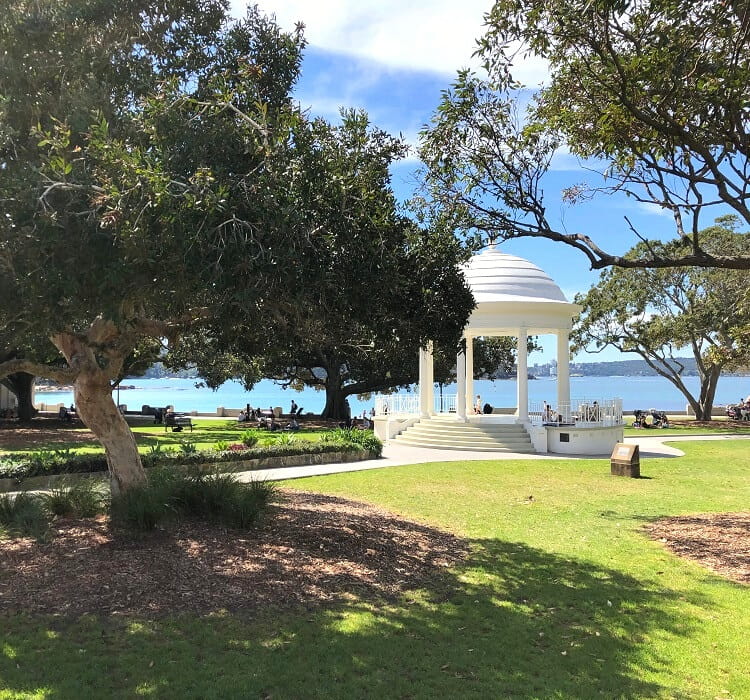 If you've ever been to Balmoral Beach, you will know that there are two beaches separated by Rocky Point, a small peninsula that can be accessed via a stone bridge.
The strip of sand north of Rocky Point is called Edwards Beach, although many refer to both beaches as Balmoral Beach.
Edwards Beach is a beautiful, 400 meters long east-facing beach with usually more than enough space on the sand to find a nice spot to settle in.
The Bather's Pavilion and the Balmoral Beach Club are located right behind the beach, in addition to many cafes and restaurants nearby.
3. Balmoral Beach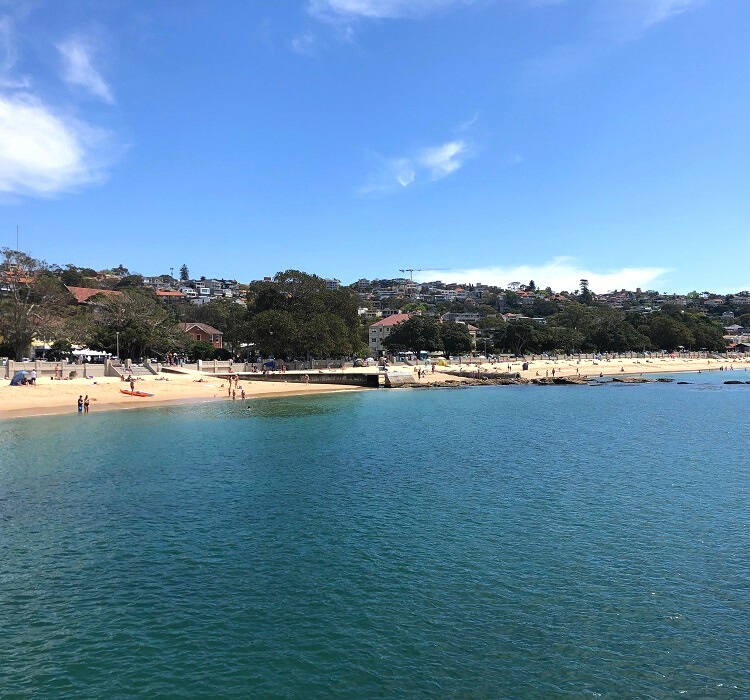 Balmoral Beach is the strip of sand south of Rocky Point. This beach is longer than Edwards Beach but also slightly more narrow. The water is just as calm and perfect for a gentle swim or a snorkel session.
Towards the southern end of the beach are the Balmoral Baths, an enclosed swimming area, and the Boathouse, a popular beachside cafe serving great food.
A nice way to access Balmoral Beach is via the short walking track from Chowder Bay, with fantastic ocean and Harbour views to enjoy before arriving at Balmoral Park.
4. Cobblers Beach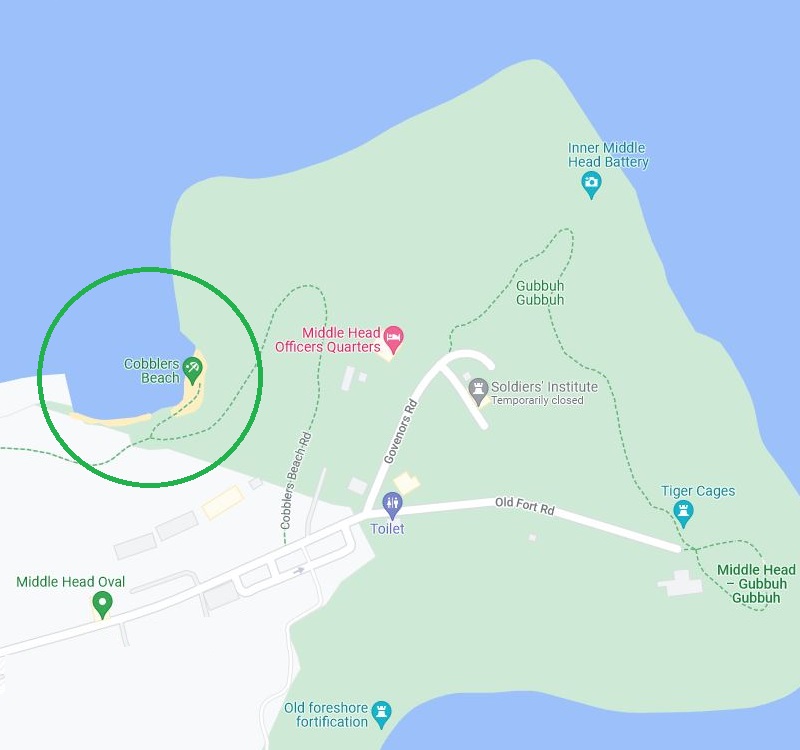 Cobblers Beach is a very small but pretty, north-facing strip of sand on Middle Head, accessible via a short walking trail from Middle Head Road.
As small and secretive as this beach may be, it can get busy there on those warm sunny days, but the atmosphere is typically always good and welcoming.
It's important to mention that Cobblers Beach is a clothing-optional beach, to avoid any surprises should you want to go there.
5. Obelisk Beach

The second clothing-optional strip of sand on this list of Mosman beaches is Obelisk Beach, located on the other side of Middle Head, in walking distance from Cobblers Beach.
Obelisk Beach is even smaller and more secluded than its nearby neighbour Cobblers Beach, but the atmosphere and the natural surroundings are very similar.
The beach can be accessed via a short bush trail from Chowder Bay Road, where you can also park your car.
Read more about Sydney's clothing optional beaches.
6. Clifton Gardens Beach

Clifton Gardens is a destination. It's a beautiful spot in Chowder Bay, with a beach with netted swimming enclosure, a fenced playground, change rooms, and BBQ and picnic facilities.
It's also a popular beach for dog owners, with lots of space for dogs to run around in the park, on the beach, and in the water.
And if you're looking for a place to eat, the Chowder Bay area is home to a few kiosks, cafes, and restaurants.
7. Athol Beach

Athol Beach is a quiet west-facing beach with fantastic Harbour and city views to enjoy while relaxing on the sand.
On Google Maps, you will see Athol Beach marked as a tiny strip of sand, but there are two slightly bigger beaches closer to the Taronga Zoo wharf that are also referred to as Athol Beach, or Athol Bay.
The beach can be accessed via the walking trail between Taronga Zoo and Bradleys Head, which continues all the way to Balmoral Beach. Look out for the signs to Athol Beach from that trail.
Read more about the walk from Taronga Zoo to Balmoral Beach.
8. Whiting Beach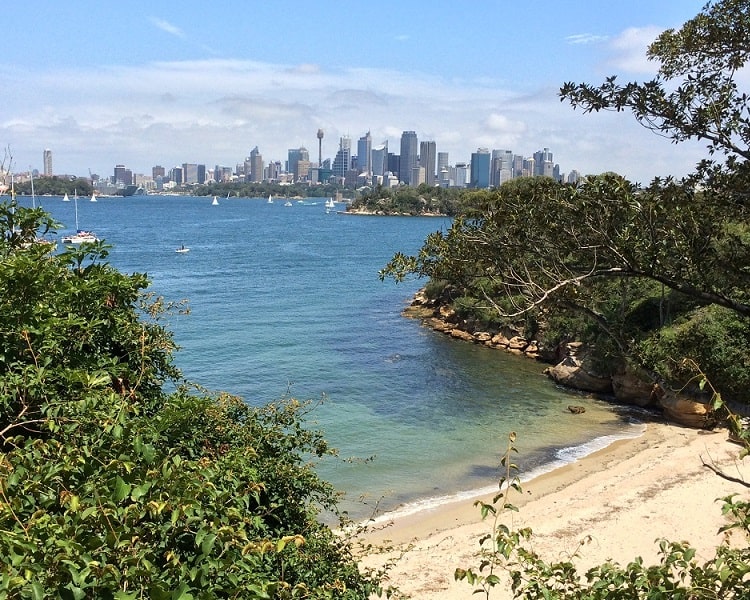 Only moments away from Athol Beach is another quiet and hidden strip of sand. Whiting Beach is a small beach located west of the Taronga Zoo wharf.
The beach can be accessed via the walking trail between Sirius Cove Reserve and the zoo, where you will see a set of steps heading down to the beach.
Do note, though, that no matter how pretty Whiting Beach can look on a sunny day, the water isn't always the cleanest due to boats going past or anchoring nearby. The same applies to Athol Beach.
9. Sirius Cove Beach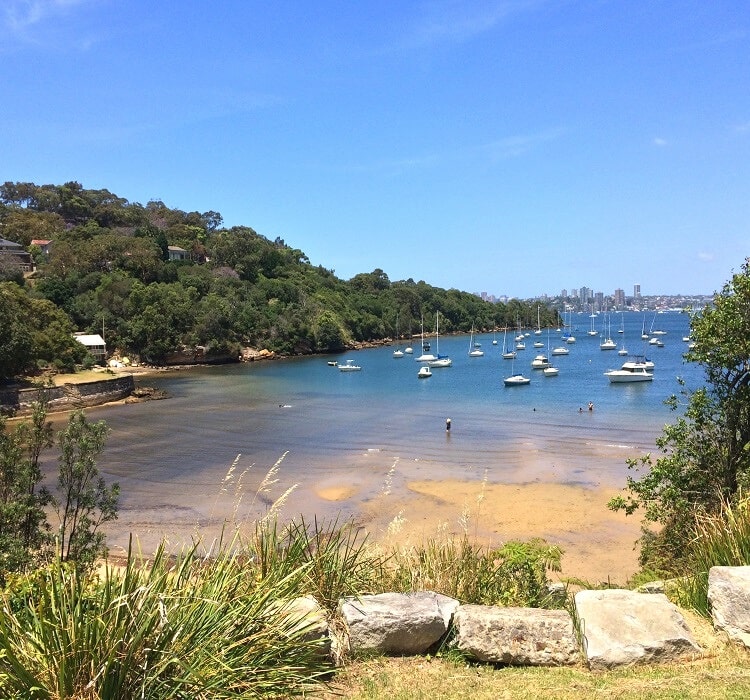 Sirius Cove Beach is part of Sirius Cove Reserve, a quiet hideaway just moments away from Taronga Zoo. You can park your car at the end of Sirius Cove Road to access the reserve and beach.
Sirius Cove Reserve is both a beach and a park, with a playground for kids to enjoy. The beach is dog-friendly, and you will often find dogs running around in the park and on the sand.
From the beach, a walking path leads to Bradleys Head via Whiting Beach, Taronga Zoo, and Athol Beach.
Read more about Sirius Cove Beach and Reserve.