Last updated: March 31, 2022
Hanging Rock, a large sandstone object hanging out from a cliff, is one of the most iconic landmarks in the greater Blue Mountains region.
It is situated a few moments away from the Baltzer Lookout, from where visitors can enjoy eye-dropping views of the Grose Valley and surrounding escarpments.
These two beautiful sights can be reached via a relatively easy 8 km return bushwalking track. Read on to find out more!
Burramoko Fire Trail to Hanging Rock
Distance:
8 km (return)
Duration:
3-4 hours (including time spent at Hanging Rock)
Grade:
Moderate
Dogs:
Not allowed
Hanging Rock and the Baltzer Lookout are somewhat off the beaten track, but it's quite easy to get there.
From the Great Western Highway in the Blue Mountains, turn into Ridgewell Road just north of the Blackheath town centre (see map location).
Note that this road is unsealed so please be cautious because there can be quite a few potholes. While a 4WD is recommended, it is not absolutely necessary. Simply drive carefully and watch out for big potholes, especially after a period of rainfall.
Follow Ridgewell Rd for a short while until you get to a boom gate with a small car park. This is where the Burramoko Fire Trail to the Baltzer Lookout and Hanging Rock starts.

Burramoko Fire Trail to Hanging Rock
The walking track to the Baltzer Lookout and Hanging Rock is a 4 km long management trail, which meanders through bushland with a few lookout points along the way.
It's certainly not a difficult walk at all, and is mostly flat from start to finish. There is a bit of rock scrambling involved between the Baltzer Lookout and Hanging Rock, so proper hiking shoes are definitely recommended.
This map will give you a rough idea of where this walking track is located:

The fire trail is popular with bushwalkers, runners and cyclists alike, but the walk itself is actually not all that super exciting.
It really is all about the destination, and once you get to that destination, you will be in awe of the sheer beauty of this place.
Baltzer Lookout
The Baltzer Lookout stands at the very edge of Burramoko Head, which is the walled termination of the Burramoko Ridge above the Grose Canyon.
The views from the lookout are truly captivating, some of the best you can find in the greater Blue Mountains region.

The lookout was named after William Julius Baltzer, a conservationist who worked towards the conservation of the Grose Valley.
He was a member of a group formed in the early 1930's with the aim to establish the Blue Mountains as a National Park.
Hanging Rock
Interestingly enough, Hanging Rock is not immediately visible from the Baltzer Lookout, so you're going to have to walk a bit further.
To get up close and personal with this unique rock formation, walk towards the left from the lookout and look for the walking path that goes down.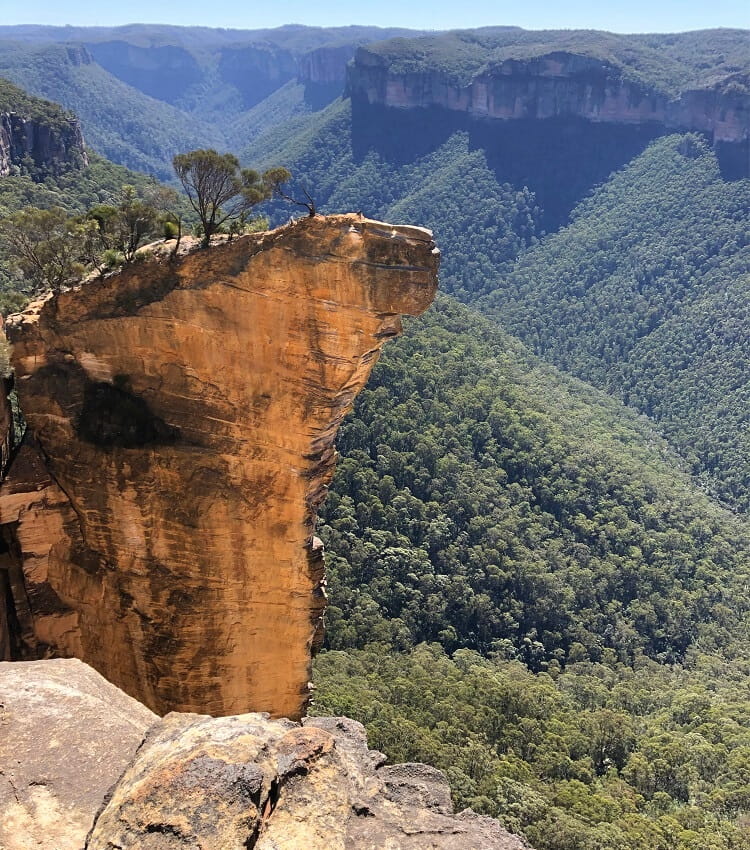 While it's only a short path to Hanging Rock, it is quite steep and there are some rocks and boulders to be negotiated, but it's all very doable.
It's important to be careful here though, and try to stay focussed on the trail rather than getting lost in the incredible views around you.

Hanging Rock is one of those beautiful and unique spots in the Blue Mountains where you won't see a lot of tourists. And depending on the time of day, you might just be the only visitor around.
This is a good thing, because the emptiness and isolation at Hanging Rock and the Baltzer Lookout create that perfect atmosphere.
Word of caution:
Hanging Rock and the Baltzer lookout are absolutely stunning but they are both un-fenced. This adds to the beauty of the area, but it also makes exploring a bit riskier. Stay well back from cliff edges at all times, especially when taking photos. It's also not recommended to hike to the very tip of Hanging Rock. Potentially strong winds and narrow surfaces make this a dangerous undertaking. If you're visiting the area by yourself, let others know about your plans.