Last updated: February 13, 2023
Paradise Pool in Linden is a beautiful natural waterhole on Bulls Creek, which can be accessed via a short but moderately challenging walking trail.
A very pretty waterfall drops into this pool, which has experienced a strong increase in popularity as a swimming hole in recent years.
Read on and find out where to park your car and how best to find this idyllic spot in the Blue Mountains.
Paradise Pool Walking Track
Distance:
3 km (return)
Time:
2 hours
Grade:
Easy / moderate (steep sections, rock scrambling)
Dogs:
Not allowed
Linden is a small town in the Lower Blue Mountains and isn't a primary destination for hiking or sightseeing.
Paradise Pool, though, is a fantastic spot, and the walking trail to this waterhole and waterfall is quite enjoyable.
While there are multiple ways to get to this pool, the shortest and easiest way to get there is via the trail that starts from Railway Parade close to Linden train station. From the Great Western Highway, take the Tollgate Drive exit, and then turn into Railway Parade.
After a couple of hundred metres, you will arrive at a designated car park which was built in 2021 (see map location).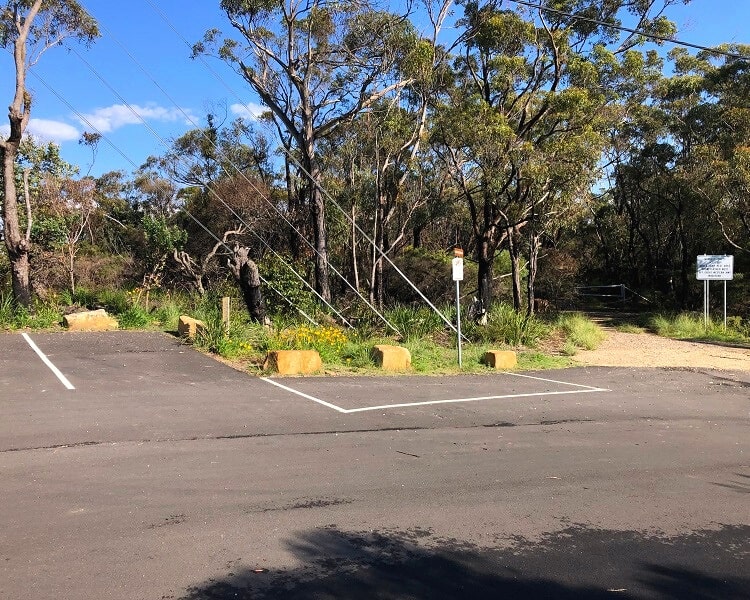 Paradise Pool Track Notes
The walking trail from Railway Parade to Paradise Pool is approximately 3 km return and is mostly through bushland. It's a relatively easy walk, but it does have steep sections, and there is a bit of rock scrambling required.
It's strongly recommended to bring good hiking shoes to better negotiate the more challenging sections of the walk.
Here is a map of the walk, starting from the car park:

1. Cox's Road
Once you've parked your car, you can find the start of the walking trail at the northern end of the car park.
The first section of the walking track to Paradise Pool is on a fire trail that runs right behind people's properties, and while this fire trail itself may not be very exciting, it is a historic road.

This fire trail was once part of Cox's Road, a road across the Blue Mountains from Emu Plains to Bathurst, built by William Cox in 1815 at the request of Governor Lachlan Macquarie.
Constructing this 160 km long road through difficult terrain with a team of labourers and soldiers in only six months was an incredible achievement at the time.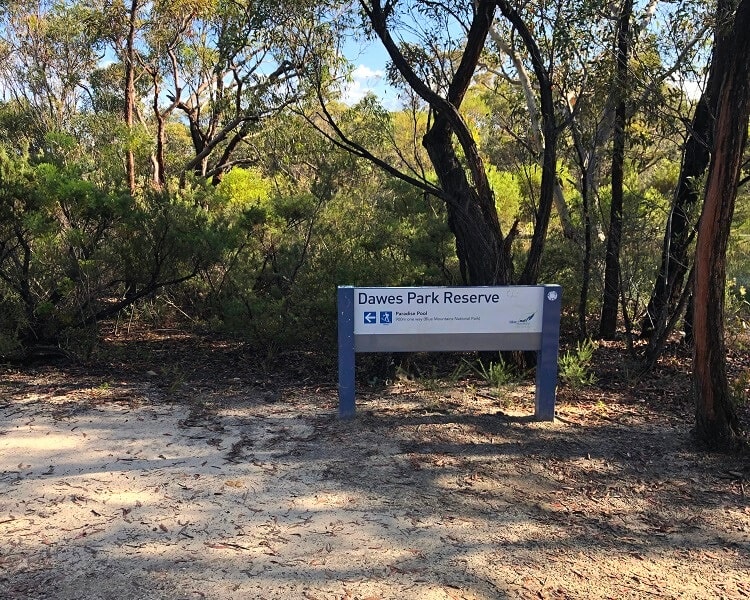 This section of the walk is now part of Dawes Park Reserve and is managed by the Blue Mountains City Council.
After approximately 500 metres of walking on the Old Cox's Road, the trail makes a left turn into the bush at the Dawes Park Reserve sign.
2. Into the Bush
From this point, it's another 900 metres to the pool, but since this section has some challenges, it may take a bit longer than anticipated.
After a short stroll through the bush, the path goes steeply downhill on a rocky surface. It's not too hard to get through this section, but it's important to watch your step.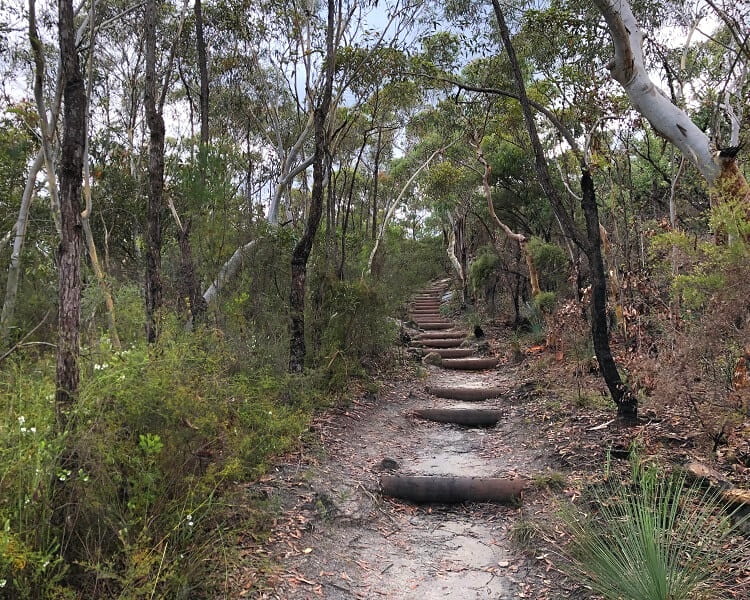 The next part of the walk is on staircases followed by a flat and narrow path through scenic bushland, with a couple of small footbridges to cross.
This is where the path roughly follows Bull Creek, with lots of ferns and low trees along the creek, creating a lovely atmosphere.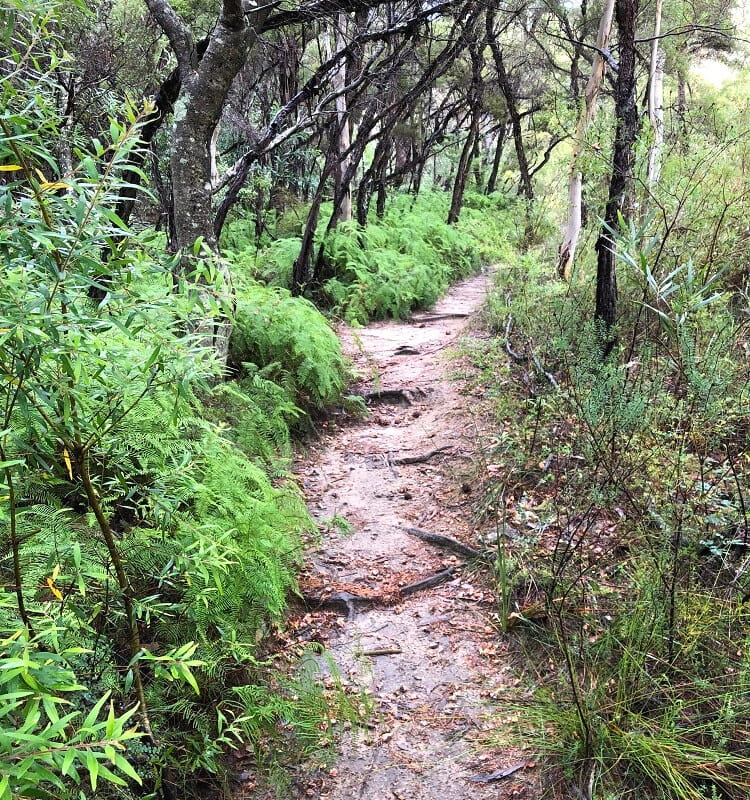 As you get closer to the pool, the walking trail arrives at a junction with a track that leads to Bulls Camp Reserve and Woodford.
Make a right turn at this junction, and the trail will then soon arrive at a cliff top facing Paradise Pool.
3. Paradise Pool
When you arrive at Paradise Pool, it's not difficult to see how this natural swimming spot got its name and why it has become so popular in recent years.
The small waterfall, the beautifully secluded surroundings, the sandy bottom of the pool, and the depth of the water make Paradise Pool a great destination for a little adventure.

From the rocky area next to the top of the waterfall, you can get to the other side of the pool by following the path down.
There is a little sandy area on the other side of the pool where it's easiest to walk into the water. It's quite a deep pool, and the water feels refreshing on a warm day.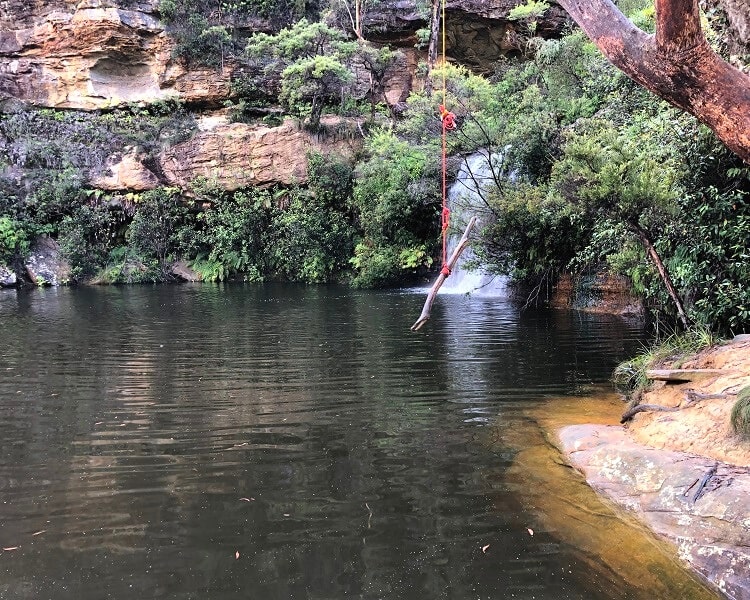 But Paradise Pool (and the surrounding area) is relatively small, so it can quickly feel quite crowded there on warm weekends and public holidays.
If you can't go on a weekday, it's best to go a bit early on a weekend day, avoid staying for too long, and don't leave any rubbish behind.