Last updated: February 24, 2022
There is nothing quite like swimming in a natural waterhole in the Blue Mountains, ideally with a pretty waterfall dropping into the pool.
But going for a dip certainly is not the only reason to visit these wild swimming holes. The beautiful scenery and the exciting bush walking trails to get to these spots are just as enjoyable.
We have listed the 7 most scenic waterholes in the Blue Mountains including details on how best to find them.
Top 7 Blue Mountains Waterholes:
Top 7 Blue Mountains Waterholes
The following seven natural wild swimming holes are ordered from east to west, starting with three spots in the Glenbrook area of the Blue Mountains.
Please do note though, that swimming in the wild always comes with risk. As such, be mindful of hidden submerged rocks in the water, slippery surfaces, wildlife, and always let someone know where you're going.
1. Jellybean Pool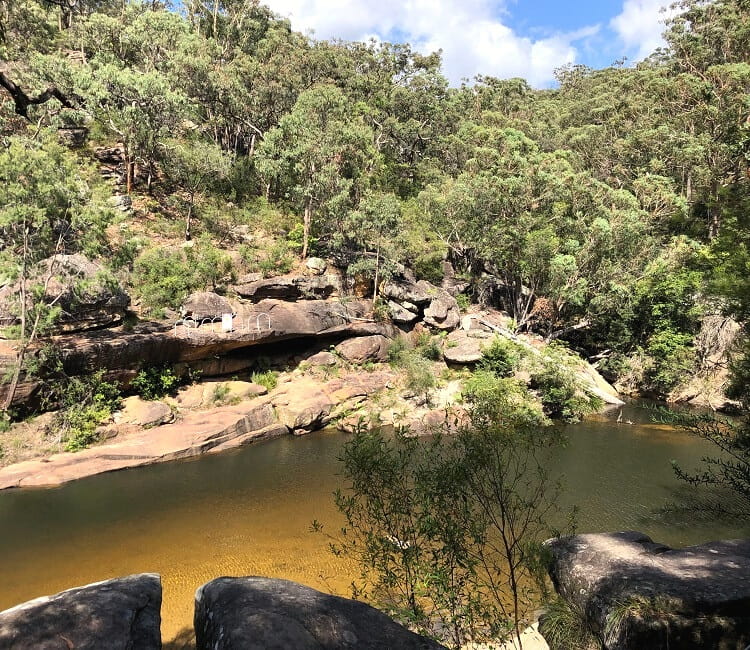 Jellybean Pool in Glenbrook is perhaps the most popular swimming hole in the Blue Mountains, and for good reason.
This natural waterhole on Glenbrook Creek looks absolutely stunning, it's large, there is lots of space to move around, and it even has a small beach area. It's also very easily accessible from Sydney and has two large car parks available.
The downside of all that is that Jellybean Pool does indeed get very busy during weekends, public holidays, and school holidays, when the weather is warm and sunny. The best way to avoid those crowds is to either go really early in the morning, or to go on a weekday.
How to Get There?
In Glenbrook, drive on Bruce Road until you see the entrance to the National Park where you will see the first car park. From that car park, there is an easy 15 minutes one-way walking trail to the pool.
However, if you drive a little further, on Jellybean Road, you will end up at the designated Jellybean Pool car park, from where it's only a few steps down to the pool.
Please note that to park your car in this area of the Blue Mountains, you will need to pay the National Park parking fee at one of the ticket machines, or otherwise buy a National Parks annual pass.

2. Blue Pool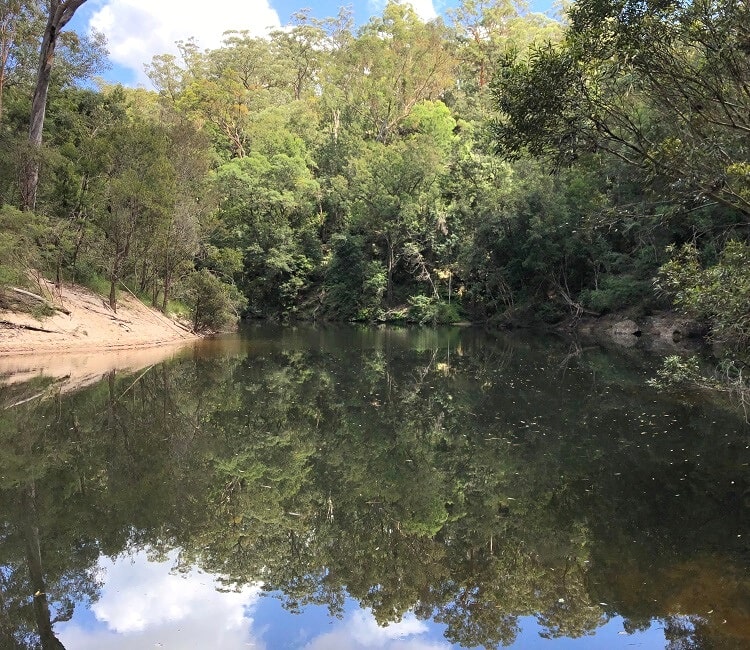 Blue Pool is located very close to Jellybean Pool, but usually doesn't attract the huge crowd numbers that Jellybean Pool does.
While it may may not have a sandy area, there is enough space on the rocky areas where you can settle in for the day. And because the pool is so big, there is plenty of opportunity to go for an actual swim.
The walking trail to the pool from the car park is very short but is slightly more challenging than the stroll to Jellybean Pool, with a bit of mild rock scrambling to do as well. Once you see the pool, you will understand why it's called Blue Pool. The water does indeed have this peculiar blue color.
How to Get There?
As mentioned, Blue Pool is not too far away from Jellybean Pool. From Bruce Road in Glenbrook, once you've entered the National Park, continue driving on The Oaks Trail until you see a designated car park for Blue Pool.
You can park on either side of the road, and usually there is enough space. Once you've parked your car, look out for the start of the walking trail to the pool which is signposted.

3. Glenbrook Gorge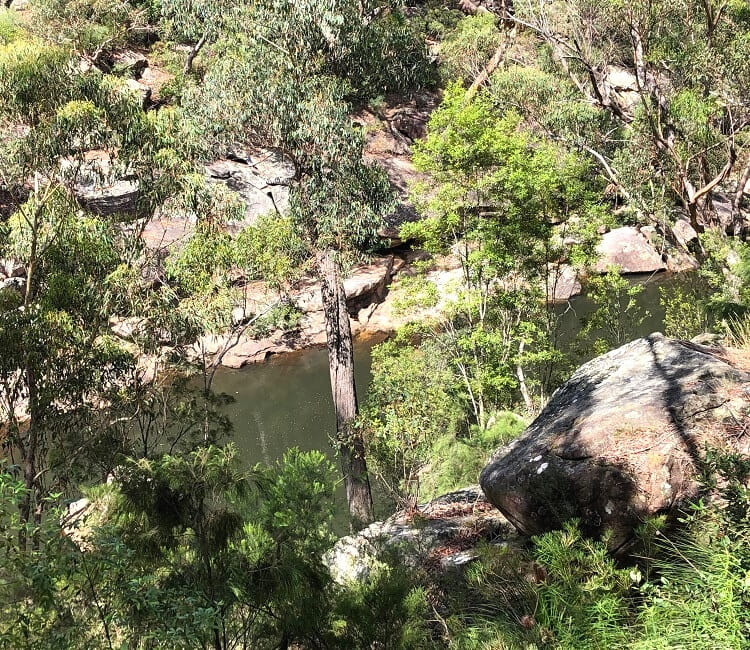 If you're a bit more adventurous and don't mind a bit of challenging bush walking, the Glenbrook Gorge Track might be for you. This track first makes a steep descent to Glenbrook Creek, and then continues along the creek with a couple of natural swimming holes to explore.
The section from the car park to the creek is on a well maintained path. But the track becomes a lot more challenging once it has reached the creek, and isn't always easy to follow. As such, we can only recommend this track if you're comfortable navigating the bush and being in a somewhat remote area.
If you have children with you, Jellybean Pool and Blue Pool are definitely much easier and safer options.
How to Get There?
The Glenbrook Gorge Track starts from the same car park as where the (longer) walk to Jellybean Pool starts from, which means you will need to pay the parking fee.
In the below map, the blue line indicates the walk from the car park to the creek. From there, you continue hiking along the creek until you find a nice swimming hole. We have marked two decent pools with the letter X to give you a rough idea where they are located.

4. Paradise Pool

Another fantastic natural swimming spot in the Blue Mountains, one that has become more popular in recent times, is the Paradise Pool in Linden.
A relatively easy 1.5 km bushwalk will get you to Paradise Pool, a rather large waterhole with a lovely waterfall on Bulls Creek. Because this spot has attracted more attention over the years, it does get quite busy there during holidays and on the weekends.
How to Get There?
To get to the start of the walking trail to Paradise Pool, park your car on Railway Parade in Linden, just off Tollgate Drive.
In the below map, the car park is marked with the letter P. Once you've parked your car, simply follow the signage to find your way to the beautiful natural swimming hole that is Paradise Pool.

5. Pool of Siloam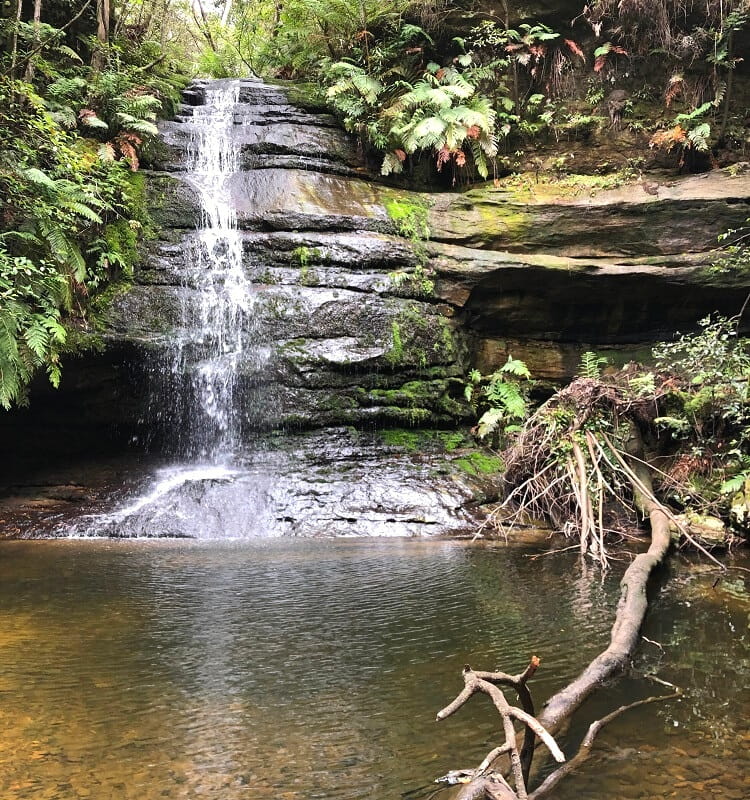 The Pool of Siloam in the Leura area of the Blue Mountains is the first natural waterhole on this list that is located just underneath a waterfall. Albeit a small waterfall, in this case.
The waterhole and waterfall are part of Gordon Creek, a creek that eventually drops into Jamison Valley via Gordon Falls a bit further away.
Admittedly, the Pool of Siloam is not really suitable as a spot to go swimming, as it's simply not big nor deep enough. But especially for kids, this waterhole can be a great spot to have a good splash around.
How to Get There?
There are multiple ways to get to the Pool of Siloam, but the easiest and quickest way is from Gordon Falls Reserve on Lone Pine Avenue where you will find a reasonably sized car park.
From there, look for the start of the Pool of Siloam walking trail and in less than 20 minutes you will be at this scenic spot in the Blue Mountains. It is quite a steep walk but it's certainly doable for children.

6. Minnehaha Falls

Minnehaha Falls is one of the prettiest waterfalls in the greater Blue Mountains region, and it also offers one of the best natural swimming holes.
The pool may be small, but the waterfall and the scenic surroundings make swimming there a great experience on a warm day.
To get to this beautiful waterfall on Yosemite Creek in Katoomba, you will need to complete a 1.5 km bushwalk through lovely scenery, with a few staircases to conquer at the end.
How to Get There?
The car park at Minnehaha Falls Reserve is located at the end of Minni Ha Ha Road in North Katoomba. It's a small car park, but there is plenty of street parking nearby if it is busy.
You can find the start of the walking trail next to the large information board. The trail essentially follows Yosemite Creek which eventually drops into the valley as Minnehaha Falls.

7. Victoria Cascades

Victoria Cascades, also known as Victoria Creek Cascades, is a beautiful water spectacle in the Mount Victoria area of the Blue Mountains, just north of the town of Blackheath.
The challenging walking track down to Victoria Creek is only 4 km return but it is very steep. The track basically zigzags its way down into the valley until you arrive at a junction where you need to turn right to visit the cascades or turn left to visit Victoria Falls.
Both spots are suitable for swimming, so it's recommended to visit both of these beautiful waterfalls.
How to Get There?
To get to the start of the walking track, turn into Victoria Falls Road from the Great Western Highway. Stay on this unsealed road for about 5 km until you arrive at a small car park with a few picnic tables.
As mentioned, the walking track to Victoria Falls and Cascades is very steep and you will need to be prepared for that. Make sure you bring a good size water bottle and proper hiking shoes.