Last updated: May 20, 2022
Warragamba Dam is Australia's largest concrete dam and is responsible for the creation of Lake Burragorang, Sydney's primary reservoir for water supply.
Discover the fascinating history and the significance of the dam by visiting the information centre and the various lookout points.
The Burragorang Lookout, located 40 km south of the dam, offers the best views of Lake Burragorang and the lower Blue Mountains.
If you're a Sydney resident, have you ever wondered where your drinking water comes from? In all honesty, we never really did, until we heard about the Warragamba Dam.
So we decided to pay a visit to the dam to learn more about this enormous concrete structure that is so crucially important to the residents of Greater Sydney.

Warragamba Dam is one of the largest domestic water supply dams in the world. What's even more fascinating is that Lake Burragorang, formed behind Warragamba Dam, is four times larger than Sydney Harbour.
The dam has created a reservoir capacity of more than 2,000 gigalitres of water, with the surface area of the lake covering 75 square kilometres.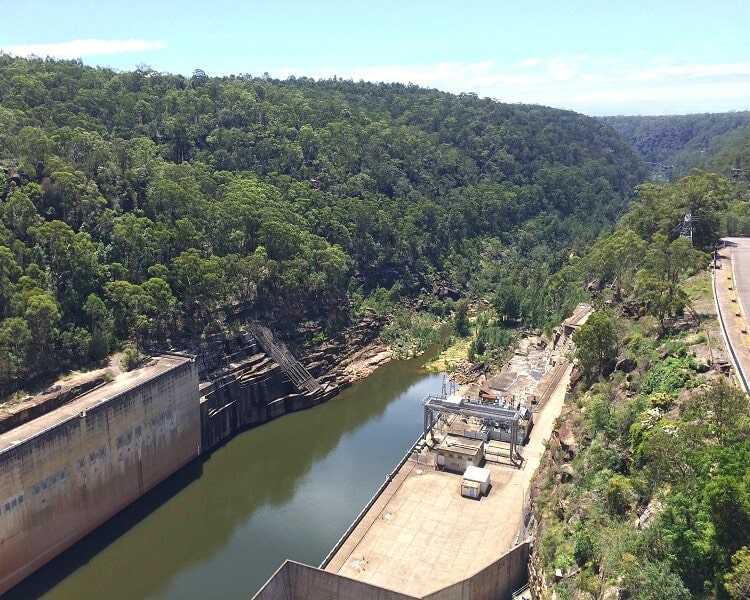 Construction of this engineering masterpiece started in 1948 and was finally completed in 1960.
Three million tonnes of concrete were used to create a barrier in the Warragamba River, which would ultimately create the enormous Lake Burragorang that is now Sydney's largest water supply.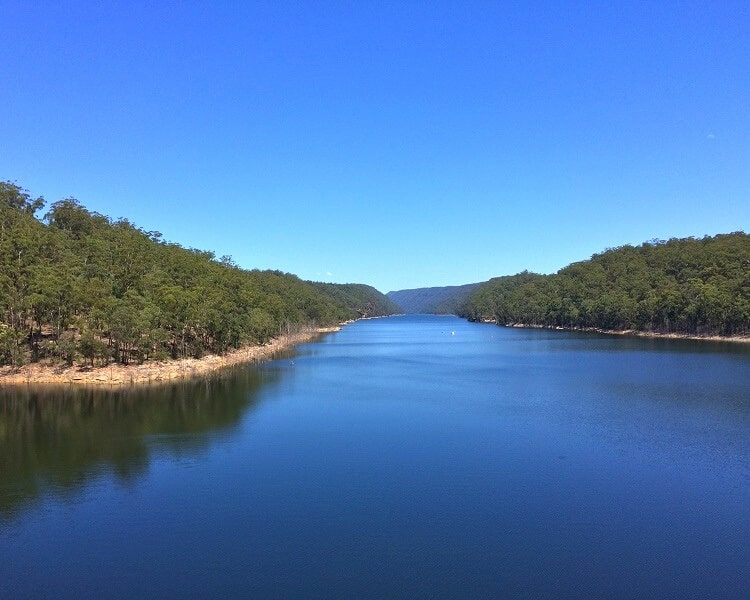 The Sydney Catchment Authority took over control of the Warragamba Dam in 1999 to supply clean water to the Sydney Metro, Blue Mountains and Southern Highlands areas of New South Wales. It is now managed by Water NSW.
The grounds of the dam were closed for ten years for major dam upgrades and reopened to the public in 2009 with a brand new visitor centre and an auxiliary spillway to manage extreme flood events.
Warragamba Dam in numbers
Height:
142 metres
Width:
351 metres
Thickness base:
104 metres
Thickness top:
8.5 metres
Warragamba Dam is just one of many dams you can visit in Sydney and New South Wales. Check out our
list of Sydney Dams
for more ideas to spend a great day out.
The Workforce
Almost 2000 people from more than 25 countries worked seven days a week to build Warragamba Dam. The Warragamba township was a village built specifically to house workers and their families during construction.
There was a strong sense of community in Warragamba, with regular pub and dance nights and English classes for immigrants organised.
A memorial was unveiled in 2012, dedicated to the 15 men who lost their lives while working on the construction of the dam.
Warragamba Dam Visitor Centre and Lookout Points
Warragamba Dam has an excellent visitor centre where you can find lots of information about the dam, the way it works, how it was built, and much more.
The Visitor Centre is open daily from 10 am to 4 pm (closed on Christmas Day and Good Friday). The dam grounds are open from 8 am to 5 pm daily (6 pm on weekends and public holidays during daylight saving time).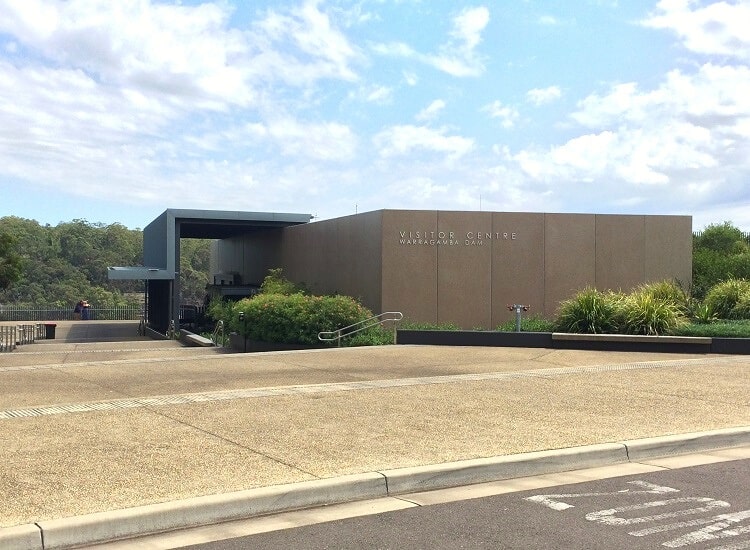 The first thing you will notice when you arrive at the visitor centre, are the two enormous green valves. These valves were manufactured in England and installed at the dam in 1958.
They were used to turn water flowing through pipes on and off. The old valves were replaced by more efficient, German-engineered butterfly valves in 2005.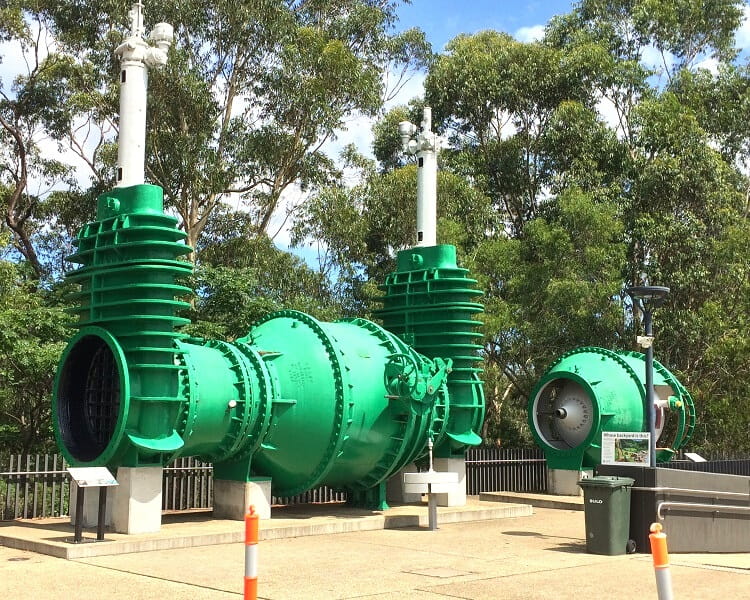 You can get great views of the dam from a steel platform on the western side of the visitor centre. On the other side of the centre is another lookout point from where you can go down and walk onto the top of the dam wall.
From there you can see Lake Burragorang on one side, and the Warragamba River on the other side. It's quite an impressive sight.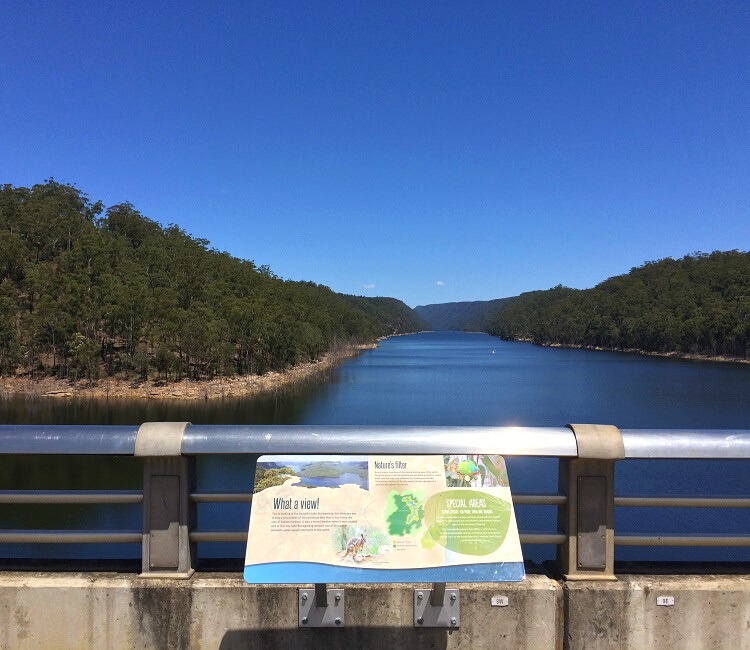 Please note though that pedestrian access to the dam wall is only available on weekends and public holidays between 10 am and 4 pm.
There is another lookout point on Eighteenth Street from where you can enjoy good views of the dam wall and the auxiliary spillway.
Picnic Areas
The area in and around Warragamba Dam has several great picnic facilities that are popular with families at weekends.
The Warragamba Waterboard Oval, home sports-ground of the Warradale Soccer Club, not only offers sport facilities such as a soccer field and tennis courts. There is also a large picnic area with a playground, covered BBQs and toilets.
There are also several tables located in the park area on the north side of Warragamba Dam. It's a pleasant area where you can wander around and enjoy great views of the massive dam wall.
How to Get to Warragamba Dam
Fortunately, getting to Warragamba Dam is easy, and there are two large parking areas available at the visitor centre.
From the M4 Motorway, turn left into the Northern Road towards Wallacia. Then follow Silverdale Road to Warragamba Dam.
If you're driving in from the south, turn into Park Road from the Northern Road and head to Wallacia. Then simply follow the signs to Warragamba Dam.
It's highly recommended to combine a visit to Warragamba Dam with a visit to the Burragorang Lookout, because it's one of the most impressive lookout points in the greater Blue Mountains region.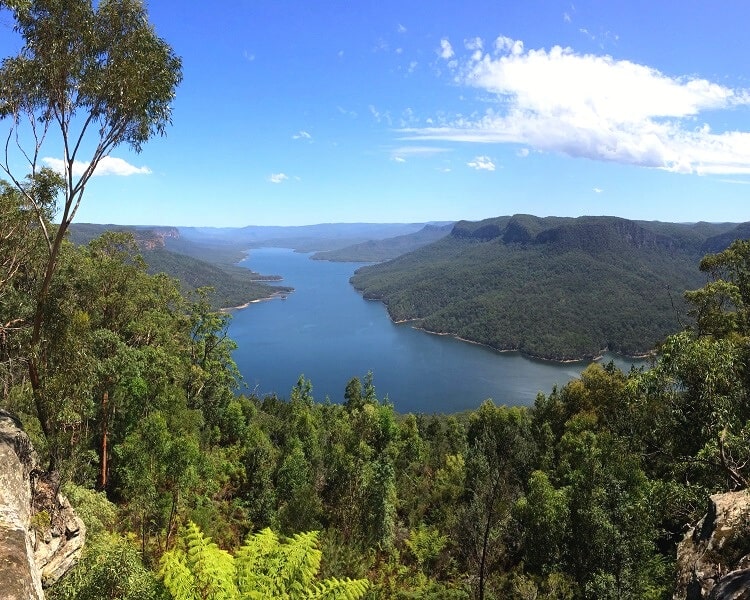 Not only is it quite close to the dam (a cruisy 40 km drive further south), but the lookout also gives you a really good impression of how enormous the flooded Burragorang Valley is. This area is now Sydney's biggest water catchment area.
Managed by National Parks and Wildlife Service, the Burragorang Lookout offers panoramic views of Lake Burragorang. Besides a viewing platform, the lookout also has a picnic area and toilet facilities.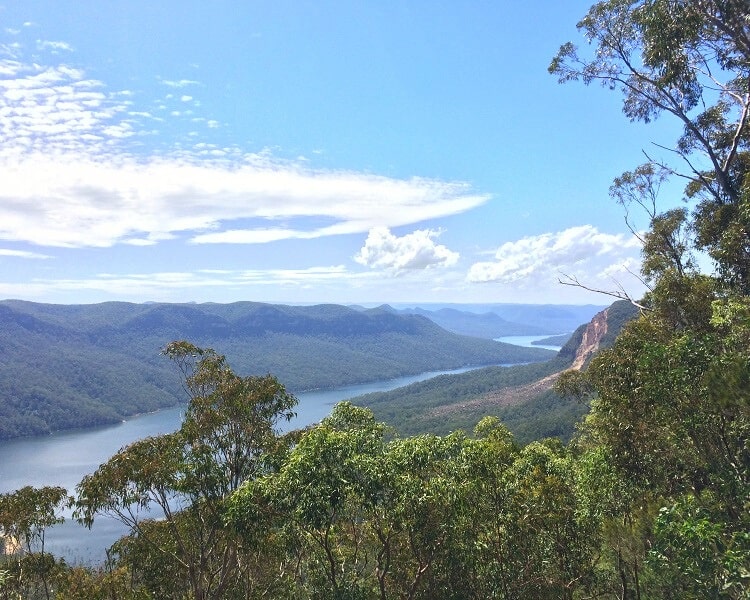 When looking at the incredible size of Lake Burragorang from high above, it's interesting to think about what this area would have looked like if it wasn't for our strong population growth since white settlement.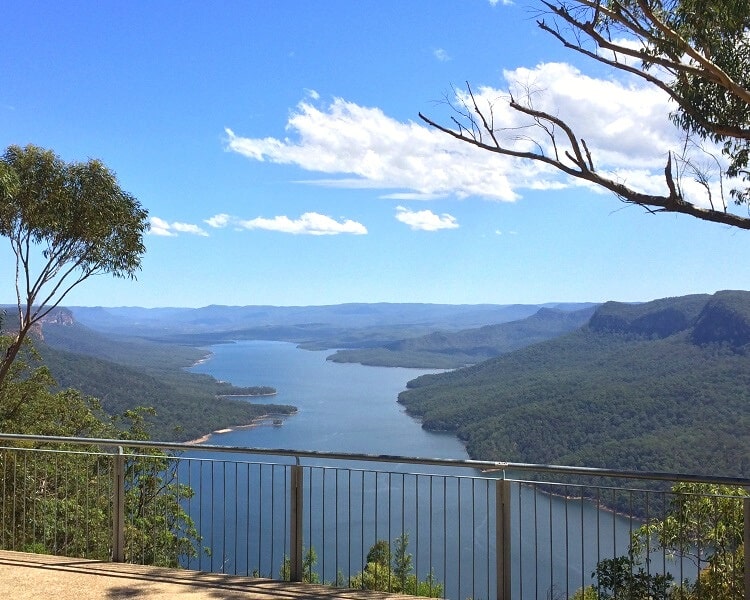 One can only imagine that this huge water catchment area would have otherwise consisted of large forests, creeks, wildlife, and small townships.
How to Get to Burragorang Lookout
It's an easy 40 km drive from the dam to the Burragorang Lookout. From Warragamba Dam, follow Silverdale Road all the way to The Oaks.
If you're feeling hungry or need a coffee, The Oaks is a great place to stop and revive with several cafes and a pub to choose from.
From The Oaks, follow Burragorang Road which leads to the lookout. You will be welcomed by a large parking area with toilet and picnic facilities.
Getting to Warragamba Dam and the Burragorang Lookout is very easy and quite well-signposted. Have a look at the below Google Maps to help plan your trip.
Warragamba Dam address (map):
Crest Rd, Warragamba NSW 2752
Burragorang Lookout address (map):
Burragorang Road, Nattai NSW 2570
Warragamba Dam:

Lake Burragorang Lookout: