Last updated: September 29, 2022
Minnamurra Falls is a beautiful two-tiered waterfall on the Minnamurra River, quietly tucked away in a thriving rainforest in Budderoo National Park.
A scenic 4.2 km walk, starting from the Minnamurra Rainforest Centre, leads to this waterfall with a large viewing platform right in front of it.
Read on, and find out more about this waterfall, the walking track, and how best to drive there.
Minnamurra Falls Rainforest Walk
Distance:
4.2 km (part circuit)
Duration:
2 hours
Grade:
Moderate (steep sections)
Dogs:
Not allowed
Both Minnamurra Falls and Minnamurra Rainforest are accessible from the Minnamurra Rainforest Centre in Budderoo National Park, near Wollongong and Kiama.
To get to the centre, turn into Minnamurra Falls Road from Jamberoo Mountain Road, and drive all the way to the end. The centre has a reasonably sized car park, and costs $12 per vehicle per day.
Official address of the Minnamurra Rainforest Centre (see map location):
345 Minnamurra Falls Road
Jamberoo NSW 2533
The centre is open 9 am to 4 pm daily (closed on Christmas Day). The gates at the park close at 5 pm every day.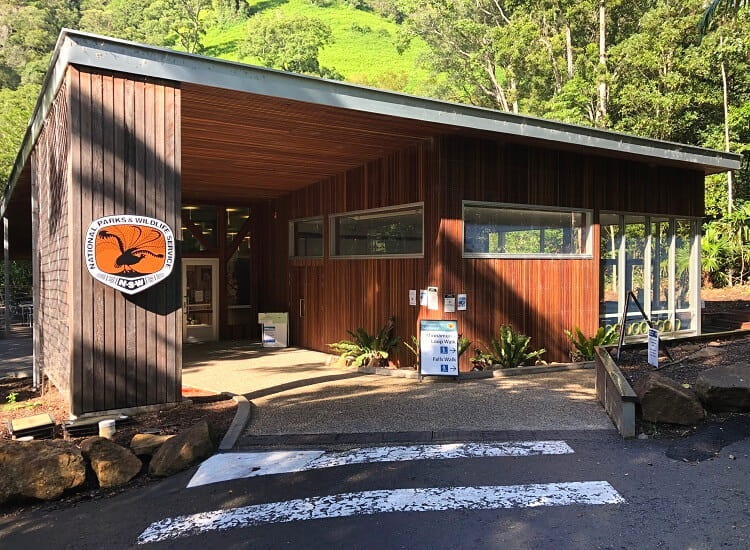 Minnamurra Falls Rainforest Walk
The Minnamurra Falls Rainforest Walk consists of two parts:
Loop Walk (1.6 km)
Falls Walk (2.6 km)

The Loop Walk is a scenic rainforest walk along the Minnamurra River with a few suspension bridges to cross. It's a highly enjoyable, family-friendly, and well-maintained walking track. The lower section of this walk is wheel-friendly.
The Falls Walk is an extension to the Loop Walk, and is a moderately challenging track that leads to beautiful Minnamurra Falls with two lookout platforms. This is a rather steep walk, but it is doable for anyone with a reasonable fitness level.
The Falls Walk is accessible via a detour from the Loop Walk and is well-signposted. The two walks combined are approximately 4.2 km in length.
1. Loop Walk
To start the Loop Walk, simply follow the signs at the Rainforest Information Centre. Since this is a circuit walk, it doesn't really matter if you go anti-clockwise or clockwise.

As mentioned, the lower section of the Loop Walk is wheel-friendly. This section is quite scenic and offers a good feel of the rainforest.

The walk includes a few exciting bridges crossing Minnamurra Creek, in addition to several information boards that contain interesting details about the rainforest.
2. Falls Walk
To start the walk to Minnamurra Falls, keep an eye out for an intersection with a small signpost. The walk to the falls is similar to the Loop Walk but is a lot steeper.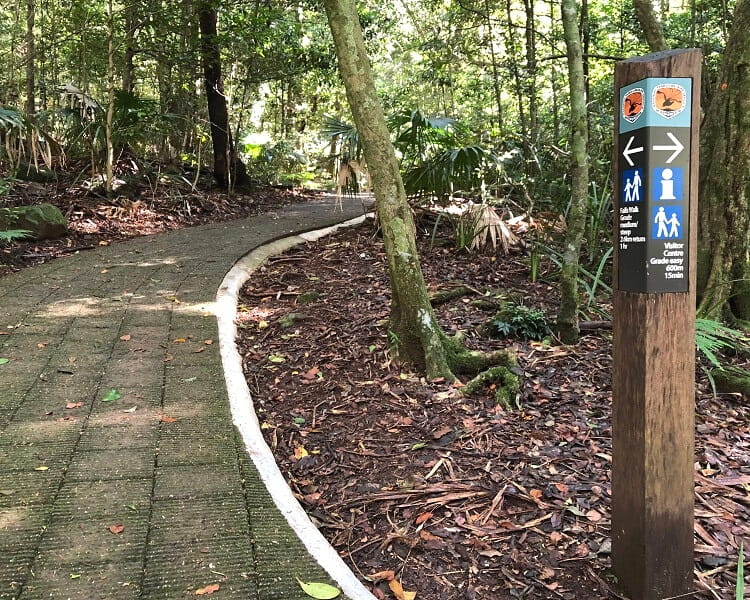 The path is well maintained, though, and no rock scrambling or climbing is required to reach the waterfall.
Minnamurra Falls
There are two parts to Minnamurra Falls; the lower falls and the upper falls.
The lower falls are the bigger part of the waterfall, but there is currently no walking track heading down into the valley to get closer to the lower falls.
There used to be a walking track many years ago, but that was destroyed due to landslides and has never been restored for safety reasons.

A large viewing platform has been built that offers views of the valley, but the views of the lower falls aren't the best.
That said, it's still a nice lookout platform to explore, and it's a great warmup for what's to come.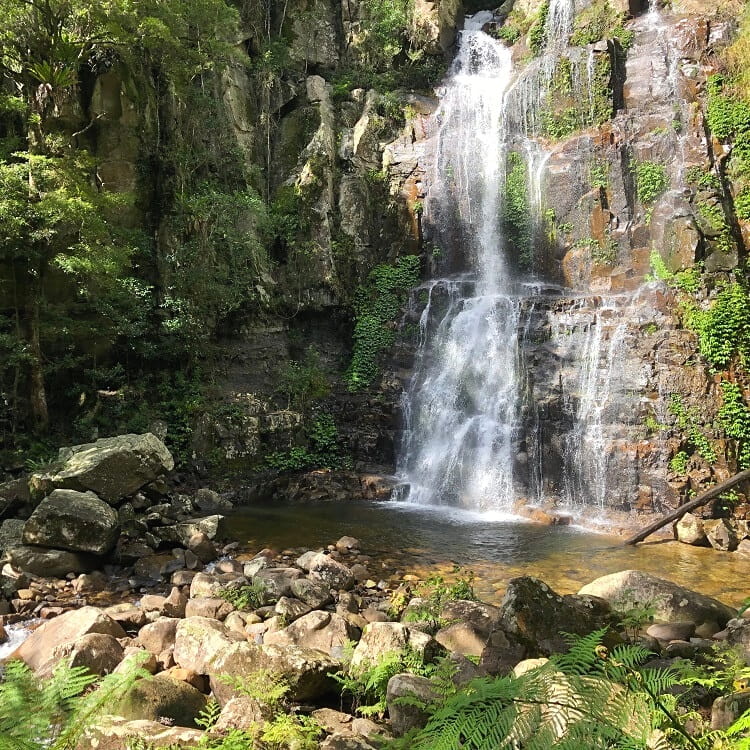 From this viewing platform, it's only a short walk to the second viewing platform, situated right in front of the upper section of Minnamurra Falls.
Since this viewing platform is so close to the waterfall, the views are fantastic. Even more so after a period of rain, when more water is being pushed through the river into the valley.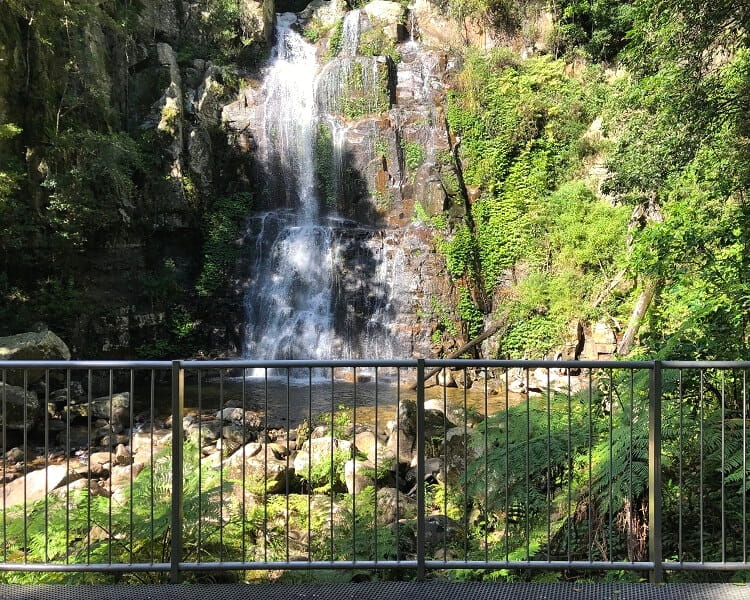 Once you've finished admiring Minnamurra Falls, retrace your steps back to the intersection with the Loop Walk. Luckily, the return trip is mostly downhill, so this is going to be a lot easier.
At the intersection, it's recommended to do the other part of the Loop Walk. This will allow you to complete the entire 4.2 km long Minnamurra Rainforest Walk before arriving back at the information centre.
Budderoo National Park, and nearby Morton National Park, are both home to some fantastic waterfalls. If you're visiting Minnamurra Falls, consider also checking out the following waterfalls.
1. Carrington Falls
Carrington Falls is a beautiful plunge waterfall on the Kangaroo River in Budderoo National Park, less than a half-hour drive from Minnamurra Rainforest.

A short loop walk includes a viewing platform that offers fantastic views of this waterfall and the valley it drops into. Nearby Nellies Glen is a smaller waterfall that is also worth a visit.
Read more about Carrington Falls and Nellies Glen.
2. Belmore Falls
Belmore Falls is located in Morton National Park, approximately 40 minutes away from Minnamurra Rainforest and 20 minutes away from Carrington Falls.
It's a stunning plunge waterfall with two drops on the Barrengarry Creek, with a couple of lookout platforms offering fantastic views of the waterfall.
Read more about Belmore Falls.
3. Fitzroy Falls
Another 15 minutes of driving will get you to Fitzroy Falls, a spectacular waterfall that drops into Yarrunga Valley in Morton National Park.

This is a popular waterfall that attracts large amounts of visitors. The waterfall, and various walking tracks, can be accessed via a boardwalk starting at the visitor centre.
Read more about Fitzroy Falls.