Last updated: November 21, 2023
The Bradleys Head Walking Track is a short, family-friendly trail that leads to an iconic landmark in Sydney Harbour with beautiful views to enjoy from start to finish.
This walk starts from the Taronga Zoo ferry wharf and follows the Athol Bay shoreline before arriving at Bradleys Head, where you can spend some time sightseeing.
In this article, we'll share the highlights of this walk, a detailed map, a quick video, and some guidance on how best to get there.
Bradleys Head Walking Track
Distance:
1.1 km (one way)
Duration:
1 hour (including browsing)
Grade:
Easy
Dogs:
Not allowed
Short video of the Bradleys Head walking track:
Since the Bradleys Head Walk officially starts from the Taronga Zoo wharf, travelling by ferry is, of course, the best way to get there.
On the weekends, ferries travel between Circular Quay and Taronga Zoo approximately three times per hour, which is quite generous and convenient.
If you do wish to travel by car, the best spot to park is at Bradleys Head, which is home to a small parking area. Parking at Bradleys Head will cost you $8 per vehicle per day.
Map
Below is a map of the walk to Bradleys Head:
Taronga Zoo Wharf (map location)
Athol Bay
Bradleys Head

Bradleys Head Track Notes
The Bradleys Head Walking Track is a short and easy walk, with a few steps and a couple of sections with uneven surfaces. Good hiking shoes are recommended but not essential.
This walk is perfect as a quick Sydney Harbour adventure, as a starting point for a longer walk to Balmoral Beach, or as an add-on to a visit to Taronga Zoo.
Taronga Zoo Wharf
The ferry trip from Circular Quay is an adventure in itself, crossing the Harbour from the city to Mosman on Sydney's lower north shore.

Once you've arrived at the Taronga Zoo wharf, be sure to enjoy the views toward the city as well as toward Athol Bay just east of the ferry wharf, before starting the walk.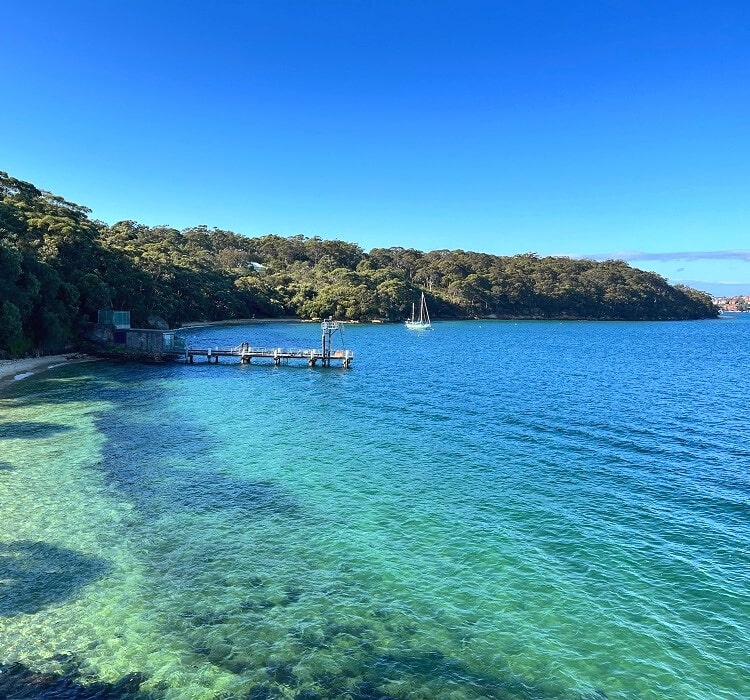 From the wharf, walk up Athol Wharf Road going eastbound, past Taronga Zoo's southern entrance, and then find the trail heading into the bush.
Athol Bay
The trail follows the shoreline around Athol Bay on an easy-to-follow path, offering great views of the Harbour.
Athol Bay is also home to a couple of small beaches, collectively referred to as Athol Beach. You will find multiple entry points from the main trail to these strips of sand.

Athol Beach feels very secluded, and with those million-dollar views, it's not challenging to spend a couple of hours there swimming and sunbathing.
The water at Athol Beach is usually quite calm, but it's not the cleanest beach in Sydney due to Harbour water pollution.

From Athol Beach, the walking track continues around the bay on a well-maintained path with a couple of viewing platforms along the way to take in the views.
Bradleys Head
The walking track then arrives at beautiful Bradleys Head where you can spend some time sightseeing and exploring the area.
HMAS Sydney Foremast
Named after William Bradley, a Royal Navy officer who participated in the First Fleet to Australia, Bradleys Head is a fascinating place to visit.
You will first notice the tall mast that stands tall and proud on the tip of the headland overlooking Sydney Harbour.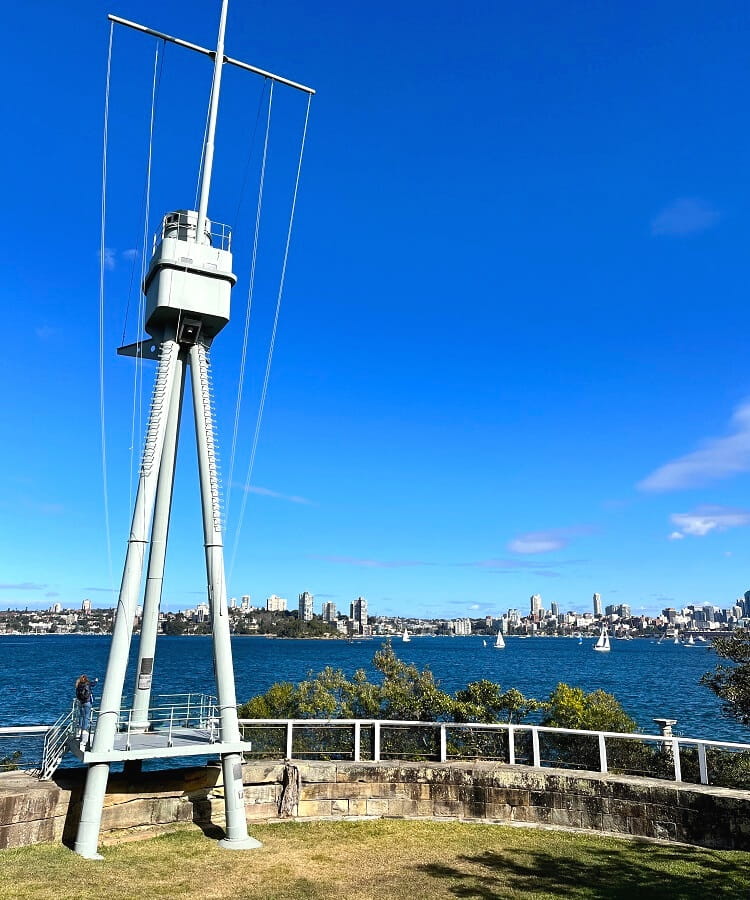 The mast was the foremast of HMAS Sydney, a light cruiser that was broken up on Cockatoo Island in 1929.
It was erected at Bradleys Head in 1934 and now serves as a monument for all Australian ships lost and all Australian sailors killed at war.
Bradleys Head Amphitheatre
The amphitheatre at Bradleys Head is a popular fishing and picnic spot within the Sydney Harbour National Park.
It's also a great lookout for the best views of the city skyline, the Sydney Opera House, and the Sydney Harbour Bridge.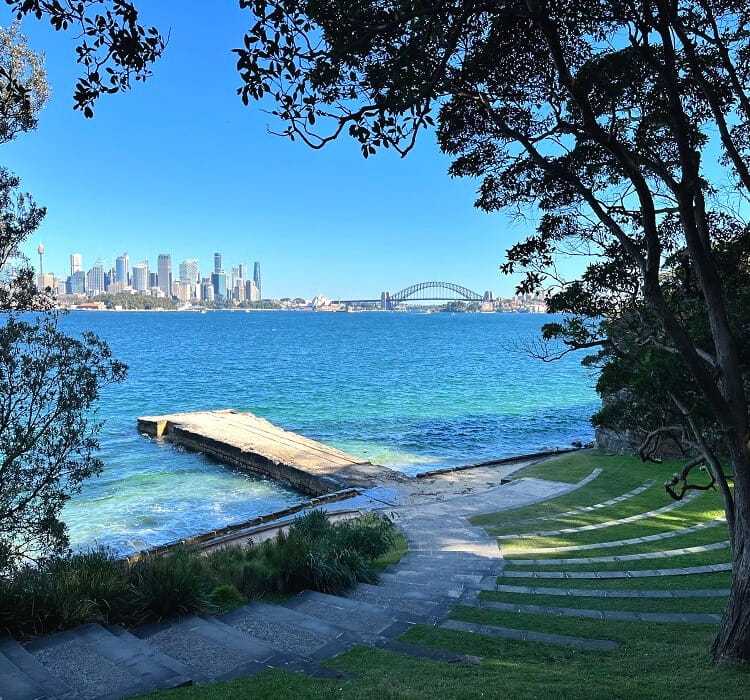 And with beautiful Harbour and city views, the amphitheatre is widely regarded as one of Sydney's best outdoor wedding locations.
Bookings can be made via NSW National Parks for both the Bradleys Head Amphitheatre and Athol Hall for the reception.
Bradleys Head Lighthouse
Bradleys Head features a small lighthouse that was built in 1905 and is still active today.
The lighthouse, closed to the public, is located just in front of Bradleys Head, connected to the shore by a small footbridge.

Next to the big mast is the start of the Bradleys Head Memorial Walk, which flows into the walking trail to Chowder Bay.
This short avenue commemorates the loss of 22 commissioned Royal Australian Navy ships and submarines, each represented by a little plaque.
More Hiking
From Bradleys Head, you can continue hiking to Chowder Bay and Balmoral Beach via two sections, with various highlights and stops along the way.
These are the two sections:
Bradleys Head to Chowder Bay (2.7 km one way)
Chowder Bay to Balmoral Beach (2.7 km one way)
Depending on energy levels, you can go as far as you wish. In fact, the walking trail continues all the way to Manly as part of the iconic Bondi to Manly Walk.