Last updated: September 17, 2021
Sydney Harbour and its islands hold a wealth of history, and we can learn so much about the evolution and growth of Sydney by visiting, or otherwise reading about, these islands.
Some of Sydney Harbour's islands can be visited, while others can't. Some of them aren't even islands anymore, as they have been reclaimed and are now part of the mainland.
In this guide we are going to dive a little deeper into the islands, and former islands, of Sydney Harbour and uncover their rich historical legacy.
Here is a list of 8 islands in Sydney Harbour that are still real islands.
Some of these islands can be visited, which is highly recommended and makes for a great day out.
Cockatoo Island
Spectacle Island
Snapper Island
Goat Island
Rodd Island
Fort Denison
Clark Island
Shark Island

1. Cockatoo Island
located west of the Sydney Harbour Bridge where the Parramatta and Lane Cove Rivers meet, Cockatoo Island is the largest Island in Sydney Harbour.
It is a UNESCO World-Heritage and National Heritage Listed island, with a rich history as a shipbuilding yard and Commonwealth naval base and also as a convict island.
Since 2017, Cockatoo Island has been open to the public as a tourist attraction, managed by the Sydney Harbour Federation Trust.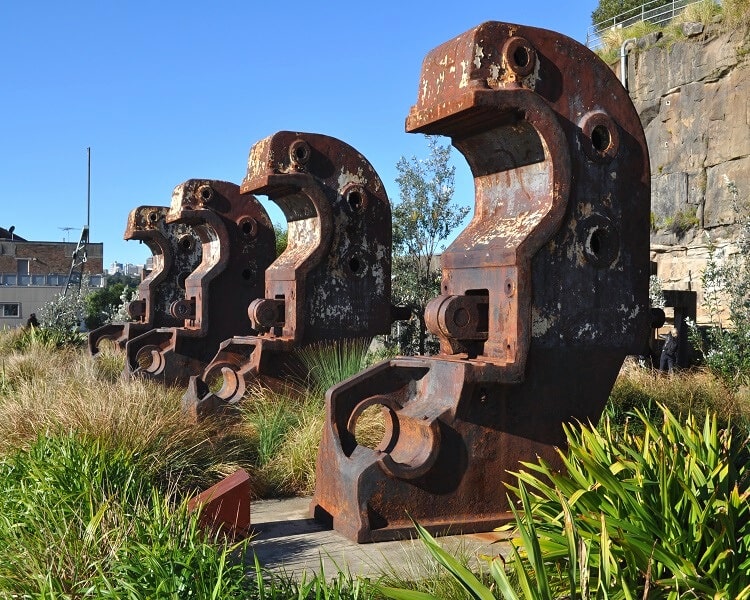 Cockatoo Island has preserved a lot if its history and the best way to experience the island is by simply wandering around. The island has several themed districts, with each district showcasing a different part of the island's history.
You can also stay overnight on Cockatoo Island, either in one of their heritage houses or apartments, or on the large waterfront campground. Bookings can be made directly via the Harbour Trust.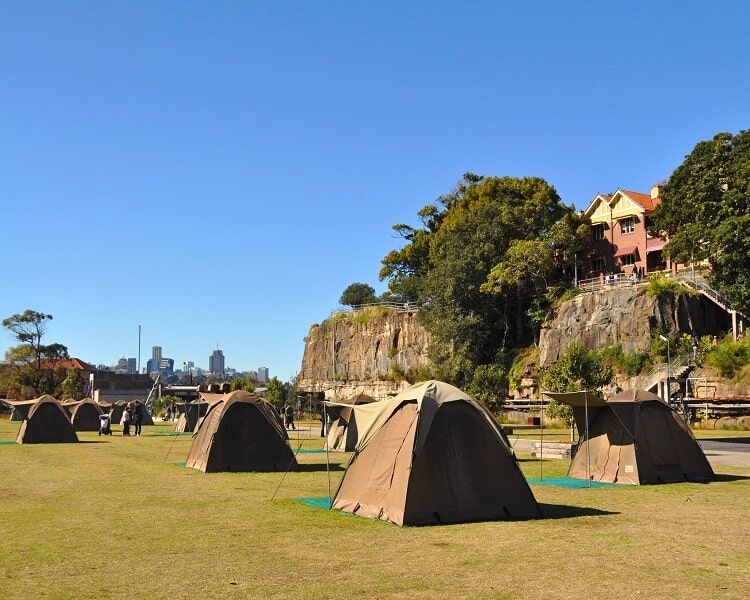 The best way, and for most of us the only way, to get to Cockatoo Island is by ferry from Circular Quay. The ferry ride to Cockatoo Island is quite a scenic one, and adds to the experience.
The small visitor centre is located next to the ferry wharf where you can grab a free map and enjoy a wonderful day out.
2. Spectacle Island
Situated between Cockatoo Island and the foreshore of Drummoyne in the Parramatta River, Spectacle Island is an island that has been used in different ways throughout the years.
In 1863, the colonial government built a large powder magazine on the island to store explosives that was moved away from Goat Island due to safety reasons.
Towards the end of the 19th century, the explosives were removed and Spectacle Island became the armament depot for the Royal Navy, and with that the island gradually increased in size.
Added to the Commonwealth National Heritage List in 2004, Spectacle Island is now used as a depository of heritage items and historical artifacts significant to the Royal Australian Navy. This makes Spectacle Island the oldest continuously operating naval facility in Australia.
3. Snapper Island
The smallest island in this list of Sydney Harbour islands is situated off the shoreline of Drummoyne, just south of Spectacle Island. Declared a recreation reserve at the end of the 19th century, Snapper Island certainly isn't the prettiest of islands.
In the first half of the 20th century, the island was used as a scrap yard for Cockatoo Island, as a training facility for naval cadets, as a base for international troops during WWII, and as a museum with memorabilia from Australia's naval history.
The island is currently closed to the public, with no concrete plans in place to have it repurposed.
4. Goat Island
Also located west of the Harbour Bridge is Goat Island, a fascinating 300m wide sandstone island with a rather tumultuous history. Throughout the years, the island has served as a gunpowder store, a water police station, a source of sandstone for Sydney real estate, and so much more.
Today, Goat Island is part of the Sydney Harbour National Park, and serves mainly as a tourist destination for guided heritage tours.

Goat Island was once occupied by Aboriginal people long before white settlement, with a few Aboriginal sites still visible, such as a midden and a rock shelter.
In the 19th century, Goat Island was used for sandstone mining and as a storage place to house large amounts of military explosives, with some of these gunpowder magazines still present today.

Nobody seems to know where Goat Island got its name from, but it has nothing to do with goats roaming on the island. Some say it's because the island is shaped like a goat, others say the name is a good match for its neighbour Cockatoo Island.
5. Rodd Island
Named after a lawyer and colonial landowner from the 19th century, historic Rodd Island is a small piece of land located in the waters of Iron Cove. Brent Rodd tried to purchase the island several times but never succeeded. He did, however, manage to attach his name to the island.
In the late 19th century, Rodd Island briefly served as a laboratory for scientists researching ways to control the large rabbit population in Australia. The original research station was later converted into a dance hall, and that building still exists on the island.
Rodd Island is now a recreation reserve as part of Sydney Harbour National Park. To visit the island with your own vessel you need to pay a small landing fee to National Parks. The island can also be hired as a venue for weddings and functions.
6. Fort Denison
Also commonly known as Pinchgut Island, Fort Denison is a former military site with an iconic Martello tower. If you've ever been on the ferry from Circular Quay to Manly, you will have seen this historic structure.
That tower on Fort Denison was the only Martello tower built in Australia and the last one built in the British Empire, which makes it even more unique.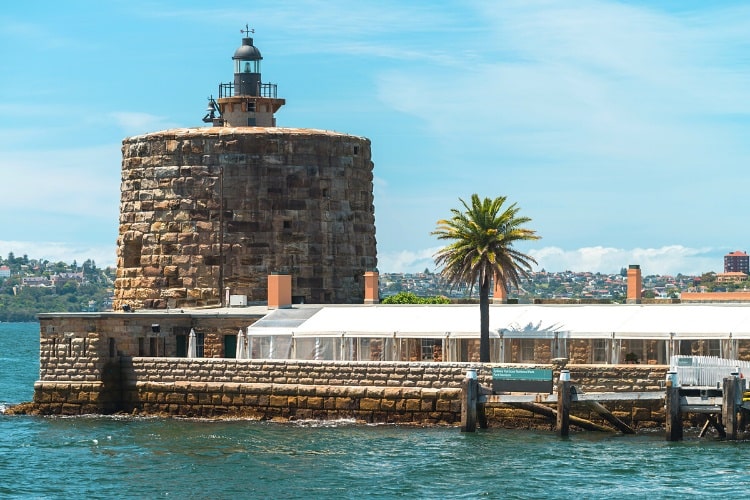 The island, which was originally not much more than a rocky outcrop, was used as a prison after the first fleet arrived in the 18th century. It was converted to a fortification in the 19th century to help protect the vulnerable Sydney Harbour from attacks by foreign vessels.
Although the island is currently closed for maintenance and conservation works, Fort Denison is otherwise open to the public and very much worth a visit.
7. Clark Island
Named after Ralph Clark, an officer of the First Fleet, Clark Island is a unique picnic spot situated in front of the prestigious suburb of Darling Point.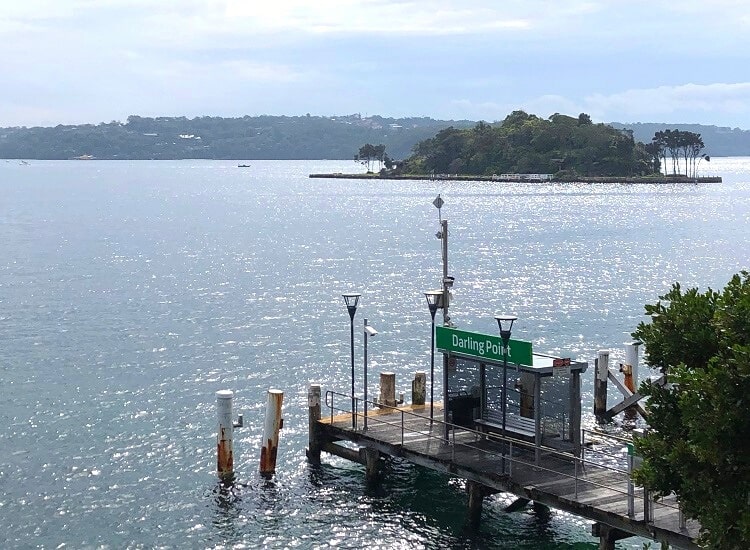 Similar to Rodd Island, you can visit Clark Island with your own vessel by paying a small landing fee.
The views of the Harbour, including the Opera House and the Harbour Bridge, are enough reason to organise a picnic on the island, or to book it as a venue for official events and ceremonies.
8. Shark Island
Situated in the middle of Sydney Harbour, between the Harbour Bridge in the west and the entrance to the Harbour in the east, Shark Island is a great spot for a special picnic with scenic views.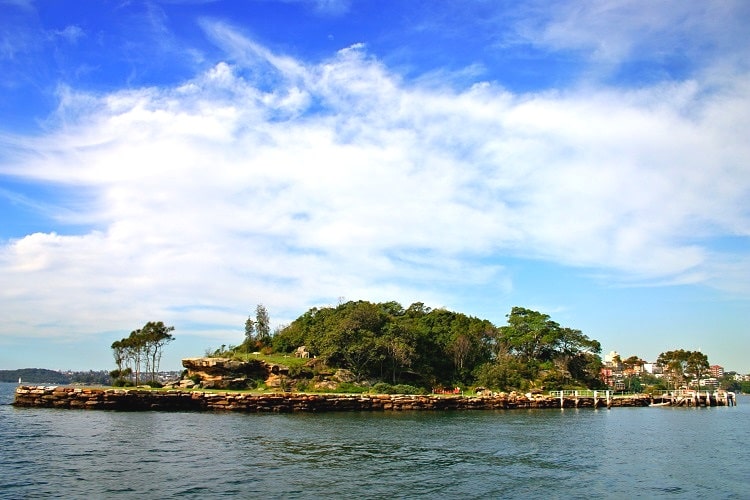 Once a quarantine station and naval depot, Shark Island is now a recreation reserve that can be accessed via approved tour operators and a scheduled ferry service.
Private vessels can also drop off and pick up, but cannot anchor.
5 Harbour Peninsulas That Used to Be Islands
Here is a list of 5 islands in Sydney Harbour that aren't actually islands anymore.
They have been reclaimed and are now part of the Sydney mainland.
Berry Island
Glebe Island
Darling Island
Bennelong Point
Garden Island

1. Berry Island
Now a peninsula, Berry Island used to be one of the many islands in Sydney Harbour. It is connected to the mainland of Wollstonecraft by a man-made grassed area, and is now a quiet reserve with picnic areas, a fenced playground and a short walking track.
In the early 19th century, Berry Island became part of a large land grant made by Governor Macquarie to Alexander Berry and Edward Wollstonecraft. In 1926, along with Balls Head Reserve, Berry Island became a nature reserve for public recreation.

Berry Island was an important gathering place for Aboriginal people, as there was plenty of fish and shellfish to eat. The various sandstone overhangs on the island also provided much needed shelter.
One of the highlights of the walk around the island is a well preserved Aboriginal engraving. It resembles a large creature with a boomerang shape near the tail and a large circle shape in the centre.
2. Glebe Island
Situated next to the Anzac Bridge in Rozelle in Sydney's inner west, it's hard to imagine that Glebe Island was once a "real" island. Back in the day, the island was accessible from the Balmain shoreline at low tide.
In the first half of the 19th century, a causeway was built to reclaim the island and make it a part of the mainland, which supported the public abattoirs that were located on the island.

Completed in 1862, the first Glebe Island bridge provided direct access from the city and Pyrmont to the abattoirs and to Balmain and Rozelle. Since the beginning of the 20th century, after closure of the abattoirs, Glebe Island has played an important role as a major port facility.
There are now plans in place to redevelop Glebe Island into a multi-user facility, with the NSW Port Authority discussing the use of space within this facility with prospective operators.
3. Darling Island
Developed into a premium waterfront urban space with residential apartments, commercial offices, and public walkways, Darling Island was once not much more than a small rocky island. It was reclaimed in the 19th century to accommodate the development of a large shipyard.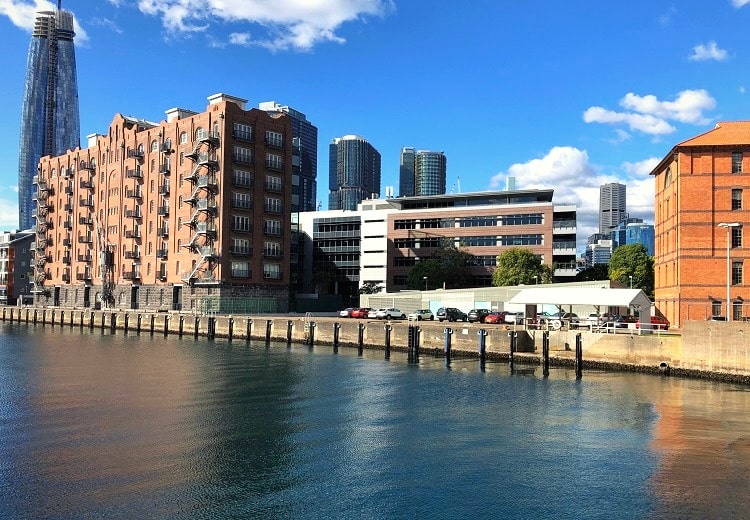 The peninsula was sold to the NSW government at the end of the 19th century, and the area was redeveloped with wharves and railway yards.
Two iconic brick buildings that were built during that time for the Royal Navy are still there, now used as offices.
4. Bennelong Point
It's hard to imagine, but Bennelong Point, home to Sydney's most famous landmark the Opera House, was also once an island. Bennelong Island was first used as a fort, built by NSW Governor Lachlan Macquarie at the beginning of the 19th century.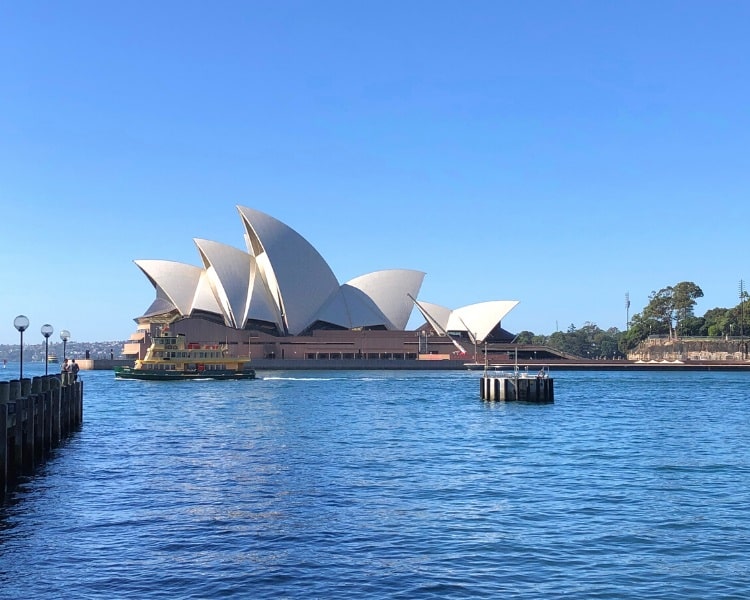 A causeway was built to connect the island to the mainland, and the fort was replaced by a tram depot, which was in use until the 1950s. Soon after, Bennelong Point was chosen as the location for the new Opera House, which opened in 1973.
The peninsula is named after Aboriginal man Woollarawarre Bennelong who lived there in a small house that was built for him by NSW governor Arthur Phillip. Bennelong served as an interlocutor between the local Aboriginal people in the Port Jackson area, and the British settlers.
5. Garden Island
Garden Island, in Potts Point, was still a completely detached island up until WWII, when major land reclamation work took place to make it join the shoreline.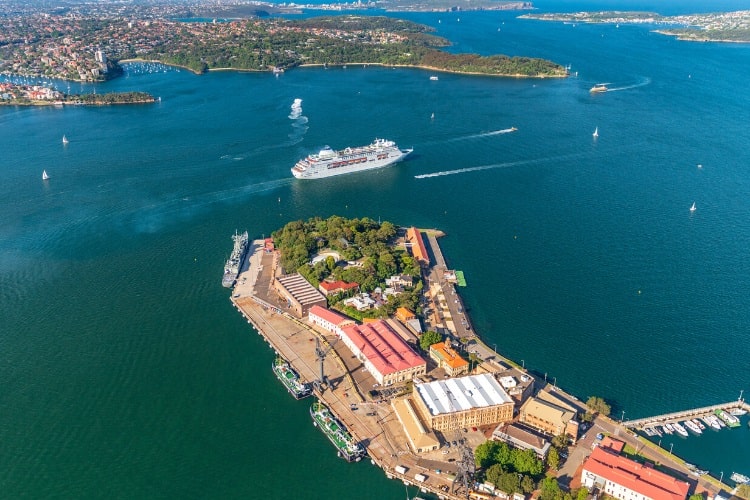 Garden Island is now an official inner-city locality of Sydney, and serves as a major base for the Royal Australian Navy, with active dockyards, naval wharves and a naval heritage and museum precinct.
The northern part of Garden Island is open to the public, and is home to the RAN Heritage Centre, a maritime museum of the Royal Australian Navy.