Last updated: October 30, 2023
A complete guide to the best things to do in Manly, from scenic lookout points and walking trails to historical sites and quiet beaches.
Manly and Bondi are home to Sydney's two best-known beaches, but the two are very different in many aspects. We're not going to turn this article into a comparison piece, but if we had to highlight one key difference, it would be the noticeable difference in atmosphere.
We find Manly to have a more relaxing atmosphere than its rival in the eastern suburbs. This could be because there is less noise from cars and more beaches nearby to escape to, or perhaps because it is more pedestrian-friendly.
Keen to visit for a fun day out? In this guide, we reveal the 15 best attractions and activities in and around Manly.
Top 15 Manly Attractions and Activities
In no particular order, here is our top 15 things to do in beautiful Manly and its surrounding area.
1. Do the Fairlight Walk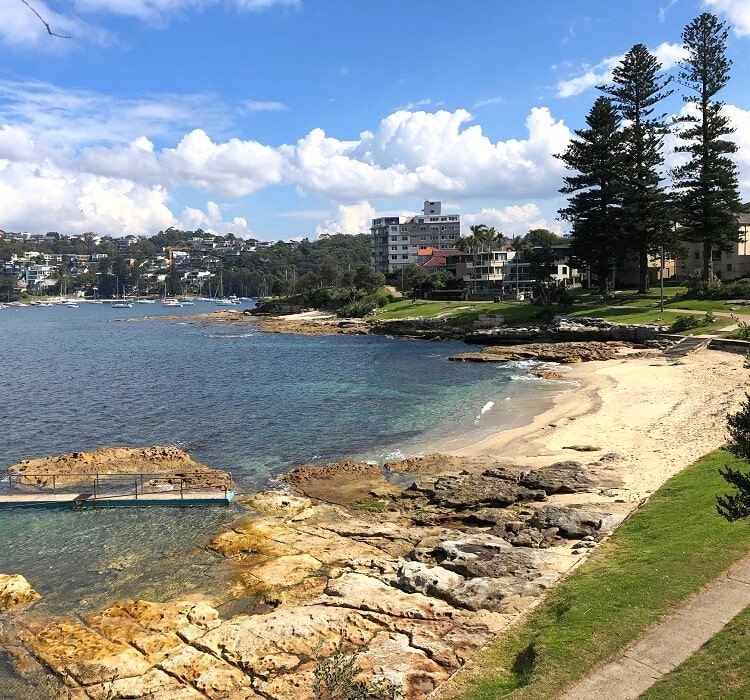 The family-friendly Fairlight Walk is a short walking trail starting from the ferry wharf in Manly Cove to the Manly Boatshed near North Harbour Reserve.
The walk passes a few secluded beaches and several small parks, with great Harbour views to enjoy from start to finish.
The prettiest strip of sand along the walk is the 80m long Fairlight Beach, which is also home to a rockpool and a small pool area for toddlers to have a splash.
2. Have Lunch at the Pub

Not only is Manly home to some of the prettiest beaches in Sydney, but there are also lots of great pubs to explore for a good feed and a cold drink.
Some of these pubs are conveniently located in The Corse, and you'll also find a couple of pubs, bars, and restaurants on the waterfront near the ferry wharf.
Great pubs in Manly:
Hotel Steyne (75 The Corso)
New Brighton Hotel (71 The Corso)
Ivanhoe Hotel Manly (27 The Corso))
3. Walk around North Head

If you're up for an exhilarating hike that is both a coastal and a bushwalking track, you must do the North Head circuit walk.
This 9.5 km walking trail is an absolute treat, with lots of history, panoramic views, and secluded beaches to take in.
You can start this walk at Shelly Beach, from where the trail continues to the historical sites on North Head, the Fairfax Lookout, and back to Manly via Collins and Little Manly Beach.
More information: Manly North Head Walk.
4. Catch a Ferry

If you're in Manly, chances are you arrived there by ferry from Circular Quay. But if not, it's worth doing a quick return ferry trip from the Manly wharf to the city and back.
The Manly ferry ride from Circular Quay is a tourist attraction in its own right and is a must for every tourist visiting Sydney.
This trip takes 20 minutes and crosses the entire Sydney Harbour. The vessels are comfortable with lots of seating inside as well as outside.
5. Walk to the Spit Bridge

The 10 km walking track between the Spit Bridge and Manly is one of Sydney's iconic walks that you should do at least once. Combined with the North Head Walk, it is a 19.5 km hiking adventure known as the Manly Scenic Walkway.
Most people start this walk from the Spit Bridge, but you can, of course, also start from the Manly Wharf and do this walk westbound.
Some of the highlights along this walk include Fairlight Beach, North Harbour Reserve, Reef Beach, Dobroyd Head, and Clontarf Reserve.
More information: Spit to Manly Walk.
6. Learn How to Surf

Did you know that the first World Surfing Championships were held in Manly? In 1964, Manly hosted this high-profile event, attracting a crowd of 60,000 spectators.
So, if you've been keen to give surfing a go, then you may as well try it at Manly's main beach, where the waves are great for beginners and advanced surfers.
Head to the Manly Surf School at the northern end of the beach, where you can either book a surf lesson or hire a board if you already know the basics.
7. Do the Fairfax Walk

The popular Fairfax Walk on Manly's North Head includes one of Sydney's best lookouts, the Burragula Lookout, offering incredible Harbour views with the city skyline visible in the distance.
This short and family-friendly Fairfax Walk includes a few more lookouts, each with Harbour and ocean views from different angles.
The walking trail starts at the end of Scenic Drive, where you will find a reasonably sized car parking area.
More information: Fairfax Walk.
8. Visit Shelly Beach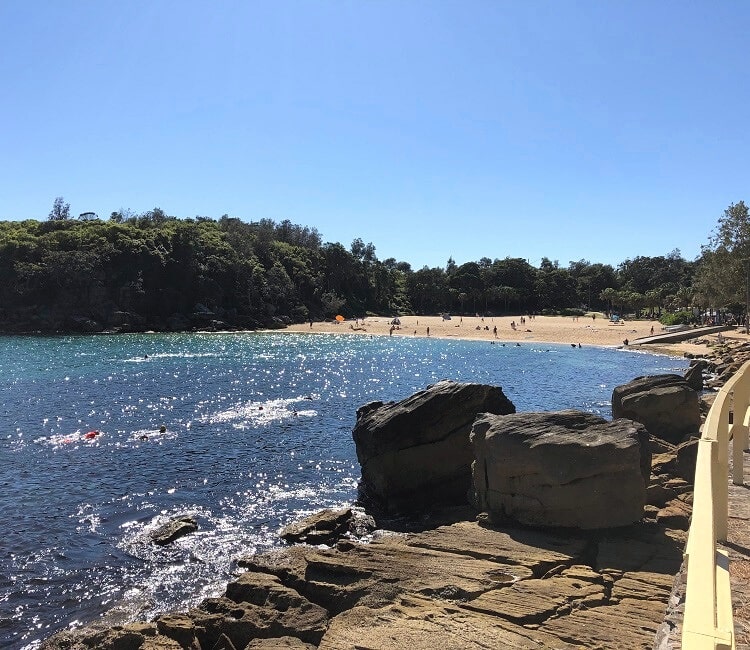 While the two Manly beaches on either side of the Corso are beautiful, some may argue that the much smaller Shelly Beach is Manly's prettiest strip of sand.
You can get there by following the footpath from Manly's main beach heading south, past the Manly Life Saving Club and the Fairy Bower Sea Pool.
Shelly Beach forms part of Cabbage Tree Bay, a protected aquatic reserve covering around 20 hectares. Besides swimming, the beach is a popular spot for scuba diving and snorkelling, with lots of marine life to explore in the shallow water.
9. Play Beach Volleyball

With such a beautiful long and narrow beach, it's no surprise that Manly has several fixed volleyball courts that are free for everyone to use.
You can play beach volleyball year-round at the courts in Manly, either with a bunch of friends or through private classes and group training sessions that you can join.
The courts are located opposite the Manly Pacific Hotel, not too far away from the centre of town.
More information: Beach Volleyball in Manly and Maroubra.
10. Go Shopping in the Corso

The Corso is the pedestrian strip between the Manly ferry wharf and Manly's ocean-facing beach, lined with many retail shops, cafes, restaurants, and pubs, with even more to be discovered in the various small laneways.
Without vehicular traffic, the Corso is a fantastic way to get to the beach from the ferry while enjoying the unique Manly atmosphere.
From a retail perspective, you can find anything in the Corso, from classic surf and giftware shops to jewellery and art galleries.
11. Visit Collins Beach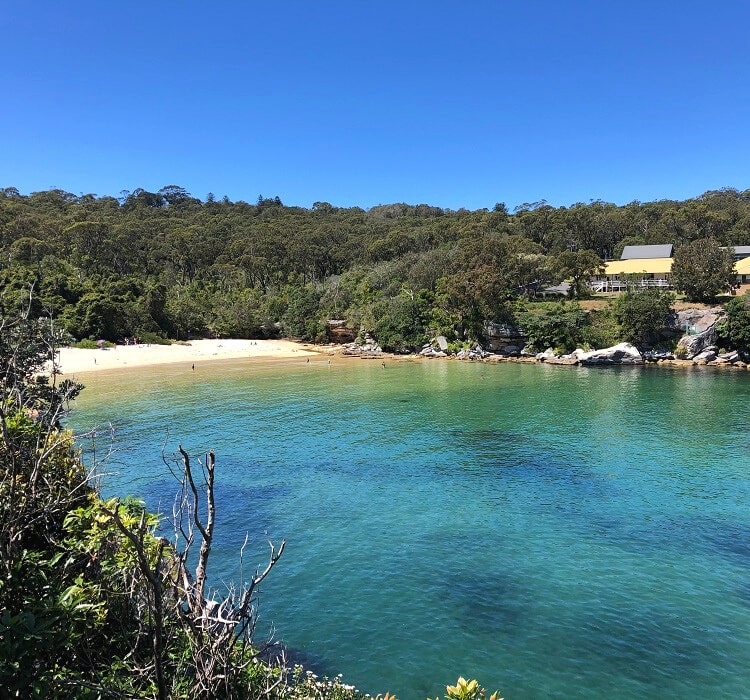 Collins Beach is one of the prettiest secluded beaches in the Manly area, and luckily, it's also easily accessible.
Also known as Collins Flat Beach, this small strip of sand is located between North Head and Little Manly Cove and is a great spot to escape the crowds and enjoy a quiet swim.
Bring a picnic blanket and take in the peaceful bushland surroundings with scenic Harbour views. There is even a small waterfall to complete the setting.
12. Hire a Kayak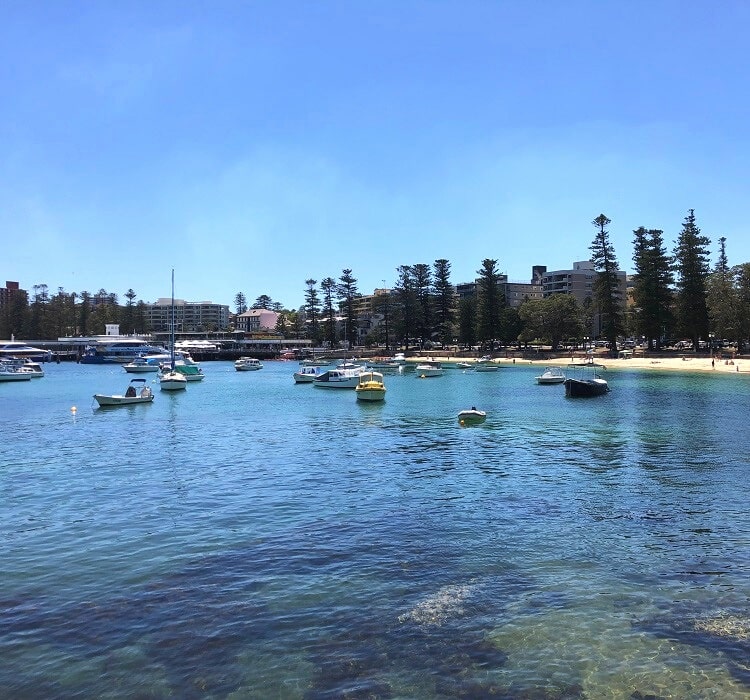 The best spot to hire a kayak is at the Manly Kayak Centre, located at the East Side Pier just south of the ferry wharf.
Once you're in your kayak, you can venture out to some of the prettiest spots in the Harbour, with East Manly Cove Beach as your starting point.
But kayaking is not the only watersport you can do in Manly. Stand-up paddle boarding is also popular, in addition to snorkelling and surfing.
13. Visit Little Manly Beach

The last beach that deserves a mention on this list of things to do in Manly is the family-friendly Little Manly Beach.
On sunny days, it's usually a bit more crowded at Little Manly Beach than at nearby Collins Beach, but there are also more facilities.
Little Manly Beach has a nice swimming enclosure with a shark net, in addition to toilets, showers, a small kiosk, and a boat ramp.
14. Visit the Manly Markets

The Manly Markets are on every Saturday and Sunday from 9 am to 5 pm on Sydney Road, just off the Manly Corso.
It's one of the best arts and crafts markets in Sydney, with a large variety of artisan products offered by friendly stallholders.
In addition to the Manly Markets, the Manly Fresh Produce Markets are held at Sydney Road & Short Street Plaza every Sunday from 8 am to 2 pm.
More information: Manly Markets.
15. Discover the Quarantine Station

The North Head Quarantine Station is a heritage-listed former quarantine station that was operational from 1832 until 1984. It was established by the colony to protect the island against the spread of ship-borne diseases.
Now referred to as Q Station, the complex operates as a hotel, conference centre, restaurant, and tourist attraction.
You can go there to look around and perhaps grab a bite, but you can also book a tour and learn more about the history behind this historic complex.
More information: Manly Quarantine Station.
Despite its location north of the Harbour Bridge and a bit of a distance from the Sydney CBD, Manly is very easy to get to.
Manly does not have a train station, but it does have a ferry wharf and many bus stops. Therefore, the best way to travel to Manly is by public transport, but getting there by car is easy, too.

1. Ferry
As mentioned, the best and most enjoyable way to travel to Manly is by ferry from Circular Quay.
The ferry ride takes approximately 15-20 minutes and crosses the entire Sydney Harbour. The vessels are quite large, with lots of seating on multiple levels, in addition to limited seating outside.

On the weekends, you can take advantage of the daily travel caps that allow you to travel on public transport for a capped fee.
Do note, though, that the ferries can be very busy on the weekends, so it's recommended to go earlier in the day to avoid queueing up.
2. Bus
Depending on where you're travelling from, using the bus is also a very good option as there are many bus stops in the area.
Most bus stops are on Sydney Road, Belgrave Street, and West Esplanade, all within walking distance from the Corso and the beaches.
Go to the Transport for NSW website to help plan your trip if you're travelling by bus, train, and ferry.
3. Car
Surprisingly, Manly is relatively car-friendly, in the sense that there are quite a few car parks that are not overly expensive.
Most of these car parks are located in or close to the town centre and offer two hours of free parking. Beyond those two hours, however, it may become a bit pricey depending on how long you plan to stay.
Recommended car parks in Manly:
Go to the Northern Beaches Council website for more information about the council-managed parking stations.