Last updated: April 30, 2023
Palm Beach is Sydney's northernmost beach town, surrounded by the Tasman Sea, Broken Bay, and Pittwater. Situated 40 km north of the Sydney CBD, Palm Beach has a unique atmosphere that feels like a small tropical paradise.
Palm Beach is a popular day trip destination for Sydney-siders, as well as a niche holiday retreat for tourists, backpackers, and Australian and international celebrities alike.
We have prepared a complete guide on things to do in Palm Beach, with beautiful sightseeing spots, exciting water activities, and great places to eat.
Top 15 Palm Beach Activities
In no particular order, here are 15 great ideas for things to see and do in and around Palm Beach.
1. Hike up to Barrenjoey Lighthouse

The walk up to the Barrenjoey Lighthouse on top of the Barrenjoey Headland is widely considered one of Sydney's top hikes.
It's certainly not the most challenging hike, but with coastal as well as bush walk elements, combined with beautiful panoramic views, the Barrrenjoey Lighthouse walking track is an absolute must.
Built in 1881, the heritage-listed Barrenjoey Lighthouse stands at 113 metres above sea level on the highest point of the Barrenjoey Headland, the northernmost tip of the Palm Beach Peninsula.
The views from the top of the headland of Ku-ring-gai Chase National Park, Broken Bay, Pittwater, and the coastline north of Sydney to the east are incredible and make the effort of climbing up very rewarding.
2. Have Lunch at the Boathouse

A visit to Palm Beach is not complete without a lunch session at the popular Boathouse. Okay, that might be a slight exaggeration, but the Boathouse is a bit of an institution in Palm Beach.
The Boathouse is located on Station Beach at Governor Phillip Park, facing the calm waters of Pittwater, and offers outdoor seating on the jetty at the back of the establishment.
Besides being a popular cafe, the Boathouse has also served as one of the various locations in Palm Beach for the popular TV series Home and Away. In the show, the Boathouse is actually called the Pier Diner in Summer Bay.
Please note that the Boathouse in Palm Beach is currently closed due to renovation works. However, Barrenjoey House at 1108 Barrenjoey Road, also run by the Boathouse Group, is open for business.
3. Visit the Bible Garden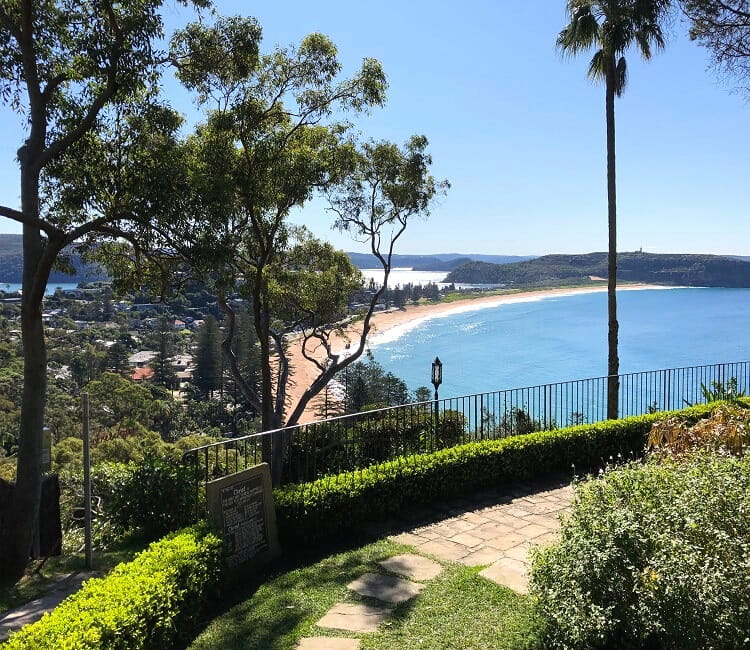 If you think the views from the Barrenjoey Lighthouse are good, wait until you visit the Bible Garden on the southern side of the Palm Beach peninsula.
Located at 6a Mitchell Road (map), the Bible Garden is a true hidden gem, often overlooked by tourists and day trippers visiting Palm Beach.
The Bible Garden is a peaceful and quiet Christian garden made up of a series of grassed terraces that lead down to a viewing platform that provides spectacular views of the beach and the headland.
Pittwater Council currently owns the land that the garden sits on, and the garden itself is managed by the Friends of the Bible Garden, a non-profit community organisation.
4. Go Stand-Up Paddling at Clareville Beach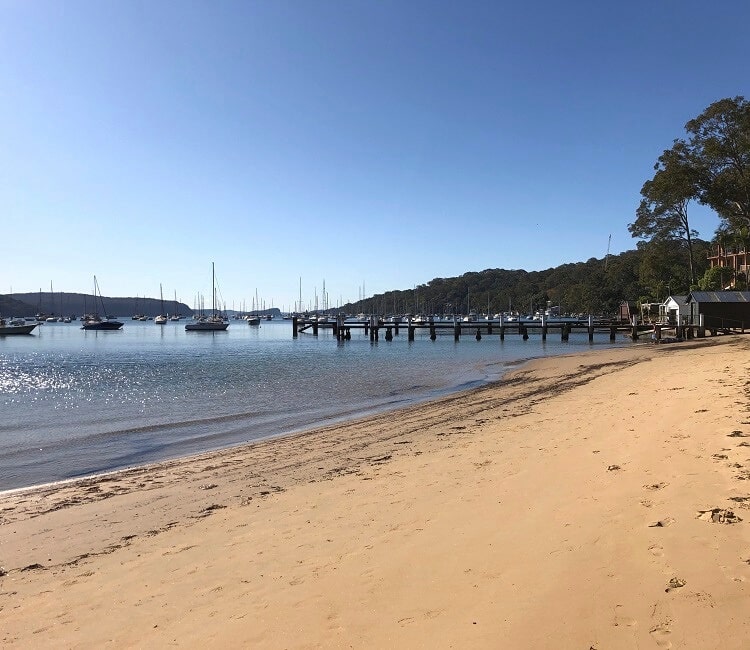 Clareville Beach is a quiet and secluded strip of sand just south of Palm Beach.
With its sheltered waters, the beach is the perfect location to start a stand-up paddling session over Pittwater.
The beach is home to Tony Henry's Avalon Stand Up Paddle, an accredited SUP school dedicated to growing this exciting sport on the beautiful Northern Beaches. You can take up lessons, join a daily paddle group, or hire a board and do your own thing.
Keen to buy your own board? Check our guide to the best inflatable stand-up paddleboards for a set of reviews of boards that are easy to carry around.
5. Catch a Ferry and Visit Resolute Beach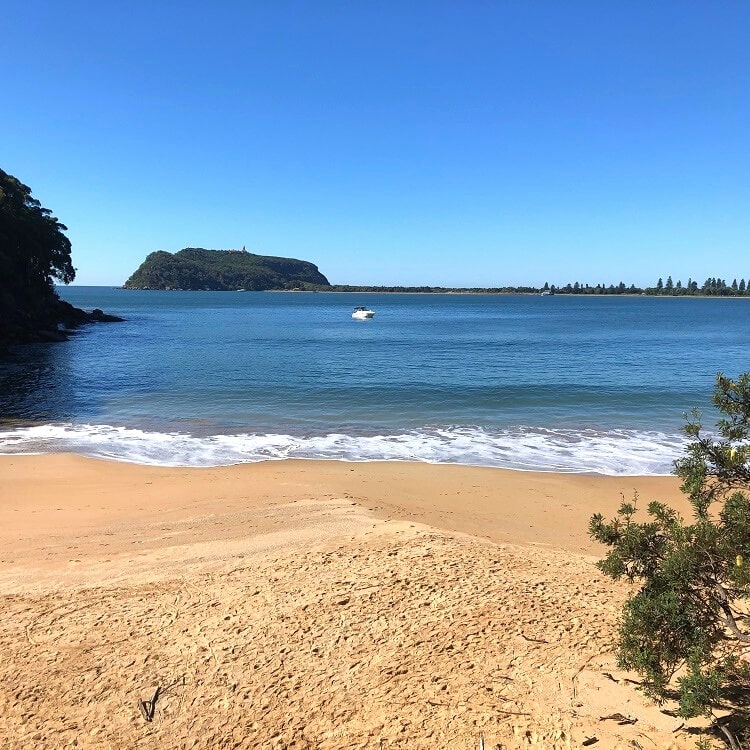 Another must-visit secluded beach close to the Palm Beach peninsula is Resolute Beach, located on the other side of Pittwater in Ku-ring-gai Chase National Park.
Against the backdrop of the Barrenjoey Headland, with beautiful emerald green water and often no tourists around, swimming at Resolute Beach is quite a unique experience.
If you're visiting Resolute Beach, it's recommended to also visit West Head lookout, which is only a short walk away. The views from West Head are fantastic, and the lookout is a great opportunity to see the Palm Beach peninsula and the Barrenjoey Headland from a different perspective.
To get to Resolute Beach from Palm Beach, catch a ferry to Great Mackerel Beach and follow the walking track to Resolute Beach.
6. Go Kayaking Across Pittwater

The best way to soak up the natural beauty of Pittwater and its surroundings is by paddling around in a kayak.
You can either bring your own gear, hire a kayak, or otherwise go on an official kayak tour with a guide.
Pittwater Kayak Tours, for example, offers kayak tours daily that also involve swimming at secluded beaches and guided bushwalking.
It's an exciting adventure that allows you to see and experience the best of Pittwater and the Palm Beach peninsula.
7. Catch a Ferry to Ettalong

If you have a few days to spend in Palm Beach, why not catch a ferry to Ettalong Beach on the Central Coast. This scenic ferry trip navigates past the Barrenjoey Headland and crosses Broken Bay before it arrives at beautiful Ettalong Beach.
The water at Ettalong is usually quite calm and shallow, which makes it an excellent beach for swimming, kayaking, and stand-up paddling.
The Ettalong Beach foreshore has been upgraded in recent years and now features playgrounds, barbecue facilities, and cafes overlooking the beach.
A cycle path connects Ettalong Beach with Umina Beach, located just around the corner further south.
8. Do a Home and Away Tour

Who hasn't seen an episode of Home and Away at least once? Filmed mainly in Palm Beach, Home and Away has been one of Australia's most iconic TV hit series since 1988.
In the show, Palm Beach is called Summer Bay, and the North Palm Beach Surf Lifesaving Club is called the Summer Bay SLSC. Just so you know!
If you're a fan, why not book a guided tour and have a closer look at the outdoor filming locations of Home and Away in the Palm Beach area.
You will get the inside scoop on the people and places behind the hit TV series from your expert guide, and you may even get to see the actual filming taking place and meet some of the cast.
9. Go Fine Dining at Jonah's

Overlooking beautiful Whale Beach, Jonah's restaurant offers contemporary Australian cuisine showcasing some exceptional Australian and international produce. Their extensive wine list contains a large variety of vintage Australian and international wines.
If you decide to dine at Jonah's, you would certainly be in good company, as Jonah's s has hosted numerous celebrities from entertainment, politics, business, and royalty over the years.
Feeling generous and have a few spare dollars to spend?
You could fly to Jonah's with Sydney Seaplanes from Rose Bay for a gourmet lunch session. This once-in-a-lifetime experience includes return flights, transport to and from the restaurant, and a 3-course lunch.
10. Catch a Ferry to Patonga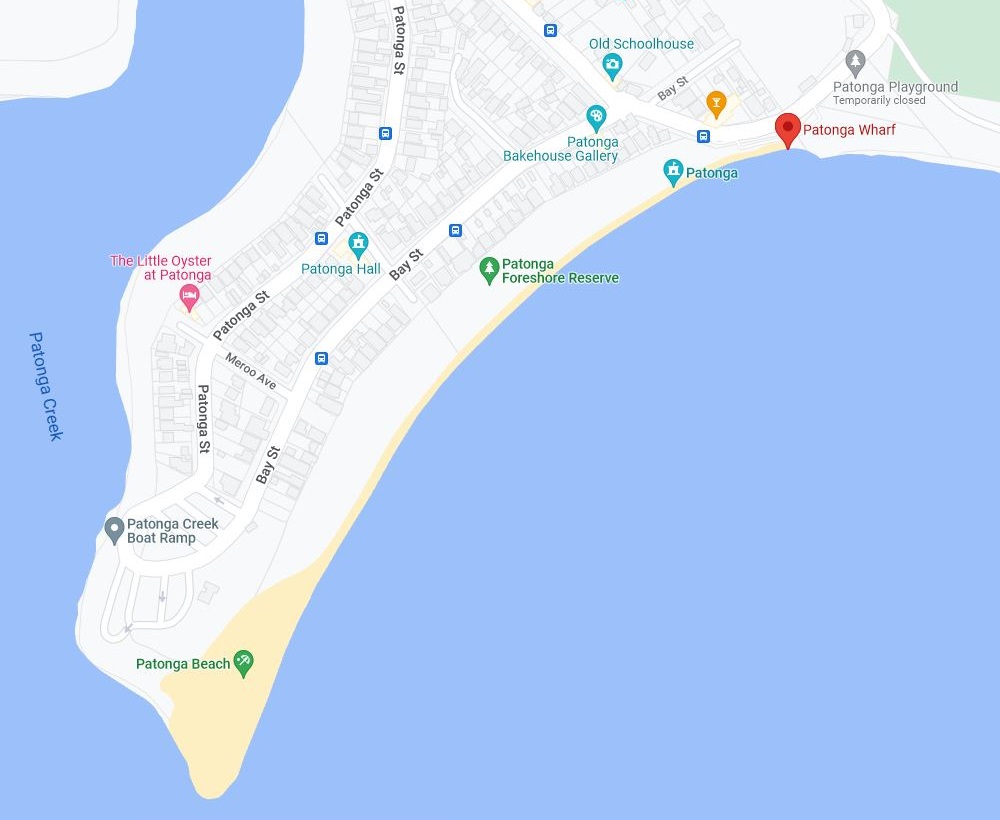 Another ferry trip that is worth doing if you're staying a few days in Palm Beach is the ferry to Patonga on the Central Coast.
The vessel used for this service is the "Merinda II", a 50-foot timber passenger ferry that was built in 1983. The Merinda was first used for the ferry service between Palm Beach and Bobbin Head.
The ferry service currently runs between Palm Beach and Patonga, passing the Barrenjoey headland and West Head on the way to the Central Coast.
This service is provided by the Boathouse Group and runs seven days per week, with three services from Monday to Thursday and six services from Friday to Sunday. Check their timetable for more details.
11. Visit Whale Beach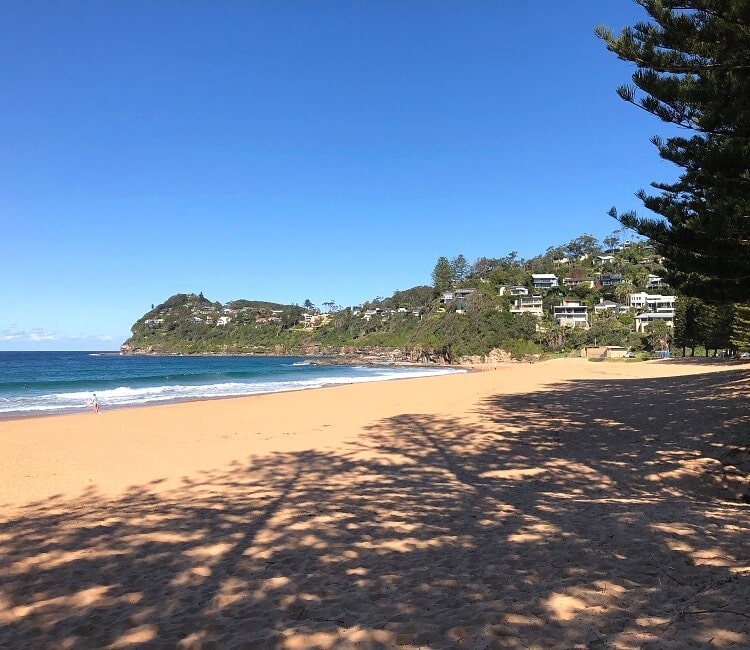 Situated just south of Palm Beach facing Dolphin Bay, Whale Beach is a picturesque, 600 metres long strip of sand with a relatively quiet and pleasantly secluded atmosphere.
Whale Beach has a beautiful round shape and is surrounded by two impressively high sandstone headlands; Careel head at the southern end and Little Head at the north end of the beach.
Whale Beach has its own surf life saving club that was formed in 1937 and has a recognisable clubhouse with BBQ deck, function room, a gym, change rooms, first aid room, and gear sheds.
The beach can sometimes be quite hazardous with strong rips, so make sure that you always swim between the flags.
12. Swim at the Palm Beach Rockpool

Keen to do your morning swim laps in style and in idyllic surroundings?
Like many other beaches in New South Wales and Australia, Palm Beach also has its very own rock pool.
Quietly tucked away on the eastern side of Palm Beach at the southern end, the 50 metres long Palm Beach Rockpool is in excellent condition and has change rooms and toilets available.
Check out our list of best Sydney ocean pools for more great options to go for a nice swim outside.
13. Have a Picnic in Governor Phillip Park

Situated between the two strips of sand in Palm Beach, Governor Phillip Park is a hugely popular green space that tends to fill up quickly on the weekends.
This is also where most visitors to Palm Beach park their car, with lots of metered parking options along Park Road, towards the Barrenjoey Headland.
Governor Phillip Park itself is a beautiful green area with various picnic areas, barbecues, and playgrounds.
It also provides easy access to the beaches on the eastern as well as the western side of the Palm Beach Peninsula.
14. Go Surfing at Palm Beach

A visit to Palm Beach is not complete without doing a solid surf session.
Palm Beach certainly has excellent surf conditions, with experienced surfers typically heading to North Palm Beach and beginner surfers heading to the sheltered southern corner.
New to surfing? Manly Surf School has a mobile branch at the southern corner of Palm Beach where you can book surf lessons if you're keen to give this sport a try.
If you want to find out what the current surf conditions are in Palm Beach, check out the surf cam, with a live camera and detailed outlook for the day.
15. Play Golf at the Palm Beach Golf Club

The last entry in this list of things to do in Palm Beach is for the golf enthusiasts among us.
If you do enjoy the occasional golf session, a visit to the local Palm Beach Golf Club is a no-brainer, with a 9-hole golf course in a beautiful location.
But the Palm Beach Golf Club is so much more than just playing golf.
It's also a great spot for a casual dining experience, and you can hire a venue room for corporate events, birthday celebrations, and weddings.
Now that we've got the exciting bits out of the way, let's share some more practical information to help you make the most of your trip to the Palm Beach peninsula.
Palm Beach certainly isn't the easiest Sydney suburb to get to. But perhaps that's also one of the reasons why it has always remained such a desirable and relaxed destination.
Since no trains are going into the Northern Beaches, the best way to get to Palm Beach is either by bus or car. The advantage of travelling by car is that it's much easier to get around and do all those exciting activities you can see in our list above.

1. Bus
Travelling to Palm Beach by bus is relatively straightforward, but it can take quite a bit of time. The L90 bus from Wynyard in the Sydney CBD goes directly to Palm Beach, stopping at many places.
Otherwise, the B1 bus with a switch-over in Mona Vale will also get you to Palm Beach. Check the helpful NSW trip planner to help plan your journey.
While it might be quite the journey time-wise, travelling by air-conditioned bus is very comfortable. You may even be able to schedule a short nap for good measure.
2. Car
The drive to Palm Beach from Sydney is quite scenic, but be mindful that the roads on the weekends are very busy. It takes about an hour to drive to Palm Beach, but on a warm and sunny Saturday or Sunday, it can easily take 90 minutes, if not more.
Also note that most parking in and around Palm Beach is metered and time-limited. And during those busy days, unless you arrive early, it can be quite a challenge to find a parking spot.
Barrenjoey Road (map), which starts in Mona Vale, feeds straight into Palm Beach and continues past the ferry wharf, the golf club, Governor Phillip Park, and the main beach. Most parking is available in Governor Phillip Park.