Last updated: December 8, 2022
The Royal National Park, just south of Sydney, is Australia's oldest and the world's second-oldest national park.
From lookout points and waterfalls to walking tracks and natural swimming pools, this 15,000 hectares large park truly has something for everyone.
But given its location along Sydney's south coast, the Royal National Park is also home to a great variety of stunning beaches.
We have listed nine beautiful and often isolated beaches in the Royal National Park, plus detailed information on how to get there.
Top 9 Royal National Park Beaches
With the exception of Horderns Beach and Jibbon Beach in Bundeena, all beaches on the east coast are accessible via (sections of) the Coast Track.
1. Jibbon Beach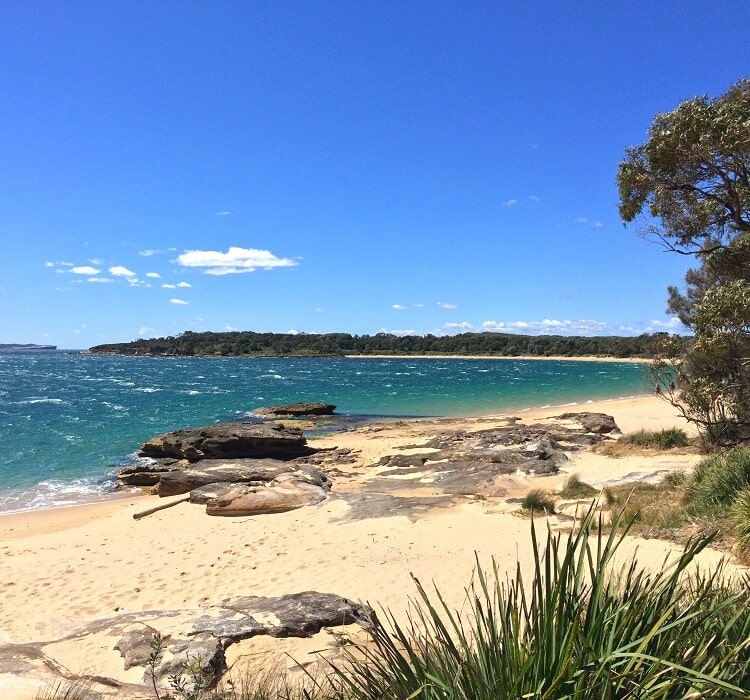 Situated next to Bundeena village, Jibbon Beach is a beautiful 700 metres long strip of sand facing the waters of Port Hacking.
Swimming is great at Jibbon Beach, but be mindful that it can get very windy in this area. The water also gets quite deep, a few meters out, which is why there are often lots of boats anchored at Jibbon Beach on sunny days.
Nearby Jibbon Beach, towards Port Hacking Point and Jibbon Head, is an Aboriginal engravings site with a large boardwalk and viewing platform.
Dating back 2,000 years, the Jibbon Engravings are an impressive display of respect the Tharawal people had for the land as well as for the animals they shared the land with.
How to get there?
Jibbon Beach is located next to Bundeena, which is easily accessible by car. Alternatively, a private ferry service links Bundeena with Cronulla. Jibbon Beach is a short walk away from the ferry wharf.
2. Horderns Beach

Located west of the ferry wharf, Horderns Beach is the second major beach in the Bundeena area of the Royal National Park.
Horderns Beach is also a popular dog-friendly beach, with designated on and off-leash times. Check the Sutherland Shire Council website for more information.
How to get there?
Like Jibbon Beach, the best way to get to Horderns Beach is by driving to Bundeena. Or otherwise, catch a ferry from Cronulla.
3. Wattamolla Beach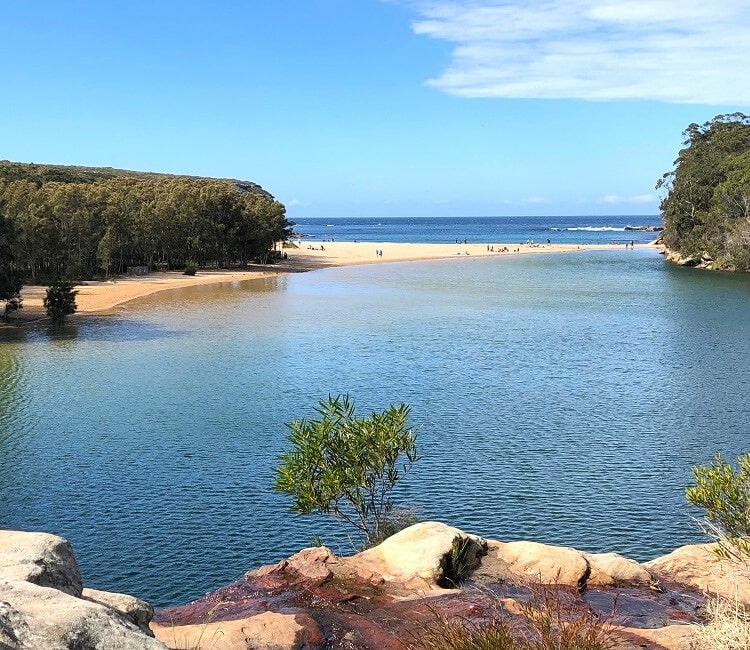 Wattamolla Beach, with its lagoon, waterfall and picnic area, is a beautiful, isolated spot in the Royal National Park, perfect for a relaxing day out and about.
To reach the actual beach from the car park, simply follow the boardwalk parallel to the lagoon. It's a short 350 metres long trail that goes all the way to the south end of the beach.
With the ocean in front of you and the lagoon and waterfall behind you, Wattamolla Beach does look a bit like a small piece of paradise.
How to get there?
in the Royal National Park, turn into Wattamolla Road from Sir Bertram Stevens Drive and continue to the parking areas.
4. Marley Beach

Situated between Bundeena and Wattamolla, Marley Beach is an unpatrolled beach in the upper section of the Royal National Park.
Also known as Big Marley Beach, this isolated strip of sand is considered hazardous, with surfing and swimming not recommended by Surf Live Saving Australia.
The scenery, however, with expansive sand dunes behind the beach, makes a visit to Marley Beach very much worthwhile.
How to get there?
Marley Beach can be accessed via the 8 km return walk from Bundeena Drive. Alternatively, Marley Beach can also be accessed via the Bundeena to Wedding Cake Rock walking track.
5. Little Marley Beach

A few hundred metres south of (Big) Marley Beach is Little Marley Beach, a much smaller and more secluded strip of sand.
This is a very quiet beach with slightly better conditions for swimming than at its bigger neighbour, but the water can still be hazardous.
The two Marley beaches are connected via boardwalks which form part of the Coast Track.
How to get there?
The best and easiest way to access Little Marley Beach is via the Wattamolla to Little Marley Beach walking track (7 km return).
6. Era Beach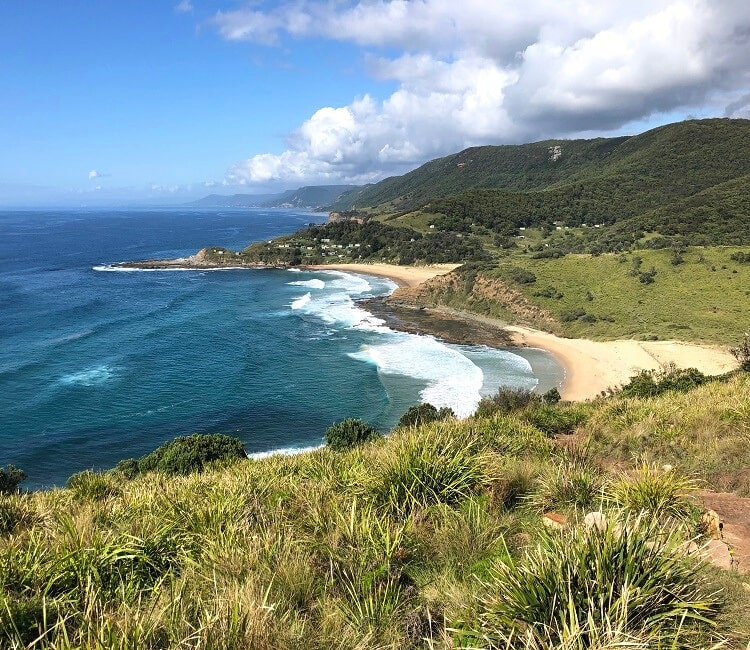 Era Beach essentially consists of two beaches; North Era and South Era Beach. The northern strip of sand is the smallest of the two.
North Era Beach is mostly known for the North Era campground, a popular camping spot for hikers conquering the Coast Track from Bundeena to Otford.
South Era Beach does have its own surf life saving branch with lifesavers on duty on the weekends. Swimming can be hazardous at both Era beaches due to the strong currents, so make sure you stay between the flags at all times if you're going to swim.
How to get there?
Era Beach can be reached via a walking track starting from Garrawarra Road. Alternatively, the beach can also be accessed via the Garie Beach to Era Beach walking track.
7. Garie Beach

Patrolled by its own Surf Life Saving Club, Garie Beach is a popular surf beach with dedicated parking and other facilities.
Swimming at Garie Beach can be hazardous, and it's strongly recommended to always swim between the flags to avoid getting caught in rips or strong waves.
A few hundred metres further south is Little Garie Beach, a tiny strip of sand surrounded by rocks. It's not the best place for swimming, but it's worth exploring.
How to get there?
Garie Beach is accessible via Garie Road, off Sir Bertram Stevens Drive, and has its own carpark. The beach is also accessible via the Curra Moors Loop Track.
8. Burning Palms Beach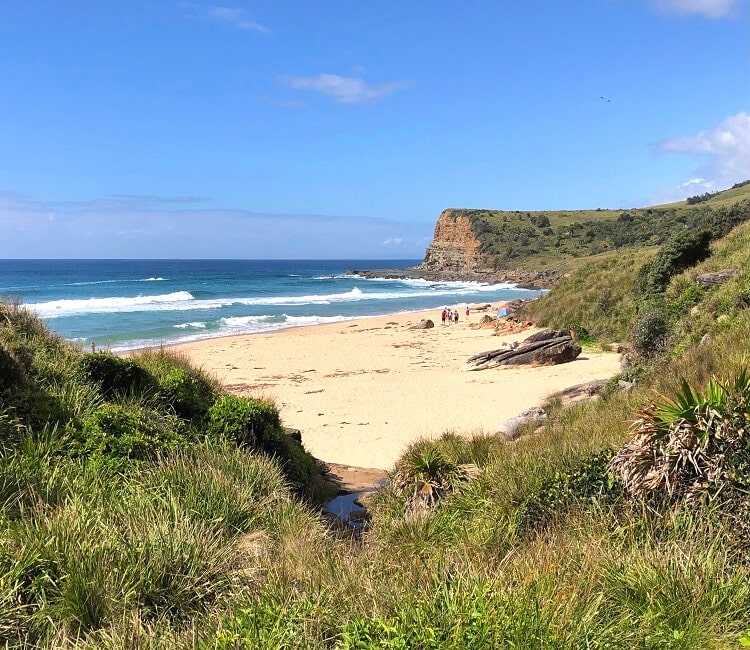 Situated between Era Beach and the Figure 8 Pools, Burning Palms Beach is another popular surf beach patrolled by its own Surf Life Saving Club.
The beach has a permanent rip at the northern end, and the safest area to swim in is usually in the middle of the beach.
How to get there?
The beach can be accessed via a trail starting from the Garawarra Farm car park. This trail forms part of the Palm Jungle Loop Track.
9. Werrong Beach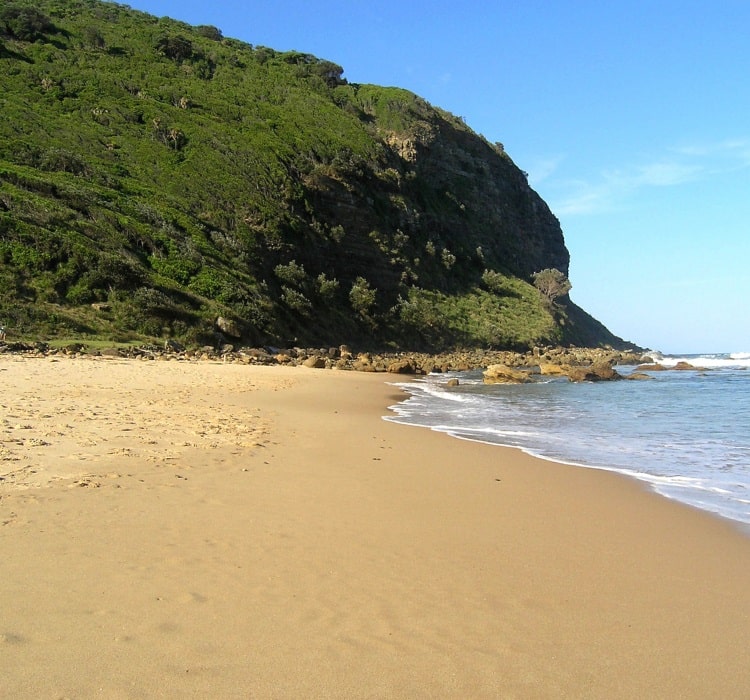 Located at the southern end of the Royal National Park, close to Otford, Werrong Beach is perhaps the most remote and most secluded beach in this list.
Also known as "hell hole", Werrong Beach is, in fact, an official nude beach, with swimming not permitted due to the strong rips and currents that are always present.
How to get there?
Werrong Beach is accessible via the short but rather steep Werrong Beach Track starting from the Otford Lookout.