Last updated: January 7, 2021
No matter how beautiful Sydney is, sometimes we just want to escape the city for a nice day trip, discovering beautiful destinations we haven't been to before.
With a beautiful and long coastline, and so many different national parks surrounding the city, there really isn't any shortage of great day trips from Sydney.
We've gone ahead and had a closer look at some of these destinations, and have shortlisted 20 of the best destinations outside our beautiful city.
20 Awesome Sydney Day Trip Ideas
In no particular order, here are 20 great Sydney day trip ideas that are all within driving distance from the city.
1. Discover Dangar Island on the Hawkesbury River
Escape the city and spend a day discovering Dangar Island, a charming, traffic-free, natural hideaway on the Hawkesbury river, rich in European and Indigenous history.
The journey to get there is just as exciting. Catch a ferry from the Brooklyn marina and discover the natural beauty of this very unique and remote island.

Quietly tucked away on the Hawkesbury River between Little Wobby and Brooklyn, Dangar Island has a small and friendly population of around 300 lucky residents. The island covers an area of 29 hectares and has around 3 kilometres of shoreline.
Connected to electricity in 1948 and to water in 1971, the island now boasts a cafe and shop, a bowling club and a community hall. Dangar island is also the only residential island on the Hawkesbury River.
2. Swim in Jerusalem Bay
Hop on a train and head north to Cowan, from where you can commence an exciting one-hour bushwalk to Jerusalem Bay on Cowan Creek which flows into the Hawkesbury River.
Definitely go for a refreshing swim in the bay if weather permits. There are some flat, rocky surfaces surrounding the bay where you can settle in and dry up afterwards.

The 2.4km trail between Cowan train station and Jerusalem Bay is part of the famous Great North Walk, a 250km long set of connected walking tracks between Sydney and Newcastle.
Feeling energetic? Once you've finished swimming in Jerusalem Bay, instead of returning back to Cowan, you have the option to continue further north to Brooklyn which is an extra 10km of intense bushwalking.
What's great is that you can simply catch the train from Brooklyn station back to Sydney or back to Cowan if your car is parked there.
3. Beach Hopping on the Central Coast
Sydney's popular beaches such as Manly, Bondi and Coogee are great, but they also get busy during weekends. Very busy. So why not escape these crowds and head north to visit Ettalong, Umina and Pearl Beach on the Central Coast instead!
Overlooking Brisbane Water and Broken Bay, these three family-friendly strips of sand are perfect for swimming and other water-based activities. Ettalong, Umina and Pearl Beach are neighbouring beaches all within easy driving distance, so it's easy to visit all three of them in one day.

If you want to add a bit if hiking, it's worth visiting Mount Ettalong Lookout, just north of Pearl Beach. A short walking track starting from the car park at a large water tank on Patonga Drive brings you to two lookout points offering sensational views of Broken Bay and surrounding areas.
Keen to visit even more beaches? Patonga Beach is the next beach located only moments away and easy to get to via Patonga Drive. Patonga is a quiet oasis, great for swimming in the calm beach waters or to enjoy a picnic in the park by the wharf.
4. Hike to Hanging Rock
A great day trip from Sydney which involves a bit of hiking and exploring is the walking track to Hanging Rock near Blackheath, one of the most iconic landmarks in the Blue Mountains.
Hanging Rock is essentially a large sandstone object hanging out from a cliff, against the backdrop of the Grose Valley and surrounding escarpments. Right next to Hanging Rock is the Baltzer Lookout from where you can enjoy eye-dropping views of the area.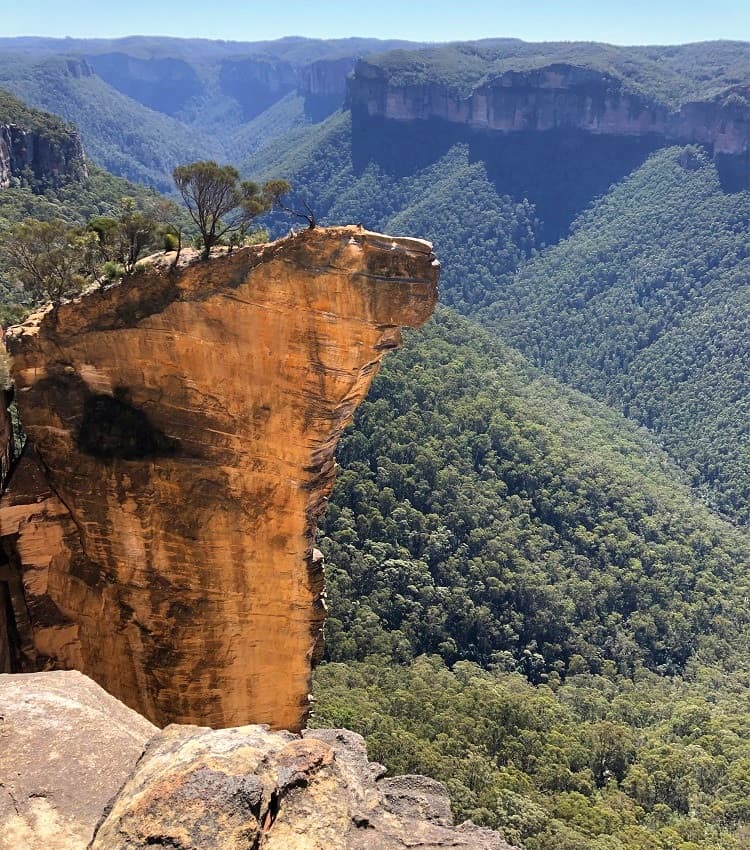 The walking track to Hanging Rock and the Baltzer Lookout is a 4km management trail that meanders through bushland with a few viewing points along the way.
Popular with bushwalkers, runners and cyclists alike, the fire trail itself is actually not very exciting. It really is about the destination, and once you get to that destination, you will be in awe of the beauty of this place.
5. Visit Warragamba Dam and Lake Burragorang Lookout
With construction completed in 1960, Warragamba Dam is now Australia's largest concrete dam and is responsible for the creation of Lake Burragorang, Sydney's primary reservoir for water supply.
A visit to this amazing piece of engineering is well worth your time, as you discover the fascinating history and the significance of the dam.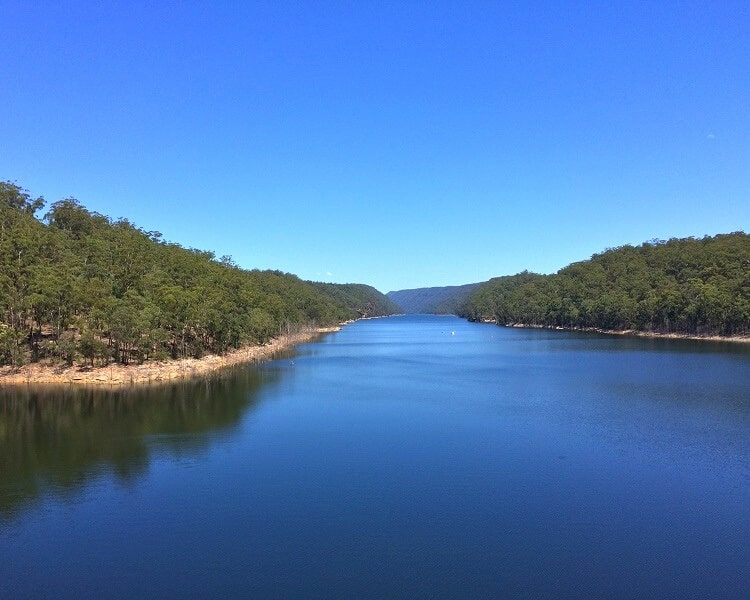 The dam has created a reservoir capacity of more than 2K gigalitres of water with the surface area of the lake covering 75 square kilometres.
Located around 40 km south of the dam, Lake Burragorang Lookout is an absolute must, offering incredible views of the lake and surrounding mountains.
6. Soak up the Views at West Head Lookout
One of the most popular and most impressive lookouts in the greater Sydney region is the West Head lookout in Ku-ring-gai Chase National Park.
West Head offers breathtaking views of Pittwater, Broken Bay, Barrenjoey Headland, Palm Beach and the Central Coast.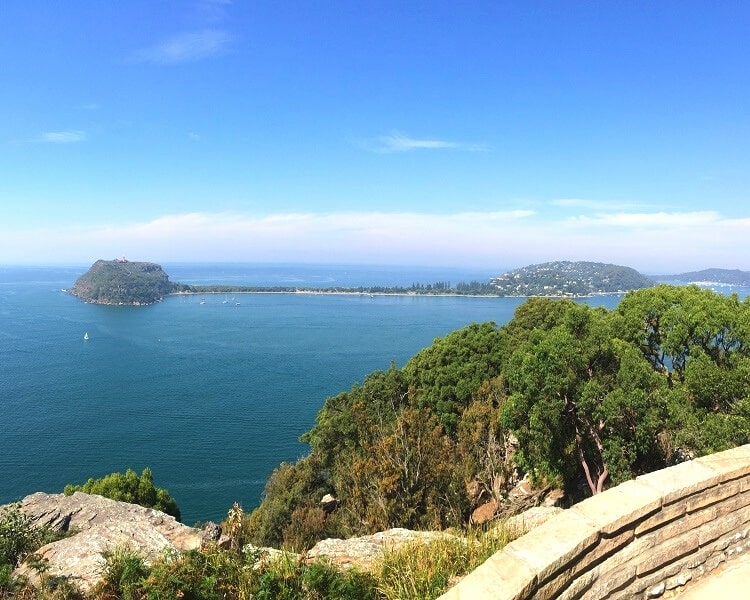 While you're at the lookout, why not go on a small adventure and do some of the bushwalking trails past beautiful secluded beaches and even more lookouts.
One popular track we recommend is the Resolute Loop Trail, a 6km circuit walk with Resolute Beach as the highlight, a small piece of paradise with awesome views of Pittwater and the Barrenjoey Headland.
7. Visit Maddens Falls in Dharawal National Park
Maddens Falls is a stunning cascade waterfall in the rural locality of Darkes Forest in Dharawal National Park, located 50 km south of Sydney.
A short and easy 1 km bushwalk through upland swamp communities, brings visitors to a scenic viewing platform with beautiful views of the waterfall and the surrounding landscape.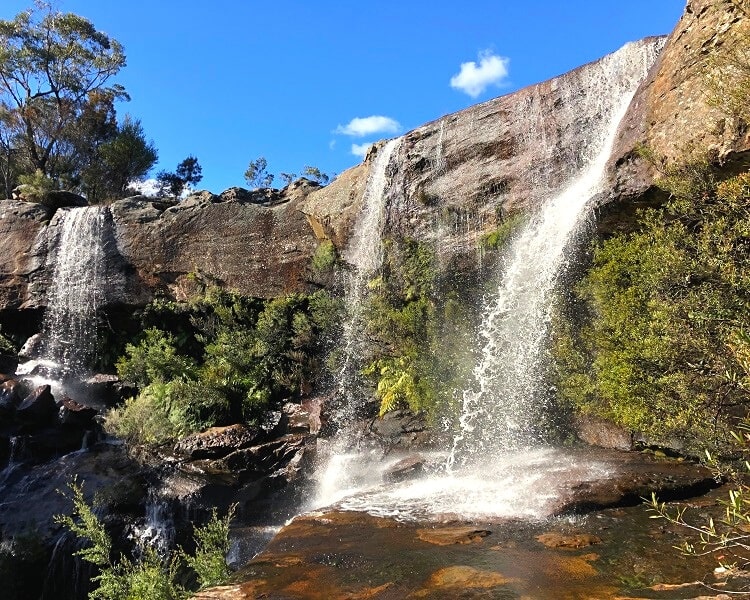 Dharawal National Park is a relatively unknown protected national park in the Illawarra region of New South Wales near Helensburgh. The park is characterised by an extensive network of creeks, swamp areas and heath vegetation.
A visit to Maddens Falls is not complete without a visit to the Appleshack at Glenbernie Orchard, a small farm shop where you can taste and buy fresh produce.
Keen to see more waterfalls? Make sure you check out our list of the best waterfalls in and around Sydney!
8. Spend a Day in Palm Beach
Just an hour's drive from the Sydney Harbour Bridge, Palm Beach feels like a tropical paradise far away from the city.
With several beautiful beaches to choose from, various restaurants to grab a bite, and lots of scenic picnic spots for an outdoor feast, it's super easy to spend a full day in Palm Beach.

One of the must-do highlights in Sydney's northernmost suburb is the hike up to the Barrenjoey Lighthouse, from where you can enjoy panoramic views of Ku-ring-gai Chase National Park, Broken Bay and the coastline north of Sydney.
At 113 metres above sea-level, the Barrenjoey Lighthouse stands tall and proud on the highest point of the Barrenjoey Headland, the northernmost tip of the Palm Beach Peninsula. Built in 1881, the heritage listed sandstone lighthouse has been an iconic Sydney attraction for many years.
9. Visit Belmore Falls and Fitzroy Falls in Morton National Park
Two insanely beautiful waterfalls close to one another in one national park, that's what you get to enjoy when you drive south to Morton National Park.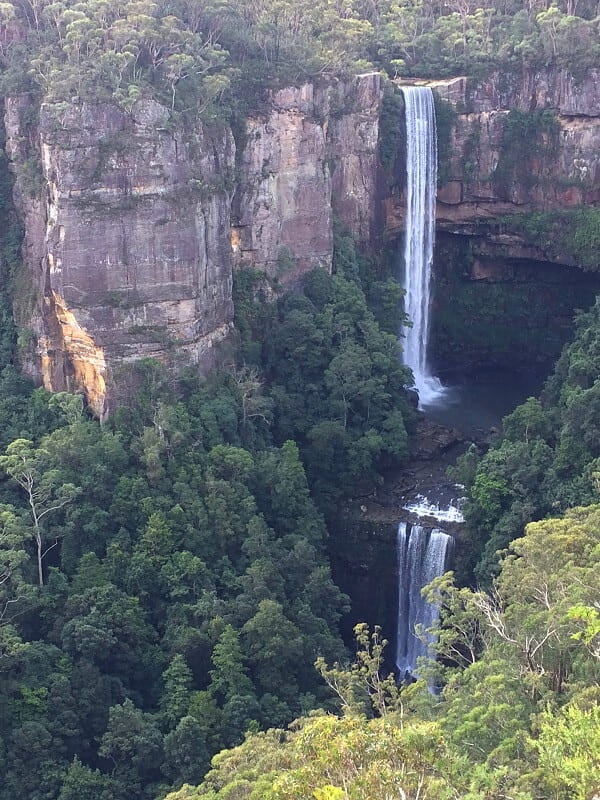 The largest of the two, Belmore Falls, is a stunning plunge waterfall with two drops on the Barrengarry Creek.
A short walking track takes in several lookout points, including the Hindmarsh Lookout from where you can enjoy panoramic views of Kangaroo Valley.

Fitzroy Falls carries the same name as the village in the Southern Highlands it is located in. A boardwalk at the Fitzroy Falls Visitor Centre leads to a lookout which offers spectacular views of the 81-metre waterfall and the enormous Yarrunga Valley below.
Around Fitzroy Falls are a couple of exciting bushwalking tracks through native rainforest, inhabited by various bird species.
10. Hike to Eagle Head Rock
One of the best hikes in Royal National Park is the scenic coastal walk from Wattamolla to Eagle Head Rock, an iconic landmark that strongly resembles an eagle's beak.
What's more, next to Eagle Rock is Curracurrong Falls, one of the very few waterfalls in the world that flows directly into the ocean.
Two beautiful and unique natural sights, and one picturesque walking track, make for a fantastic day out Sydney's oldest national park!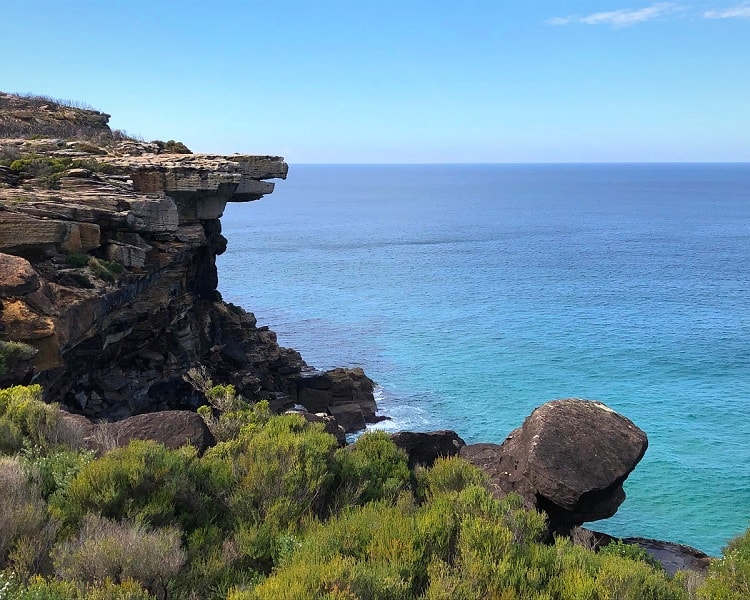 The 8km return hike to Eagle Rock and Curracurrong Falls starts at Wattamolla Beach, and is part of the 26km long Coast Track between Bundeena in the north and Otford in the south.
Once you've completed this walk, be sure to go for a refreshing swim at Wattamolla, one of the various scenic beaches in the Royal National Park.
11. Spend a Day in Canberra
While some would prefer to stay overnight to fully enjoy all the highlights, Canberra is small enough to turn it into an exciting day trip from Sydney.
Our nation's capital is a different kind of city, some hate it, and others love it. One thing is for sure, Canberra is a unique city, that has actually turned a bit trendy in recent years.
Not only is Canberra home to some excellent cafés and great dining venues, you will also find some of the country's best museums and galleries in Australia's largest inland city.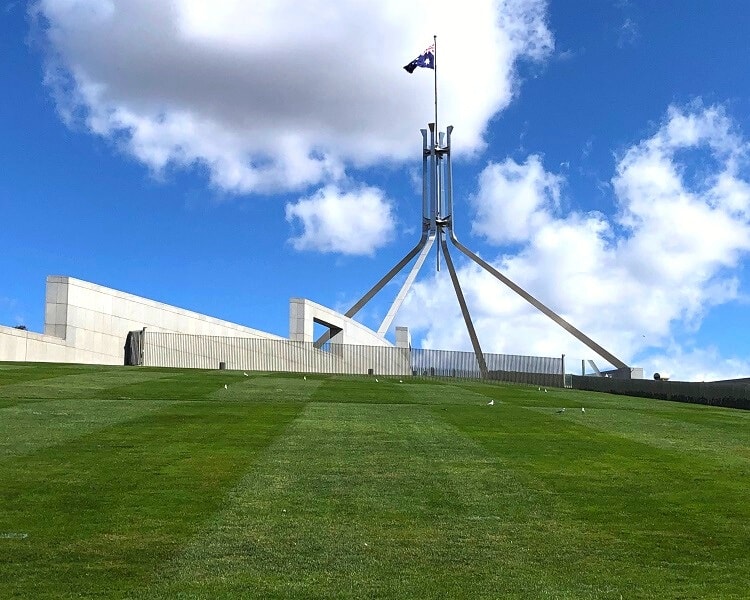 A must-visit is the Australian War Memorial, Australia's national memorial to the members of its armed forces and supporting organisations who have died or participated in wars involving the Commonwealth of Australia. It also includes an impressive national military museum.
Other interesting hihglights in Canberra are the old and new Parliament Houses, Lake Burley Griffin and the National Art Gallery.
Be sure to check out our guide to things to do in Canberra, so you know exactly where you need to go when you have one or two days to spend in this city.
12. Visit Somersby Falls in Brisbane Water National Park
Still a bit of an unknown, Brisbane Water National Park is a relatively small protected national park in the Central Coast region, just north of the Hawkesbury River.
One of the many highlights in this national park is Somersby Falls, a series of small waterfalls with a 500m walking path following Floods Creek to the bottom of the falls.

There is also a nice picnic area at the start of the walk, right next to the parking area, with excellent facilities, such as barbeques, picnic tables, toilets, garbage bins and information signs.
Conveniently located close to the freeway, the Somersby Falls picnic area is a popular rest stop along the NSW Central Coast route.
13. Spend a Day in Bobbin Head
Bobbin Head is a family-friendly Sydney day trip destination situated along Cowan Creek in the western section of Ku-ring-gai Chase National Park.
Surrounded by beautiful scenery, the area provides excellent facilities such as playgrounds, picnic areas and gas barbecues. And with a great variety of hiking trails to choose from, Bobbin Head is also the perfect spot for bush walking.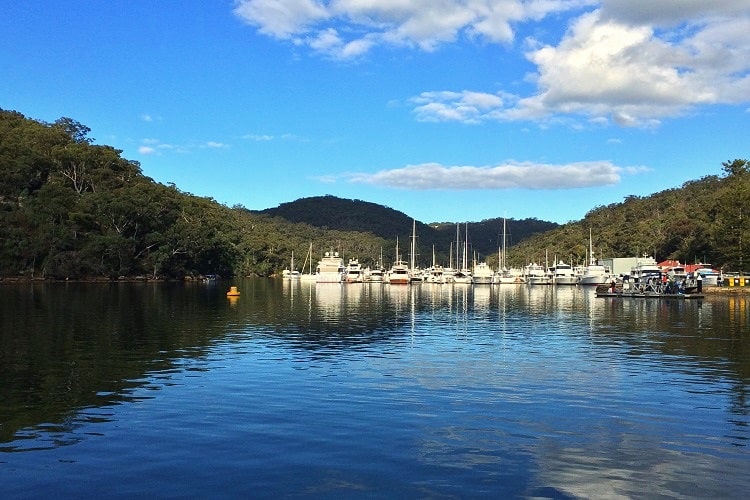 Given the fact that Bobbin Head is surrounded by water, makes it a great spot for water activities such as canoeing, kayaking and fishing. Paddle boats and kayaks can be hired to explore Cowan Creek and Apple Tree Creek.
In addition to picnic areas, Bobbin Head is also home to a few great cafes where you can enjoy a bite and a coffee amidst beautiful scenery.
14. Hike to Box Head Lookout
The Box Head Lookout in Bouddi National Park offers breathtaking views of Broken Bay, the Barrenjoey Headland and Lion Island.
Because the Box Head lookout isn't very well known, chances are you will have the comfortable bench at the lookout all to yourself, soaking in the beautiful scenery of the surrounding area.

A short yet scenic walking track winds its way through bushland, heading towards this lookout point, with the option to extend the walk by doing a short detour to beautiful Lobster Beach via the Flannel Flower walking track.
For some great lunch options, head to nearby Hardys Bay, where you'll find a couple of nice cafes with lovely views of the water.
15. Discover Mermaid Pools and Tahmoor Gorge
Mermaid Pools is a beautiful natural water hole on the Bargo River at the start of Tahmoor Gorge, only 75 minutes south-west of Sydney.
If you love bushwalking, getting back to nature, swimming in rivers and chasing waterfalls, then this hiking adventure is for you.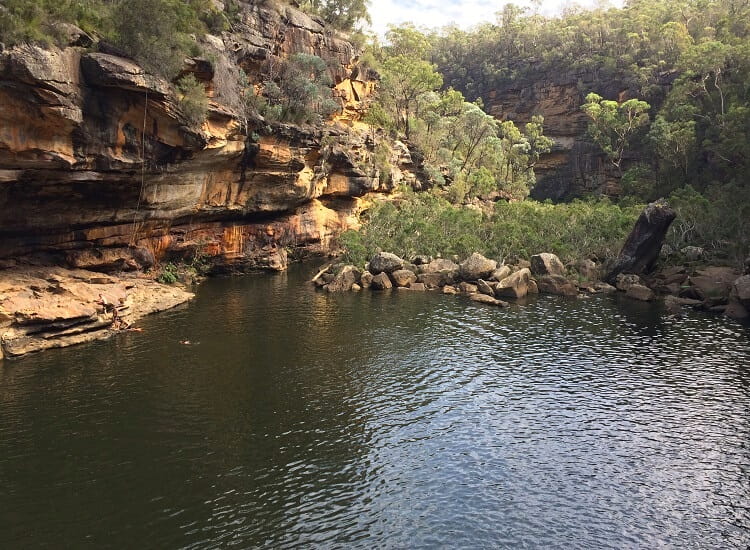 The walking track to Mermaid Pools from the small parking area is relatively easy, but the hike through Tahmoor Gorge is for experienced bushwalkers only.
But please, don't jump into Mermaid Pools, because it really is dangerous. There are other little pools along the creek where you can safely go for a refreshing swim.
16. Visit the Blue Mountains Botanic Garden
Situated in Mount Tomah, the Blue Mountains Botanic Garden is a 28ha public botanic garden that features thousands of plants from the southern hemisphere and around the world.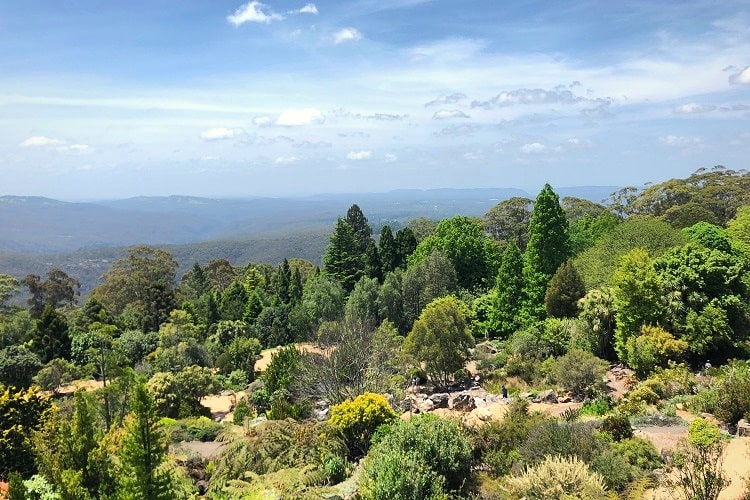 Established in 1972, the Blue Mountains Botanic Garden sits at 1,000 metres above sea level and specialises in cool-climate plants that would not grow well in Sydney's warmer conditions. This is why you'll be able to see a lot of unique plants in this park.
The garden is managed by Botanic Gardens Trust, which also looks after the Royal Botanic Garden in the Sydney CBD and the Australian Botanic Garden at Mount Annan.
17. Discover Kanangra Walls
The Kanangra-Boyd National Park is a protected national park located in the Central Tablelands region, west of the Southern Highlands and Macarthur regions.
One of the major highlights in this national park is Kanangra Walls, a set of large sandstone cliffs towering above the Kanangra Creek gorge, with waterfalls cascading off the plateau.

This beautiful sight is over 200km west of Sydney, with the last 30km being a dirt road. A 4WD isn't required, but it's best to avoid going there after a period of rain as this may make the drive a bit more challenging.
There are various bushwalking tracks in the area for those who like to explore this beautiful area further.
18. Spend a Day in Kiama
One of our favourite day trips from Sydney is the road trip down south to Kiama, a pretty coastal just south of Wollongong. Kiama is most known for the famous Blowhole, which you can see in the photo below.

But don't worry, there is so much more to do in Kiama than just looking at ocean water being pushed into the air from a big hole. Discover unspoilt beaches, ancient rainforests, picturesque towns and vibrant villages in and around Kiama.
19. Visit the Jenolan Caves
Situated in the Central Tablelands region, the Jenolan Caves are known to be the largest, most spectacular and most famous caves in Australia.
The Jenolan Caves are also considered to be the world's oldest known and dated open cave system, approximately 340 million years of age.

Open daily, visitors to the Jenolan Caves can choose from several guided tours to explore some of the caves with spectacular and unique limestone formations.
20. Discover Carrington Falls and Nellies Glen
Let's conclude this list of Sydney day trips with one of the most impressive waterfalls you can find just outside of Sydney.
Carrington Falls in Budderoo National Park is an incredible plunge waterfall on the Kangaroo River, located around 150km south of Sydney, which makes it the perfect day trip.

An easy 600m circuit walk with various viewing platforms and lookouts offers visitors panoramic views of not only the waterfall but also the surrounding valley.
If you'd like to do a picnic amidst beautiful natural surroundings, nearby Nellies Glen on the other side of the river is a great spot. It has a picnic area and also various walking tracks with lookout points to explore.