Last updated: May 18, 2022
The Bondi to Bronte walk, past Tamarama Beach and Mackenzies Bay, is one of the most iconic coastal walking trails in Sydney. The panoramic views of the ocean and the sandstone cliffs are breathtaking.
As you follow the trail on top of the cliffs, between two of Sydney's most popular beaches, you will get to enjoy lots of vantage points from where you can soak in the views. If you're lucky, you may even spot some whales and dolphins!
Bondi to Bronte walk
Distance:
2.5 km (one way)
Duration:
1+ hour (depending on stops)
Grade:
Easy (some stairs)
Dogs:
On a lead
Bondi has two paid parking areas close to the beach, but they fill up quickly on busy days and are also very expensive. There is limited free street parking available further away from the beach.
Public transport is a good option, with trains traveling between the city and Bondi Junction, and plenty of buses departing from the Sydney CBD and Bondi Junction to Bondi Beach.
Check the Transport for NSW trip planner for exact details.
The coastal walk between Bondi and Bronte has various highlights, but in the below track notes we are going to focus on the following six highlights and landmarks:
Bondi Beach
Bondi Icebergs
Mackenzies Point
Mackenzies Bay
Tamarama Beach
Bronte Beach
Here is a map for your reference, with the highlights marked from 1 to 6, starting at Bondi Beach:

Bondi to Bronte Track Notes
Although short, the walking track between Bondi and Bronte can easily take a few hours if you factor in stops for photo opportunities and perhaps a coffee or a cold drink.
Otherwise, without stops, you can easily complete the walk within one hour.
1. Bondi Beach
Bondi Beach is Sydney's (and Australia's) most famous and most popular beach.
It has everything one would expect from an Australian beach. A wide and long strip of sand, great swimming and surfing conditions, lots of restaurants and cafes, picnic areas, a promenade, and a classic pavilion.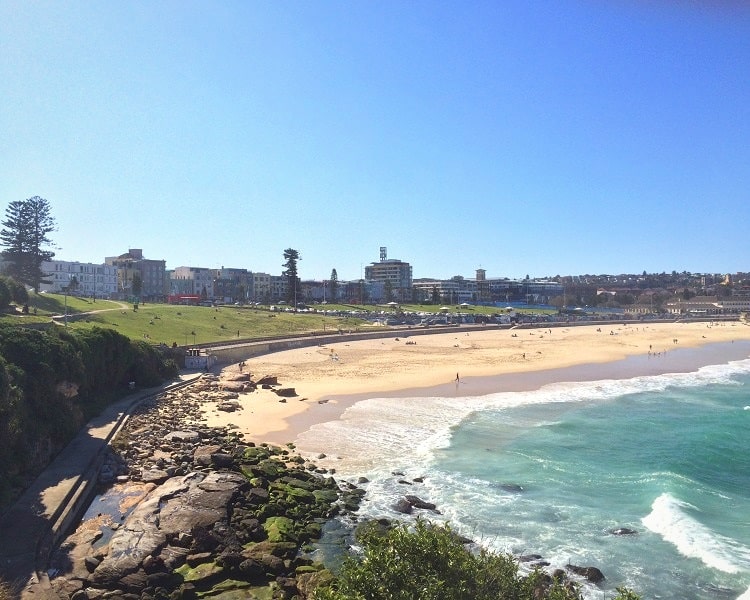 With a long and rich history, Bondi Beach defines Australian beach culture, and is even listed on the Australian National Heritage List.
Also worth mentioning is that the Bondi Surf Bathers Life Saving Club is recognised as the oldest surf life saving club in the world, having been around for more than a century.
From Bondi Beach, keep walking southbound towards Bondi Icebergs on Notts Avenue, from where you can commence the walking track to Bronte Beach.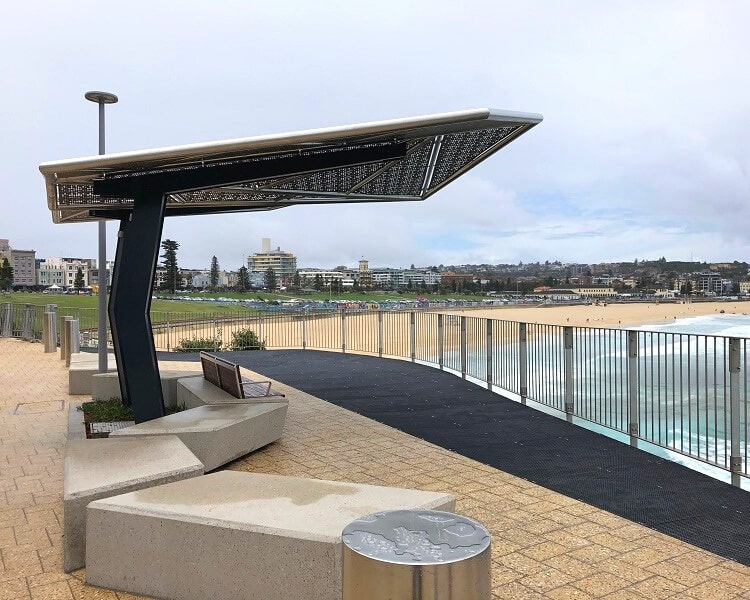 Notts Avenue was upgraded in the year 2020, to improve the safety and amenity for local residents, as well as for users of the coastal walking track.
As part of this upgrade, a brand new lookout platform was installed, which provides fantastic views of Bondi Beach and the ocean.
2. Bondi Icebergs
If you'd like to enjoy a drink and a meal in true Bondi style, you can't go wrong at Bondi Icebergs. It's a swimming club with a restaurant upstairs that faces the ocean.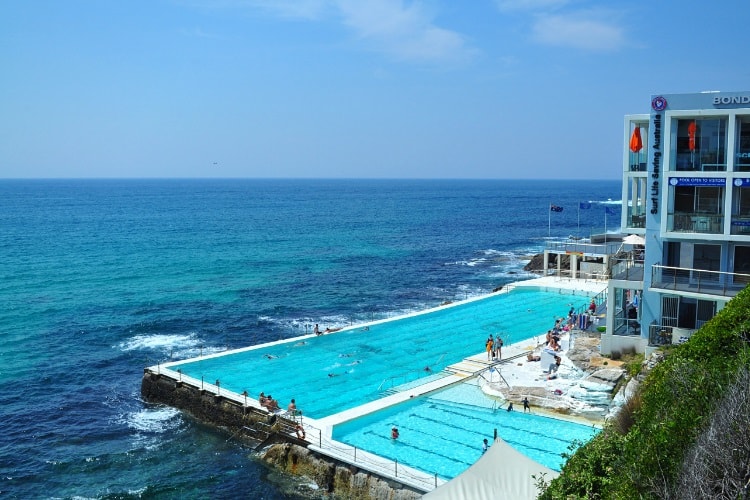 Swimming in the Bondi Icebergs Pool is a popular pastime all year round, even during the winter months when local die-hards happily do their laps.
From Bondi Icebergs you start your walk on a concrete waterfront walkway around Bondi Bay that will give you a good taste of the coastal goodness that is to come.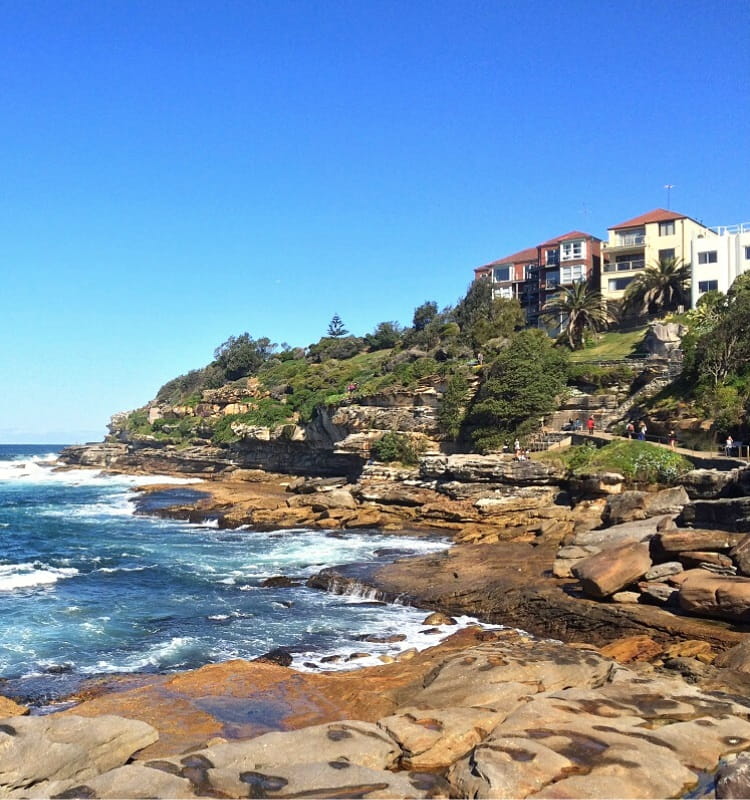 From this walkway, the views towards the north, taking in Bondi Bay, Bondi Beach, and North Bondi, are pretty spectacular.
3. Mackenzies Point
At the end of that path is a set of stairs going up to a lookout from where you can enjoy fantastic views of Bondi Beach.
This lookout is located on the easternmost tip of Mackenzies Point, a headland between Bondi Beach and Tamarama Beach.

Also located on this headland is Marks Park, a large grassy area where the annual Sculpture by the Sea is being held. Even without the sculptures it's worth exploring this park, especially with the recent upgrades.
From the Mackenzies Point lookout, the walking track continues south towards Mackenzies Bay.
Sculpture by the Sea
The Sculpture by the Sea event takes place every year from late October until early November and lasts for three weeks.
This popular event attracts more than 500,000 people each year and showcases extraordinary artistic sculptures, spread out across Marks Park and Tamarama Park.

With the ocean and the coastal cliffs in the background, this event is a great day out for both locals and tourists.
It does get very busy though, so if you're planning to visit, it's best to either pick a weekday or go very early during weekends.
4. Mackenzies Bay
Situated just north of Tamarama Beach, Mackenzies Bay is a picturesque bay with a shoreline that is mostly made up of rocks.
Interestingly enough, Mackenzies Bay turns into Mackenzies Bay Beach every few years, when sand gets washed up creating a little beach.

From Mackenzies Bay, continue on the walking trail that goes around the bay and the little headland, ending up at Tamarama Beach.
5. Tamarama Beach
Also known as "Glamarama" by the locals, Tamarama offers good but somewhat rough surfing conditions. The beach itself is small and narrow with a couple of popular volleyball courts.
Tamarama is not the best beach for swimming because of the deep and strong rip currents. This is why Tamarama Beach is better suited for sunbathing or for a game of beach volleyball, rather than swimming.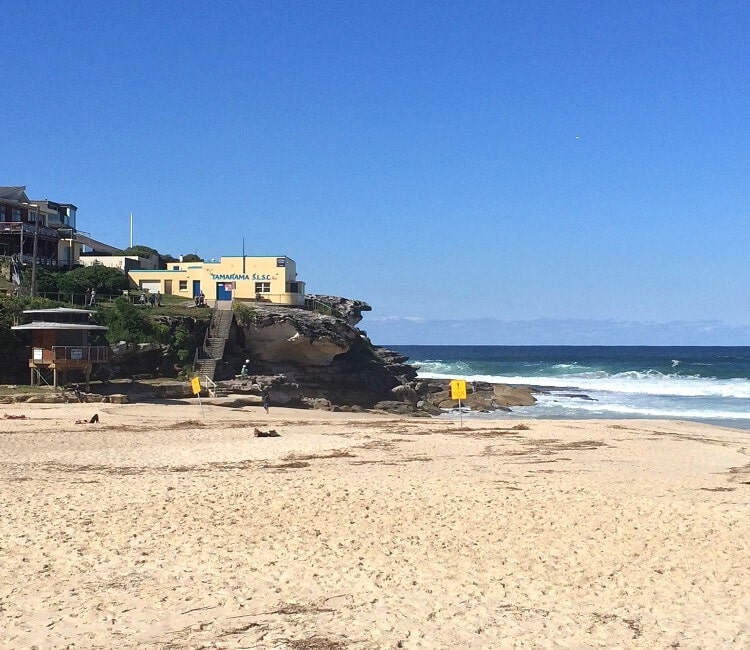 Tamarama Park, located just behind the beach, has recently been upgraded. It now has great BBQ and picnic facilities, and also a brand new cafe with a toilet and shower block.
From Tamarama Beach, follow the main track heading south to Bronte Beach along Tamarama Marine Drive and Bronte Marine Drive.
6. Bronte Beach
Bronte Beach is a family-friendly strip of sand, complemented by a large park with excellent BBQ and picnic facilities.
Just like Tamarama, Bronte's water conditions can be dangerous at times, so you must follow the directions of the surf lifesavers at all times.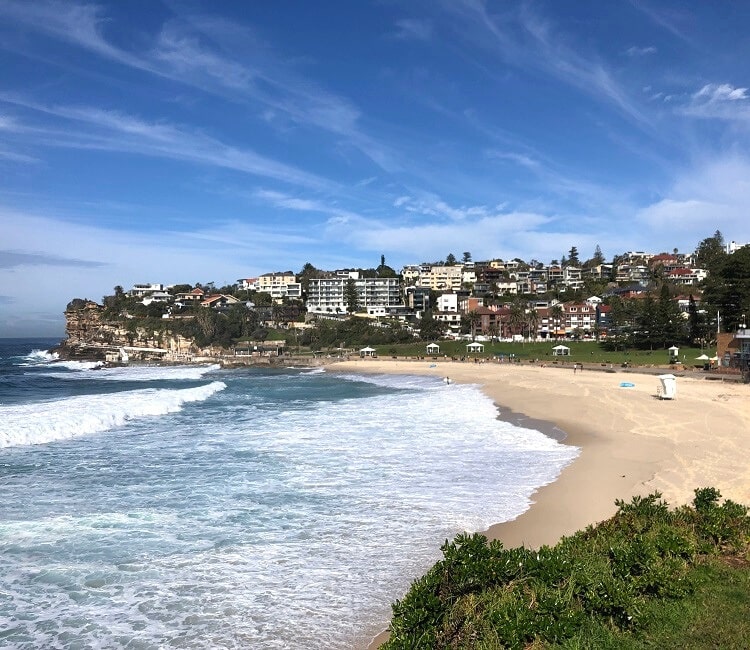 Bronte Park, just behind the beach, is a large, grassy area that offers excellent BBQ and picnic facilities. The strip of cafes just down the road is a nice area to go for a coffee, breakfast, or lunch.
Don't forget to also check out Bronte's famous rock pool, located at the south end of the beach. It's a very popular spot with the locals, and for good reason!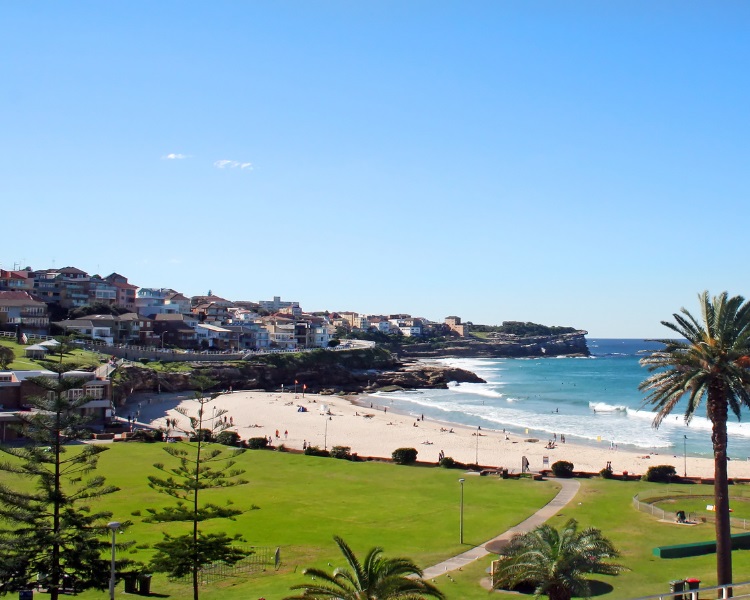 The Bondi to Bronte walk is also a popular running track, as it's such a beautiful spot to do your workout. There are also several basic workout stations where you can do exercises, such as pull-ups and step-ups.
If you'd like to keep hiking after arriving in Bronte, you can keep following the walking trail to Coogee Beach, past Clovelly Beach and Gordons Bay.
Once in Coogee, you can go even further south to Maroubra Beach, from where you can continue to the Malabar Headland.
You could also consider starting your hiking adventure in Watsons Bay north of Bondi and follow the Federation Cliff walking trail to Bondi Beach.