Last updated: September 10, 2021
While you may be able to find tons of beautiful beaches along Sydney's coastline and in the Harbour, not many of those strips of sand are dog friendly.
It's true, dogs are not allowed on most of Sydney's beaches, not even on a lead. And with such a large dog population in our city, this is indeed a bit disappointing.
But let's not despair, because there are actually some great beaches in Sydney where your dog is more than welcome!
Top 11 Dog Friendly Sydney Beaches
We've listed 11 of the best dog friendly beaches in and around Sydney, where your best mate can have a blast running around on the sand and in the water.
Underneath each picture is a link to the map location of the corresponding dog-friendly beach to help you work out how to get there.
1. Sirius Cove Reserve
Sirius Cove Reserve is a dog-friendly hideaway in the suburb of Mosman in Sydney's lower north shore.
Often referred to as Little Sirius Cove, this charming little bay is home to a quiet beach, a playground and a large picnic area.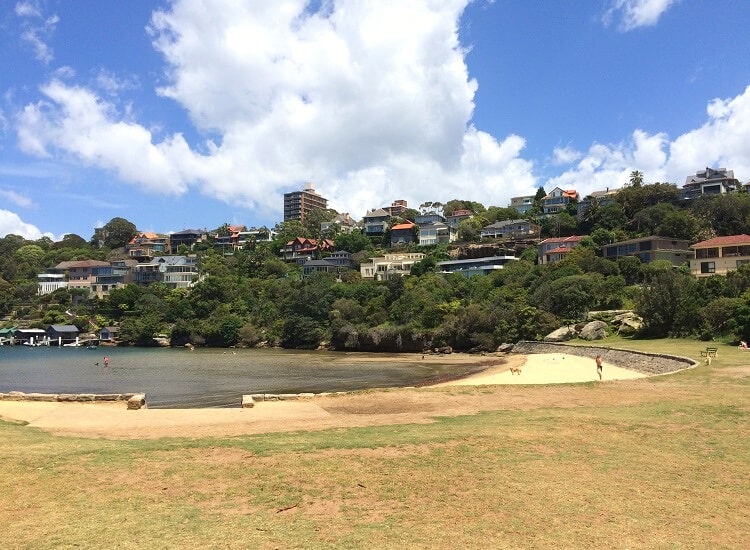 Surrounded by a sandstone wall, the 250m wide beach faces south into a deep bay that flows into Sydney Harbour. The water is very quiet and shallow and therefore perfect to walk into with your dog without having to swim.
Dogs are allowed off leash in the park, on the beach and in the water all day from Monday to Friday. On Saturdays, Sundays and public holidays this is restricted to non-peak hours before 9am and after 4pm.
2. Greenhills Beach in Cronulla
Greenhills Beach is located next to Wanda Beach, north of Cronulla Beach, right in front of a new suburb with the same name. It's the only dog-friendly beach in Sydney that is also ocean facing.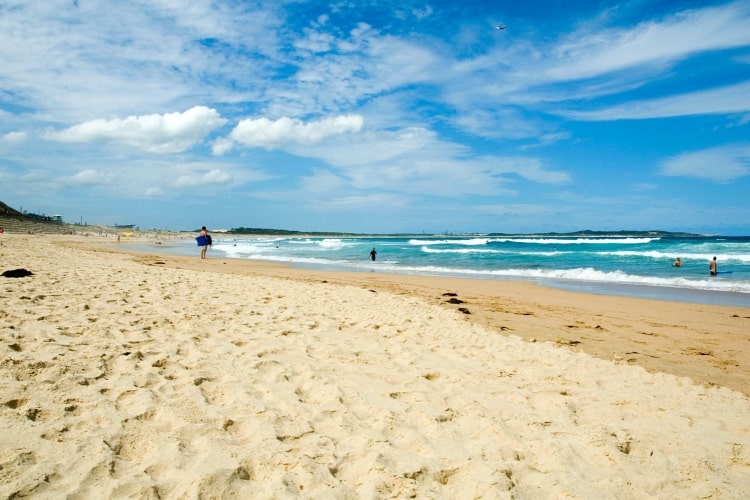 While there may be lots of parking available in the area, it's a very popular spot that quickly fills up on sunny days.
Dogs can run around off leash at Greenhills Beach before 10am and after 4pm every day. It does get busy here but the beach is very well looked after with lots of space for both dogs and their owners to spend some quality time.
3. Rose Bay Beach and Dumaresq Reserve
Dogs are allowed off leash at all times on the Rose Bay foreshore between Percival Park and Dumaresq Reserve.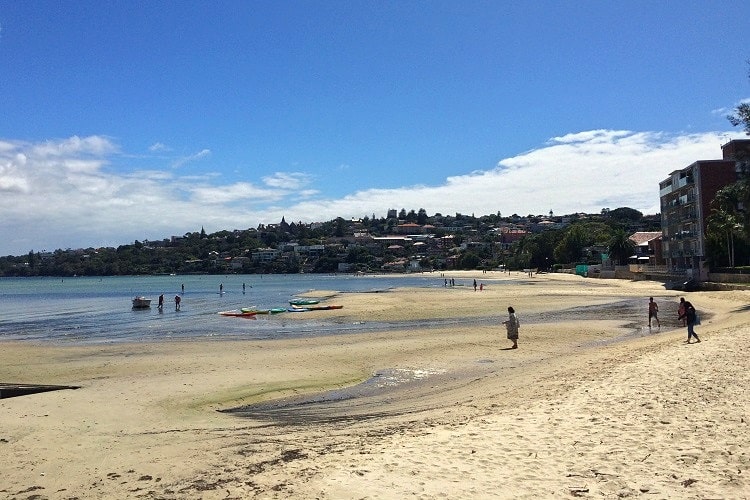 With beautiful views of Sydney Harbour, this is a great spot for you and your canine friend to hang out for a few hours.
Your dog is also more than welcome at other nearby parks as long as they are on a lead.
4. Silver Beach in Kurnell
Facing Botany Bay, Silver Beach in Kurnell has a dog friendly section towards the west at Bonna Point Reserve.

It's a quiet strip of sand with low tides and hardly any waves, perfect for dogs to hang out and have a blast.
There is lots of nearby street parking available, mainly along Prince Charles Parade.
5. Kutti Beach in Vaucluse
One of Sydney's best secret beaches is Kutti Beach, a small strip of sand, quietly tucked away between Parsley Bay Reserve and Watsons Bay in Vaucluse.
The beach is accessible via a narrow staircase right next to the Vaucluse Amateur Sailing Club located at the end of Wharf Road.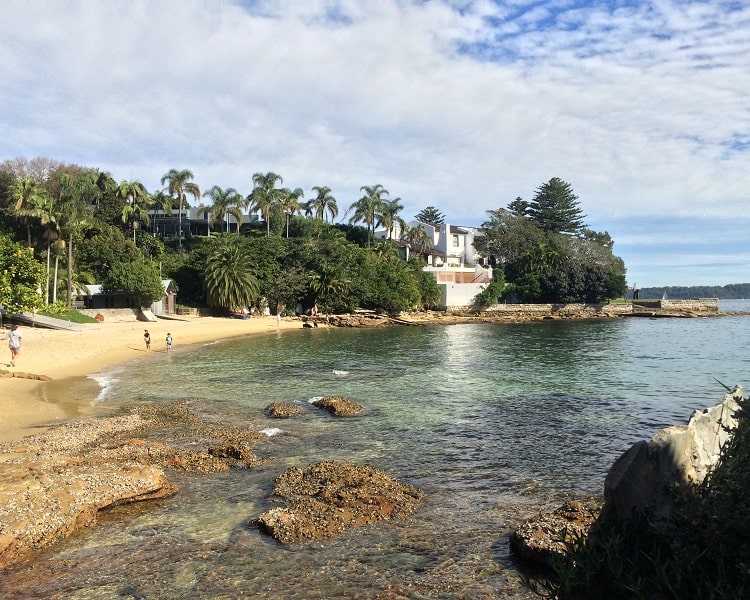 It may look like a small dead-end street, which it essentially is, but don't turn back as the staircase is right there.
Technically, dogs are only allowed on the beach and in the water on a lead. But you'll find lots of dogs happily and freely running in and out of the water and nobody seems to mind very much.
6. Horderns Beach in Bundeena
Situated west of the Bundeena ferry wharf, Horderns Beach is a popular strip of sand that has dog on and off leash throughout the year.

Dogs are allowed on Hordens Beach off leash from September to April before 8.30am and after 4.30pm, on weekdays only.
7. Clifton Gardens Beach
Boasting a rocky beach with netted swimming enclosure, a fenced playground, change rooms and excellent BBQ and picnic facilities, Clifton Gardens Reserve has been a popular picnic spot for families since the 19th century.
Clifton Gardens is one of the many highlights along the popular Taronga Zoo to Balmoral walking track.

Dogs love it here, with lots of space to run around, both in the park as well as on the beach and in the water.
There are restrictions though. Dogs can go off leash before 9am and after 4pm from April to September, and before 9am and after 6pm from October to May.
8. Clontarf Reserve Beach
Clontarf Reserve is a beautiful park on Sandy Bay Road in Clontarf, along the Spit to Manly walking track.
The area has excellent picnic and BBQ facilities, a cafe and restaurant, playgrounds, toilets and showers and beach access. Plenty of large trees offer lots of much needed shade on sunny days.

While this is a popular area for dog owners to visit, dogs have to be kept on a leash and are only allowed in the park between the hours of 10am and 6pm.
However, dogs are allowed off-leash at Sandy Bay, just north of Clontarf Reserve. Sandy Bay also has a small sheltered beach that is also very shallow, perfect for dogs to run in.
9. Station Beach in the Palm Beach Peninsula
Also known as Barrenjoey Beach, Station Beach in the Palm Beach peninsula is a 1.5 km long strip of sand facing the calm waters of Pittwater.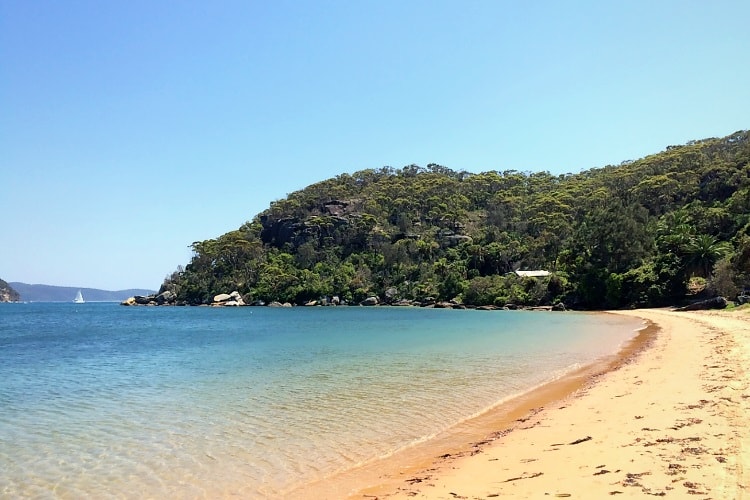 The southern part of Station Beach is now officially a dog-friendly stretch, albeit on-leash and only on certain days and at certain times. This is on the basis of a 12-month trial basis starting from the 1st of January 2020.
Check the Northern Beaches council website for more details.
Update 2021:
Unfortunately Station Beach is no longer a dog-friendly beach, following a decision of the Land and Environment Court. We will keep it in this list for now in the hope that Station Beach, or any other beach in the Palm Beach peninsula, will become dog-friendly again.
10. Bayview Dog Park in Rowland Reserve
One of the most popular dog parks in Sydney's northern beaches is the Bayview dog park on Pittwater Road in Rowland Reserve.

It has a large grassed area as well as beach access into Pittwater, next to the boat launching zone. Also, if your dog is in desperate need of a professional wash, on weekends you'll typically find a mobile dog wash service in the park.
11. Flora and Ritchie Roberts Reserve
The grassy dunes and natural lagoon in the Flora and Ritchie Roberts Reserve in Curl Curl between Dee Why and Freshwater Beach make for an exciting spot for dogs to have a blast.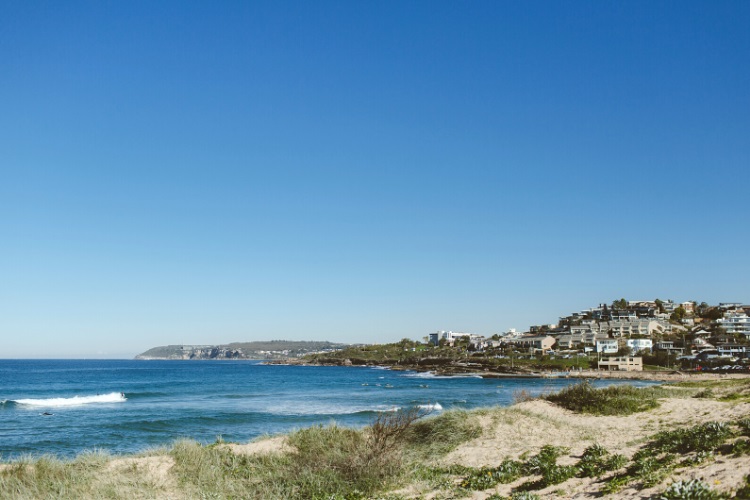 The good news is that dogs are allowed off-leash at all times in the reserve. The facilities are great too, with dog waste bins, a drinking area and public toilets.