Last updated: March 27, 2021
The Hermitage Foreshore Walk is a scenic walking track in Sydney Harbour National Park that follows the shoreline between the Hermitage Foreshore Reserve just north of Rose Bay and Nielsen Park in Vaucluse.
Part of the Rose Bay to Watsons Bay coastal trail, the Hermitage Foreshore Track meanders through bushland and coastal vegetation, past secluded beaches, beautiful parks, and lots of picturesque bays.
Hermitage Foreshore Walk
Distance:
2 km (one way)
Time:
1 hour
Grade:
Easy
Dogs:
Not allowed on the trail
The official start of the Hermitage Foreshore Track is located at the very end of Bayview Hill Road in Vaucluse (map).
Bayview Hill Rd is a short side street off New South Head Rd, with a bus stop close by. Several bus routes arrive here via the city or Bondi Junction from the west, or via Watsons Bay from the north east. Check the official bus timetables and maps for more details.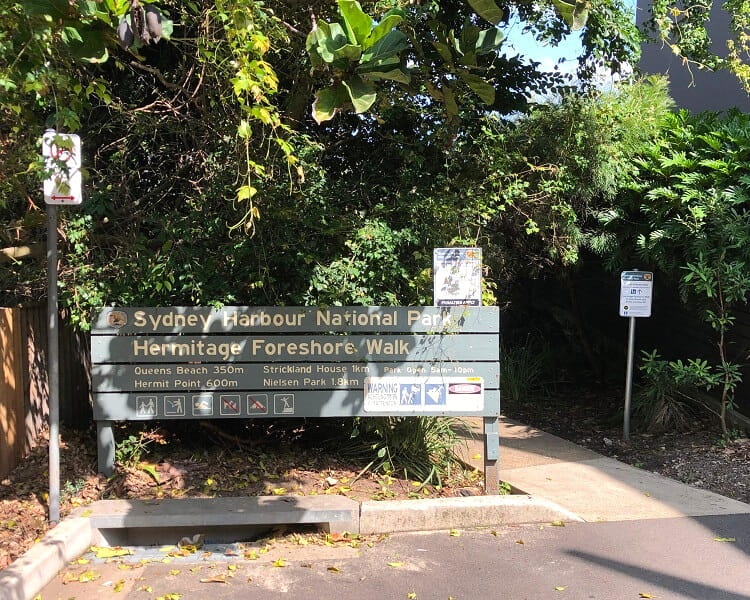 If you're planning on driving, you may be able to find street parking nearby, although this can prove to be challenging on busy days. Parking may be easier at the other end of the walk, at Nielsen Park.
Alternatively, if you're doing the Hermitage Foreshore Track as part of the Rose Bay to Watsons Bay Walk, travelling by ferry is a fun option. Both Rose Bay and Watsons Bay have a ferry wharf with ferries travelling to and from Circular Quay.
In this guide to the Hermitage Foreshore Walk, we are going to focus on the following 5 highlights and landmarks:
Queens Beach
Hermit Point and Hermit Bay Beach
Milk Beach
Strickland House
Nielsen Park and Shark Beach
In the track notes below, we're describing the walk from south to north, with Queens Beach as the first highlight, and ending at beautiful Shark Beach.
Here is a map for your reference, with the highlights marked from 1 to 5:

Hermitage Foreshore Walk Track Notes
Let's go through the highlights along the Hermitage Foreshore Walk, starting at the Hermitage Foreshore Reserve at the end of Bayview Hill Road in Vaucluse.
1. Queens Beach
As you will notice straight away, the Hermitage Foreshore Track is mostly a combination of wooden boardwalks and well maintained bush paths.
It's not at all a difficult walk, but you do need to pay attention as there may be some patches of uneven or rough surface.

The first little milestone along the walk is Queens Beach, a small secluded strip of sand with the best views of Sydney Harbour.
It typically doesn't get busy here at all, so if you're looking for a great secluded beach in Sydney to have a quiet swim, Queens Beach is worth checking out.
Just be mindful of the tides, as part of the beach may disappear at high tide.
2. Hermit Point and Hermit Bay Beach
Leaving Queens Beach behind, the path continues to Hermit Point and Hermit Bay Beach. This is another great opportunity to go for a swim without having too many people around.

The track continues around the beach from where the views of Hermit Bay, against the backdrop of Rose Bay and the city, are absolutely stunning.
The grassy area is a great place for a picnic, in case you're bringing food along with you on this walk.

If you look carefully, you may spot another small strip of sand named Tingara Beach. It's really small, and depending on the tide you may not even notice it at all.
3. Milk Beach
Milk Beach is a 50 metres long secluded strip of sand, quietly tucked away between Hermit Point and Nielsen Park.
It's a great little beach to relax on a lazy Sunday afternoon, away from the large crowds at Bondi Beach or Watsons Bay.

But as secluded as Milk Beach may appear, it can get a little crowdy at times, especially on warm summer days, with families and young people enjoying a swim and a picnic.
You will also see lots of yachts dropping anchor in front of the beach, enjoying a relaxing day out on the Harbour.
4. Strickland House
Strickland House is a heritage listed mansion located right behind Milk beach, overlooking Sydney Harbour.
Designed and built in the 1850's in Victorian Italianate style, this 3-storey sandstone house was once the home of Sydney's first lord mayor, John Hosking.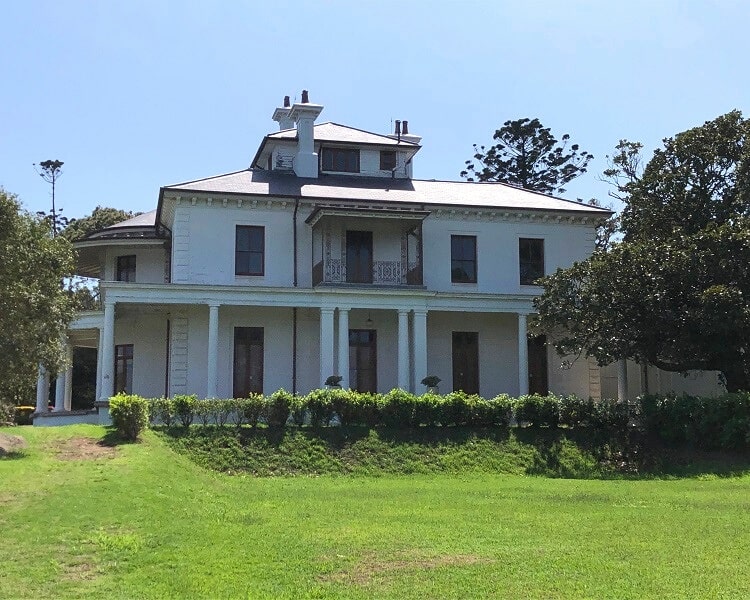 Strickland House is of exceptional historical significance to the state of New South Wales.
Over the years, Strickland House as served as a residential home for leading figures of Sydney's establishment, as a women's convalescent home, and as an aged care facility.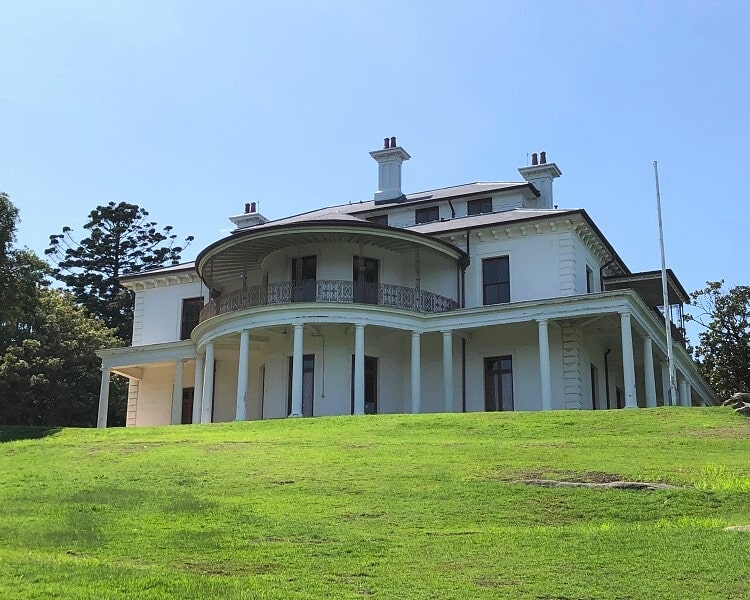 It has been in public use since 1994, and whilst the grounds of the house are open daily from 9am to 5pm for visitors to wander around, you'd need to book a guided tour in order to have a closer look inside.
5. Nielsen Park and Shark Beach
Shark beach, with Nielsen park right behind the beach, marks the end of the Hermitage Foreshore walk.
Nielsen Park is a hugely popular weekend destination for Sydney families to go for a swim and have a picnic.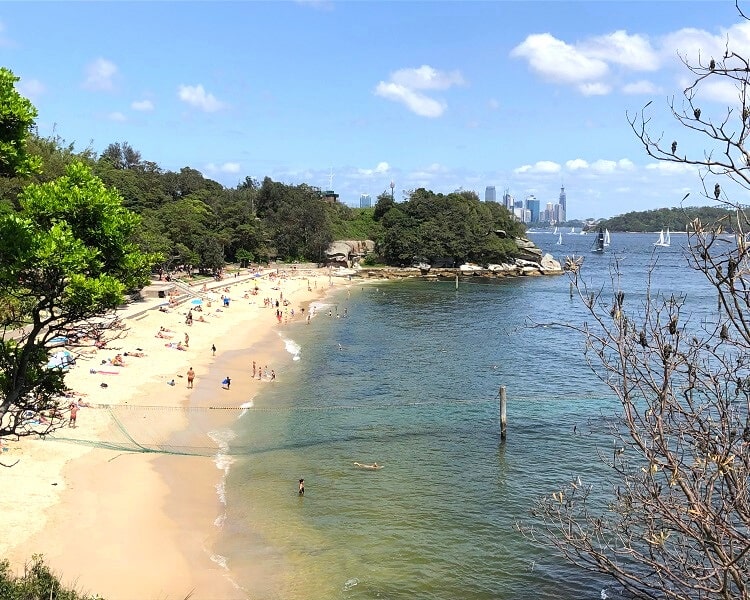 Finding a spot to park your car in the area on a warm Sunday afternoon can actually be quite challenging, so it's best to visit earlier in the day.
The family-friendly beach has an enclosed swimming area, a shaded promenade and a cafe for snacks, coffee and lunch.