Last updated:
Looking for great walks in Sydney's Royal National Park?
We have outlined the 9 best walking tracks, from short and scenic coastal trails, to challenging multi-day hikes.
Established in 1879, the Royal National Park is Australia's oldest and the world's second oldest national park.
Originally named National Park, it was officially renamed in 1955 after Queen Elizabeth II passed through on her way to Wollongong during her famous 1954 Australia tour.
From scenic lookout points and pretty waterfalls, to isolated beaches and natural swimming pools, this 15,000 hectares large park has something for everyone.
One of the best things about the Royal National Park is that it is very close to the city and easily accessible, by car as well as by public transport.
9 Best Royal National Park Walks
The Royal National Park has developed itself as one of the most popular national parks in Sydney. One reason for that is that the Royal National Park is home to various beautiful walking tracks, some very short, others much more challenging.
To make choosing a suitable walk easier, we have compiled a list of the 9 best walking tracks in the Royal National Park.
1. Wattamolla to Eagle Rock and Curracurrong Falls
A scenic coastal walk starting at Wattamolla leads to Eagle Rock, one of the most iconic landmarks in the Royal National Park that strongly resembles an eagle's beak.
What's more, next to Eagle Rock is Curracurrong Falls, one of the very few waterfalls in the world that flows directly into the ocean.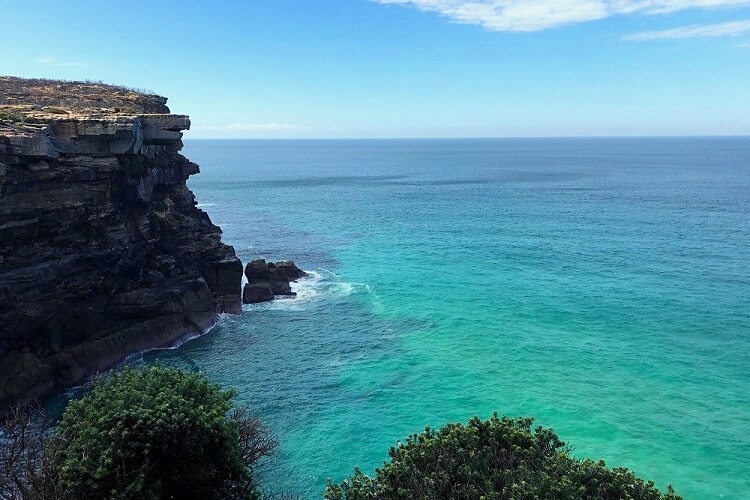 When the winds are strong the water from Curracurrong Falls can often be seen being pushed back up, which makes for a pretty spectacular sight.
For the best views of both the waterfall and Eagle Rock, find the trail that leads down towards a rock overhang, the perfect spot for a rest and a picnic.
Wattamolla to Eagle Rock
Distance:
8 km (return)
Time:
3 hours
Grade:
Easy / moderate
Starting point:
Map
2. Karloo Walking Track
Starts at Heathcote train station, the 5km long Karloo walking track guides bushwalkers to the scenic Uloola Falls in the north-western part of the Royal National Park.
The track also passes Karloo Pool, a perfect spot for a picnic and a refreshing swim right in the middle of the bush. The pool is not too deep and has very clear water which makes swimming a very pleasant experience. The rock platforms around the pool are great for a bit of sunbathing.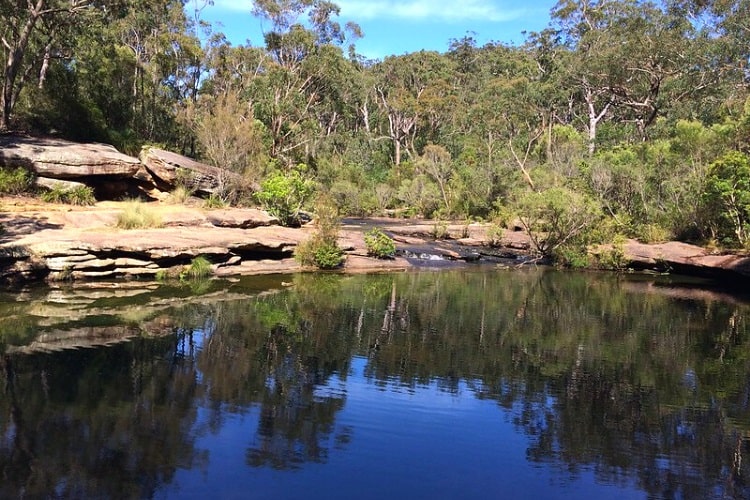 If you go to Heathcote by train, it may be worth hiking to Waterfall train station via the Uloola walking trail from the Uloola Falls campground, which is close to the waterfall.
It's a bit longer than the return trip to Heathcote but the reward is that you get to see more Royal National Park goodness.
Karloo Walking Track
Distance:
10 km (return)
Time:
5 hours
Grade:
Moderate
Starting point:
Map
3. Jibbon Beach Loop Track
Starting at the Bundeena ferry wharf, the Jibbon Beach loop track is an easy coastal and bush trail that takes you around Jibbon Head, Port Hacking Point and Shelley Beach.
Enjoy amazing panoramic ocean views and discover well-preserved Aboriginal engravings along the way.

One of the highlights is a recently built boardwalk with a viewing platform from where you can see well-preserved Aboriginal engravings.
Dating back 2,000 years, The Jibbon engravings are an impressive display of respect the Tharawal people had for the land as well as for the animals they shared the land with.
Jibbon Beach Loop Track
Distance:
5 km (circuit)
Time:
1.5 – 2 hours
Grade:
Easy
Starting point:
Map
4. Otford to Figure 8 Pools
This hike has become more popular in recent years with all the hype around the Figure 8 Pools. While these pools are a great sight, the walking track from Otford Station to the pools via Burning Palms Beach is the best part.
The track that leads to the Figure 8 Pools directly which is why you will need to hike a bit further to Burning Palms beach in order to reach the pools. It's a great addition to an already great walking track but has some very steep sections.

Before you leave, make sure to check the tides as otherwise you may not even see the Figure 8 Pools by the time you get there, let alone swim in them. The tides will need to be low and ideally with no dangerous swells.
If you're short on time and you really just want to see the Figure 8 Pools, you can also park your car at Garawarra Farm Carpark which is closer to the pools than Otford is.
Otford to Figure 8 Pools
Distance:
12 km (return)
Time:
6 hours
Grade:
Moderate / hard
Starting point:
Map
5. The Coast Track from Bundeena to Otford
One of the most epic walking tracks in Sydney and New South Wales is the 26km long Coast Track between Bundeena in the north and Otford in the south of the Royal National Park.
Bushland, secluded beaches, boardwalks, huge sandstone cliffs, waterfalls, natural pools, this challenging hike is a true adventure that you should do at least once in your life.

While you could do this track in one day, most people would prefer to change it into a two-day hike.
There are several camping grounds along the way where you can set up your hiking tent and stay overnight. For example, North Era has a large campground with toilet facilities.
The Coast Track from Bundeena to Otford
Distance:
26 km (one-way)
Time:
1 or 2 days
Grade:
Hard
Starting point:
Map
6. Bundeena Drive to Marley Walk
Also know as the Marley Track, the 8km return trail between Bundeena Drive and Marley Beach spoils bushwalkers with creek crossings, fresh water pools, lookout points, bushland and secluded beaches.
One of the highlights along this track is a set of small waterfalls that run into a pool also known as Deer Pool. When the deer population in the Royal National Park was much higher, this pool was a popular spot for deer to drink.

Towards the end of the walk, you have the choice between two beaches. Big Marley beach in the north is a 400m long south-facing beach with bright yellow sand, protected by a large dune area.
Little Marley beach further south is similar in nature but much smaller. Please be mindful that these beaches are not patrolled and provide so services.
Bundeena Drive to Marley Walk
Distance:
8 km (return)
Time:
3 hours
Grade:
Moderate
Starting point:
Map
7. Winifred Falls Trail
The Winifred Falls trail is a short but scenic bushwalk that takes you to a pretty waterfall on the South West Arm Creek where you can have a picnic and go for a swim if weather permits.
The first part of the trail is an easy 10 minutes flat walk, before it turns into a bushwalk with very steep sections, surrounded by banksia plants and gum trees.

You can get the best views and photos of the waterfall if you walk a bit further downstream around the pool. There are several rock platforms right above and around the waterfall where you can relax and take in the beauty of this spot in the Royal National Park.
The trail doesn't have to end at Winifred Falls. The South West Arm Pool is around 300m further away downstream. This large and deep pool has three boulders on the side and is great for swimming.
You can also continue the Winifred Falls trail into the other direction, going though bushland with a couple of small waterfalls along the way. This 4.4km trail connects with Maianbar Road.
Winifred Falls Trail
Distance:
1 km / 4.4 km (one-way)
Time:
0.5 / 2.5 hours
Grade:
Easy
Starting point:
Map
8. Palm Jungle Loop Track
Starting in Otford in the southern part of the Royal National Park, the Palm Jungle loop track is a challenging circuit trail that offers hiking enthusiasts enormous cliff tops, secluded beaches, thriving rainforest and scenic coastal views.

Located roughly halfway the walking track, Palm Jungle is a section of cooler rainforest with an abundance of cabbage tree palms and other tropical plants.
You can include the famous Figure 8 Pools in this walk by doing a detour from Burning Palms beach. As mentioned above, please do check the tides beforehand if you're planning to visit the pools.
Palm Jungle Loop Track
Distance:
10 km (circuit)
Time:
4 hours
Grade:
Moderate
Starting point:
Map
9. The Forest Path
The Forest Path is a pleasant 4.5km bushwalk along the Hacking River in the Royal National Park that loops around Forest Island. With start and finish at Sir Bertram Stevens Drive, this easy walking track takes you through beautiful lush rainforest.

The Forest Path first opened in 1887 to allow for easy access to the trees in this forest. For decades, the Forest Path was used to accommodate logging in the area. Public controversy and pressure ultimately led to the ban of logging in the 1920's.
Apart from a short period during the second world war, the walking track has since been used for recreational purposes only.
The Forest Path
Distance:
4.5 km (circuit)
Time:
1.5 hours
Grade:
Easy
Starting point:
Map