Last updated: August 24, 2022
With a long and diverse coastline and a beautiful Harbour in the city's backyard, Sydney has no shortage of picturesque bays and hidden beaches.
One of the best ways to explore these scenic and often secluded bays is by doing some of the various walking trails in Sydney Harbour and beyond.
We have listed 7 of the best bay walks in the Sydney area where you can enjoy the best views while also getting a good workout in.
Pick your favourite from the following list of 7 pretty bay walks in Sydney.
1. Glebe Foreshore Walk
The 4km long walking track along the foreshore of Glebe is a pleasant walk between Bicentennial and Jubilee Park in Glebe to the Sydney Fish Market in Pyrmont, overlooking Rozelle Bay and Blackwattle Bay.
This bay walk offers fantastic views of the Anzac Bridge, the Sydney CBD skyline and the Sydney Harbour, as well as the upgraded Pyrmont foreshore.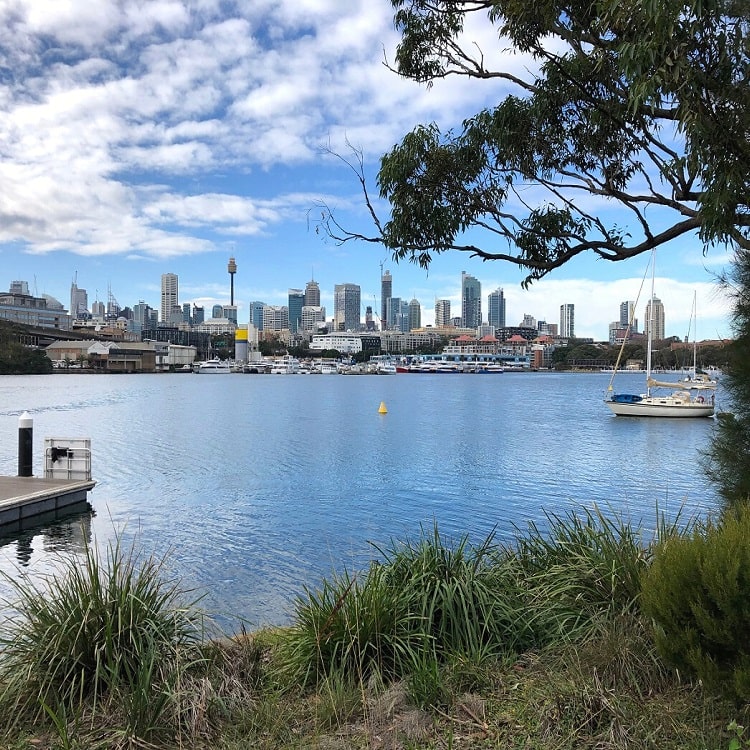 There are several parks and reserves along the way where you can relax and soak up the peaceful vibe and scenic views of this beautiful part of Sydney.
What's great is that dogs are more than welcome too in the Glebe Foreshore parks, with various on and off-leash sections.
Glebe Foreshore walk
Distance:
4 km (return)
Duration:
2 hours
Grade:
Easy
2. Lavender Bay and Milsons Point Circuit Walk
Walk across the Harbour Bridge from the city to Milsons Point, and get ready to do one of the prettiest bay walks in Sydney.
The 2.5km circuit walk exploring Lavender Bay and Milsons Point is a scenic trail with stunning views of Sydney Harbour, the Harbour Bridge and Blue Point Reserve.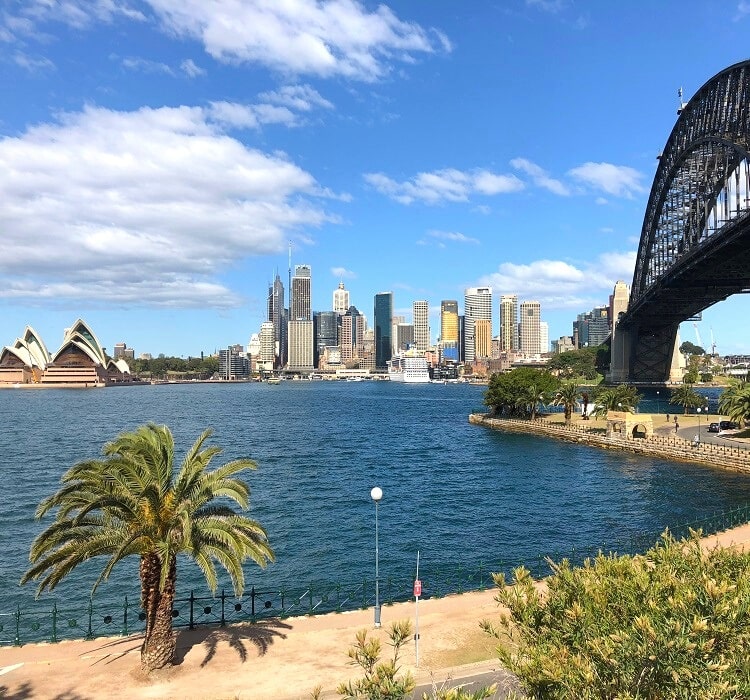 A highlight is the Broughton St Lookout, one of the most scenic lookout points in Sydney, with panoramic views of the Sydney CBD foreshore with all the famous landmarks.
Another highlight is Wendy's Secret Garden, a green oasis of native plants and beautiful flowers, against the backdrop of Lavender Bay and the Harbour Bridge.
Lavender Bay and Milsons Point circuit walk
Distance:
2.5km (circuit)
Duration:
1 hour
Grade:
Easy
3. Rose Bay to Watsons Bay Walk
The walk from Rose Bay to Watsons Bay is one of the most scenic bay walks in the Sydney Harbour National Park area.
The walk takes in secluded beaches, beautiful parks and picturesque bays, offering the best panoramic views of the city and the Harbour.

The convenient thing about this walk is that you can park your car at Rose Bay or Watsons Bay and catch a ferry back to where you started. Ferry services run frequently between Watsons Bay and Rose Bay. Or even better, leave the car at home, catch a train to Circular Quay, and travel to Rose Bay by ferry.
The popular Hermitage Foreshore Track is a smaller section of the trail between Rose Bay and Watsons Bay, and is often considered the best part of the walk.
Rose Bay to Watsons Bay walk
Distance:
8 km (one way)
Duration:
3.5 hours
Grade:
Easy / moderate
4. Cremorne Point Circuit Walk
The scenic circuit walk around the Cremorne Point peninsula is an easy 3km foreshore walking trail with beautiful views of Mosman Bay, Sydney Harbour and the city skyline.
Discover Robertsons Point Lighthouse, Cremorne Reserve, and the MacCallum swimming pool as you pass historic mansions and picturesque gardens, only a short ferry trip away from Circular Quay.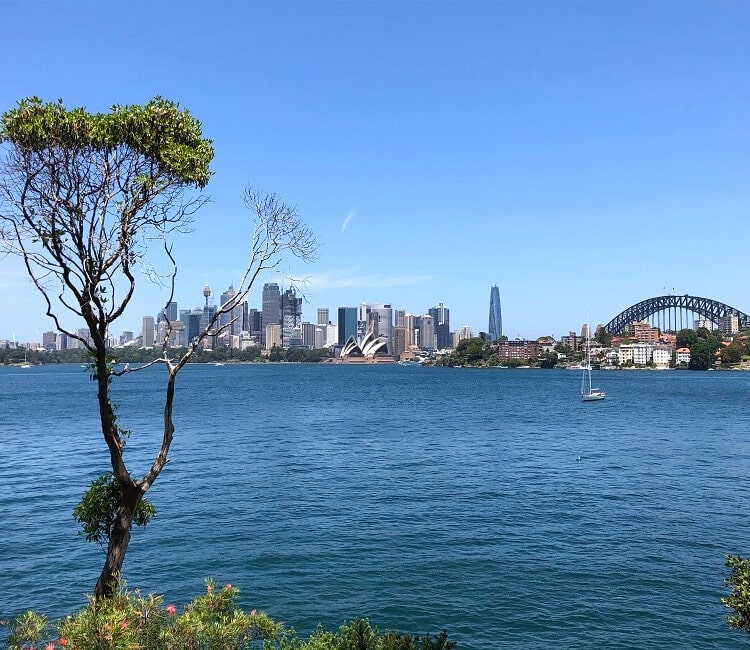 Located only 6km from the Sydney CBD, Cremorne Point is a leafy harbourside suburb on the lower north shore. The walk starts and ends at the Cremorne Point ferry wharf, with an optional detour to the Robertsons Point Lookout.
Follow the 3km trail clockwise (or anti-clockwise, if you prefer), and within 90 minutes, you'll be back at the ferry wharf.
Cremorne Point circuit walk
Distance:
3 km (circuit)
Duration:
1 hour
Grade:
Easy
5. Bradleys Head to Chowder Bay Walk
The walking track from Bradleys Head to Chowder Bay is a relatively short but picturesque bay walk in Sydney's lower north shore, boasting panoramic views of Sydney Harbour.
This walk is a smaller section of the hike between Taronga Zoo and Balmoral Beach, one of Sydney's finest coastal and bush walking tracks.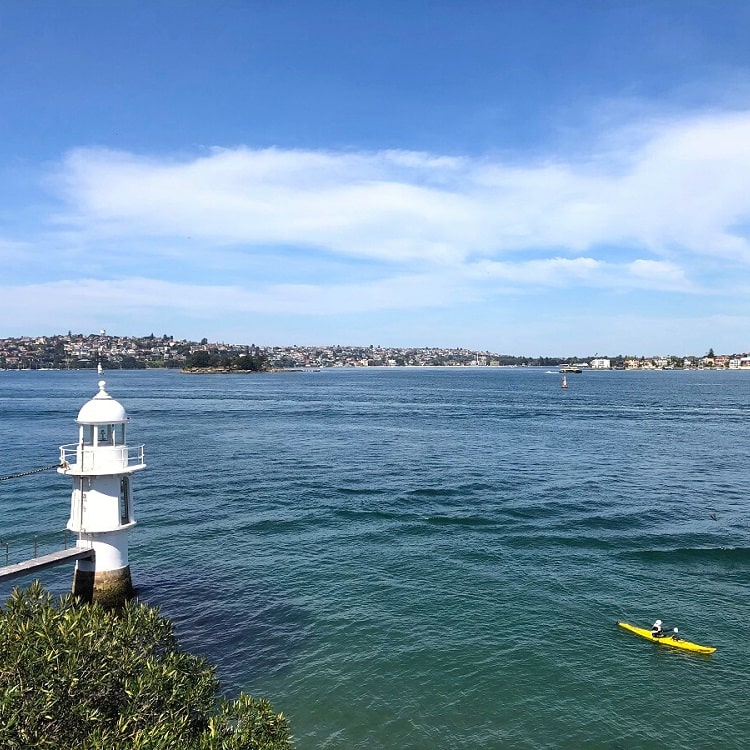 Named after a Royal Navy officer who participated in the First Fleet to Australia, Bradleys Head is an interesting place to visit, with many remnants from Sydney's military history.
From Bradleys Head, the walk continues following the shoreline along Taylors Bay and Clifton Gardens to Chowder Bay, where you can choose between several cafes for a nice cup of coffee or tea.
Bradleys Head to Chowder Bay walk
Distance:
2.7 km (one way)
Duration:
1 hour
Grade:
Easy
6. Rushcutters Bay to Rose Bay Walk
Perhaps not as popular or as well-known as the walk from Rose Bay to Watsons Bay, the trail between Rushcutters Bay and Rose Bay is in our opinion an absolute gem of a walk.
It's a walk that showcases the best of the Harbour, with scenic parks, quiet suburban streets, lovely views, and historic grand mansions.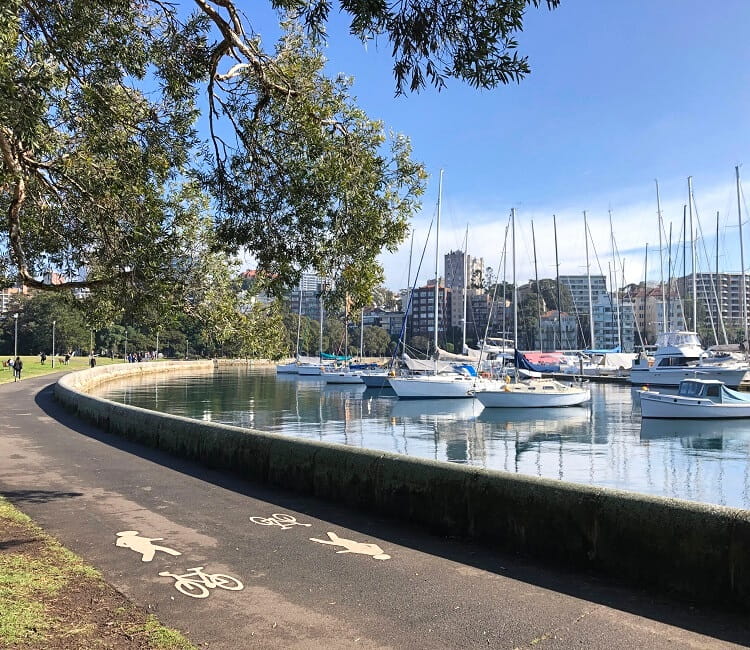 The walk starts at beautiful Rushcutters Bay and Yarranabbe Park, and continues to explore the suburbs of Darling Point, Double Bay, and Point Piper, before finishing at the Rose Bay ferry wharf.
The city and water views from start to finish are stunning, with lots of cafes and restaurants along the way to refuel with lunch or coffee.
Rushcutters Bay to Rose Bay walk
Distance:
5.5 km (one way)
Duration:
3 hours (including stops)
Grade:
Easy
7. The Bay Run
The Bay Run in Sydney's inner west is one of the most classic bay walks in Sydney, looping around Iron Cove and passing through seven different suburbs.
It might not be the most scenic walk in Sydney, but it's a very popular trail among walkers, joggers, runners, cyclists, and parents with prams.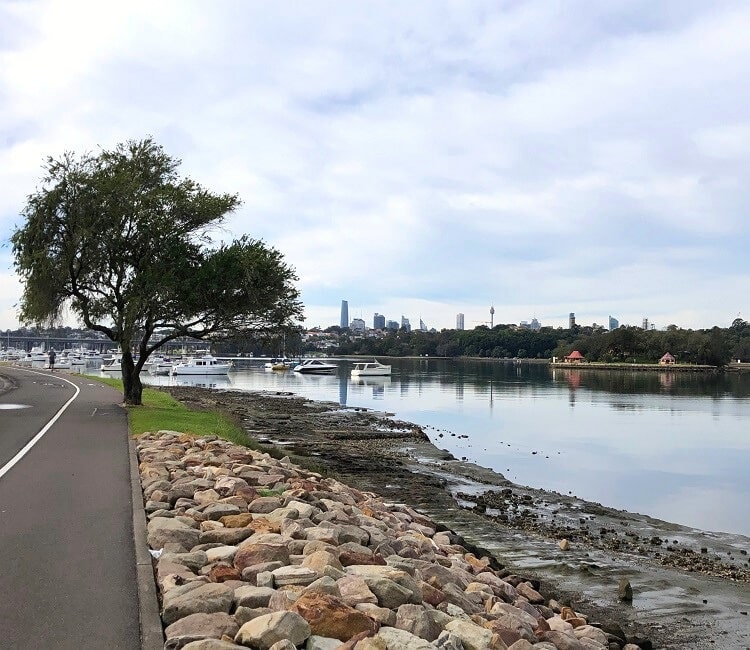 Since this is a circular walk, you can start and finish the Bay Run at many locations, and you can either go clockwise or anti-clockwise.
Some of the highlights and landmarks along this walk are King George Park, Leichhardt Park, the Iron Cove Creek pedestrian bridge, Rodd Park, the Henley Marine Drive foreshore, and the Iron Cove Bridge.
The Bay Run
Distance:
7 km (circuit)
Duration:
1.5 hours
Grade:
Easy